Carson Wentz Has an Old Friend Wanting to Join Him on the Colts
After spending five seasons with the Philadelphia Eagles, quarterback Carson Wentz has a bunch of new teammates and weapons on the Indianapolis Colts. However, that doesn't mean he won't have one of his past weapons with him in 2021. In fact, one of the quarterback's former Eagles receivers recently mentioned the Colts as a team he would like to play for this upcoming season: Golden Tate.
Golden Tate played with Carson Wentz on the Eagles in 2018
Tate didn't spend a ton of time with Wentz in Philly, but he had already proven himself as a talented receiver at that point in his career.
After spending his first four seasons with the Seattle Seahawks, Tate, a second-round NFL draft pick in 2010, spent over four seasons with the Detroit Lions from 2014 to 2018. He ultimately found the most success of his career with Matthew Stafford in Detroit as he earned a Pro Bowl selection in his first season there in 2014 by catching 99 passes for 1,331 yards and four touchdowns.
Tate then gained over 1,000 receiving yards in three of his four full seasons in Detroit before the Lions traded him to the Philadelphia Eagles in 2018. He caught 44 passes for 517 yards and three touchdowns in seven games with the Lions that year but struggled to put up similar numbers in his eight games with the Eagles.
Tate only recorded 278 yards on 30 catches with Philly but gained most of that while playing with Wentz. In the five games Wentz was on the field with Tate, the receiver caught 19 passes for 189 yards and a touchdown.
Following that 2018 season, Tate spent the last two seasons with the New York Giants. He gained 676 yards and caught six touchdowns over 11 games in 2019 but only had 388 yards through 12 games in 2020.
Golden Tate would like to play with his former quarterback on the Colts
Tate is currently a free agent, and when recently discussing his situation, he certainly wasn't lacking any confidence.
"I feel like I'm a fine wine: I just get better with age," he said on SiriusXM NFL Radio. "I haven't had any major injuries. For the most part, I'm on the field. I've been great in the locker room. Unfortunately, last year, with COVID, everything just didn't go my way as far as getting the ball, but I made the most of the opportunities that I did have. You look at when I did get the ball in my hands, I was making contested catches in the slot, down the field, wherever it may be."
Tate added that he is looking forward to "just getting opportunities" and knows he will prove how good he is once he gets a chance to do so on a new team.
But what teams would he like to play for in 2021?
"The perfect situation for me, there's a couple teams I'm looking at," he said. "I'd love to go back home to Tennessee; Indy over with Carson Wentz. Obviously, LA Rams would be fantastic with Stafford. I had my best years with Stafford. I really like the entire NFC West, to be honest."
So, would Tate fit well with Wentz and the Colts?
Carson Wentz and the Colts could use the veteran wide receiver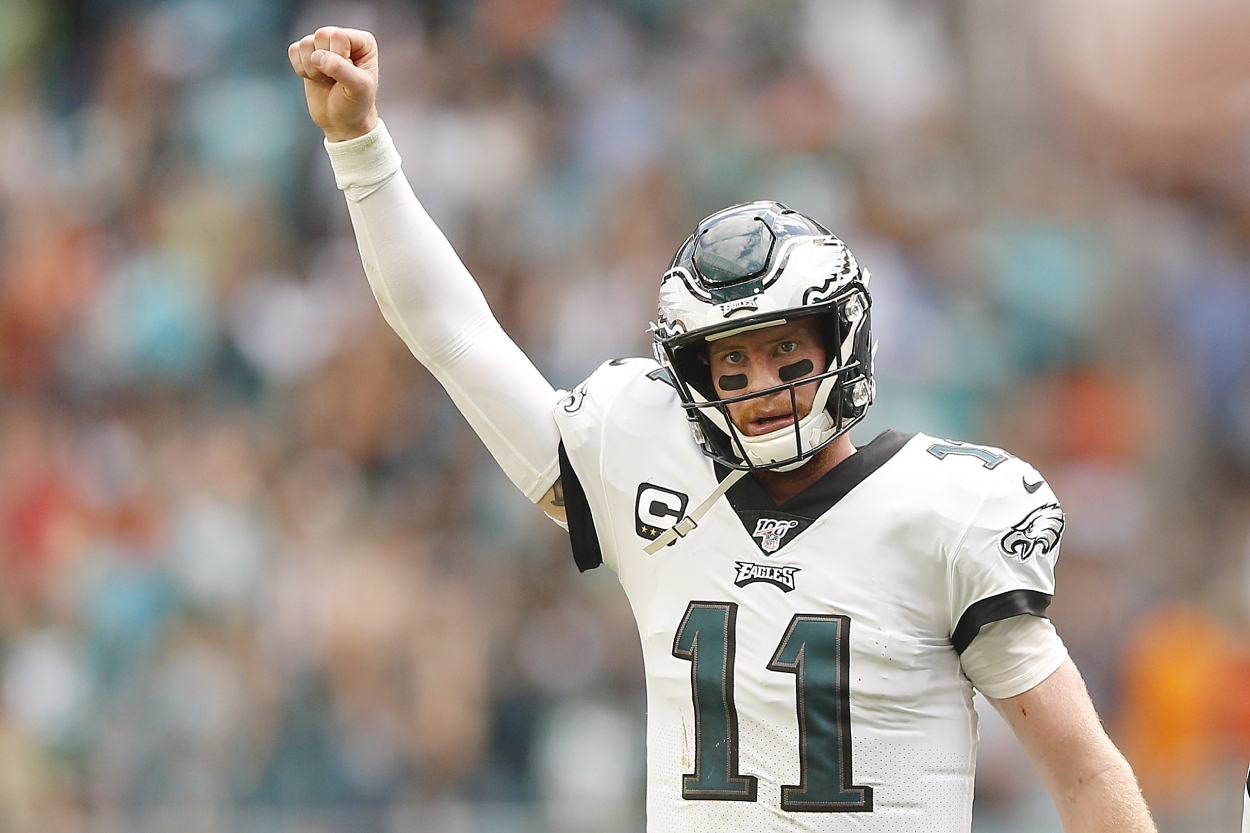 While Tate is originally from Tennessee, he played college football at Notre Dame, so going to the Colts would be somewhat of a homecoming for him.
The Colts could use him, too.
While Indy has a strong offensive line and three great running backs in Jonathan Taylor, Marlon Mack, and Nyheim Hines, it could use some help at receiver. 
Four-time Pro Bowler T.Y. Hilton is back with the Colts for a 10th season. He turns 32 years old in November, though, and failed to gain 800 yards in each of the last two years. Michael Pittman Jr., on the other hand, had a nice rookie season in 2020 but still needs time to grow after gaining just 503 yards in 13 games.
Zach Pascal has also been a solid receiver for the Colts, but he has room to improve his game as well. He recorded a little over 600 yards in each of the last two years for Indy.
Additionally, Parris Campbell is another receiver with a lot of promise, but he has been limited to only nine games in his first two seasons due to injuries. It's hard to say what Indianapolis has with him.
No, Tate would not be an answer for the Colts. He hasn't gained 1,000 yards since 2017 and turns 33 in August. But he could be some nice depth in the receiver room for Indy and a familiar face for Wentz.
Maybe Tate will get another chance to play with his former quarterback if the Colts decide to give him an opportunity this upcoming season.
Stats courtesy of Pro Football Reference
RELATED: Carson Wentz Hasn't Played in 1 Game for the Colts but Is Already Proving Some of His Loudest Critics Wrong: 'He's Caring'