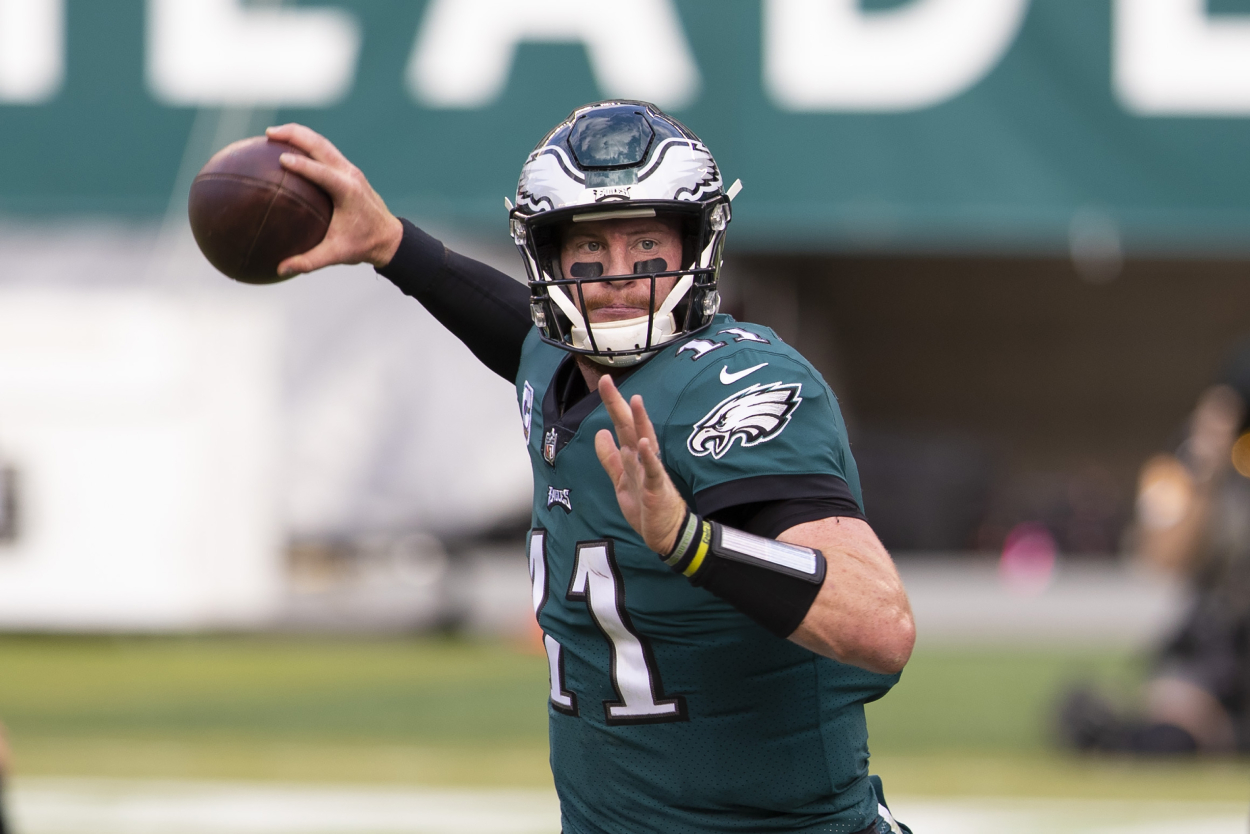 Carson Wentz Reportedly Knows the Exact Team He Wants to Ditch the Eagles for in 2021
Carson Wentz saw his stats take a turn for the worse this past season. Now, he reportedly wants to be the Colts' next quarterback.
The NFL already saw one blockbuster trade this offseason when the Detroit Lions sent Matthew Stafford to the LA Rams. Now, there could be another one, as Carson Wentz and the Philadelphia Eagles could soon part ways. A couple of teams have already been linked to trade rumors for Wentz, too. This includes the Chicago Bears, who seemingly want to move on from Mitchell Trubisky, as well as the Indianapolis Colts, who still need a new franchise quarterback after the sudden retirement of Andrew Luck. Well, it appears that Carson Wentz, who saw his stats take a turn for the worse this past season, has potentially made where he wants to go pretty clear.
Carson Wentz's stats went from great to horrible within a few years
The Philadelphia Eagles selected Carson Wentz with the No. 2 overall pick in the 2016 NFL draft. He then had a pretty nice start to his career, too.
After throwing for 3,782 yards, 16 touchdowns, and 14 interceptions in 2016, Wentz earned Pro Bowl honors in 2017. He ended up throwing for 3,296 yards, 33 touchdowns, and seven interceptions in only 13 games that year. However, Wentz ultimately got hurt that season, which led to the Eagles winning the Super Bowl with Nick Foles at quarterback.
Then in 2018 and 2019, Wentz played well but not as well. He threw for 3,074 yards, 21 touchdowns, and seven interceptions in 11 games in 2018 with the Eagles. He then had 4,039 yards, 27 touchdowns, and seven interceptions in 2019. Wentz also led the Eagles to a third consecutive playoff appearance that year.
However, Carson Wentz's play and stats were absolutely horrible for the Eagles in 2020. He went 3-8-1 as a starter and threw for 2,620 yards, 16 touchdowns, and an NFL-leading 15 interceptions in 12 games. This led to the Eagles ultimately benching him for rookie quarterback Jalen Hurts during the season, too.
Now, he could soon be on the move.
The Philadelphia Eagles are expected to trade him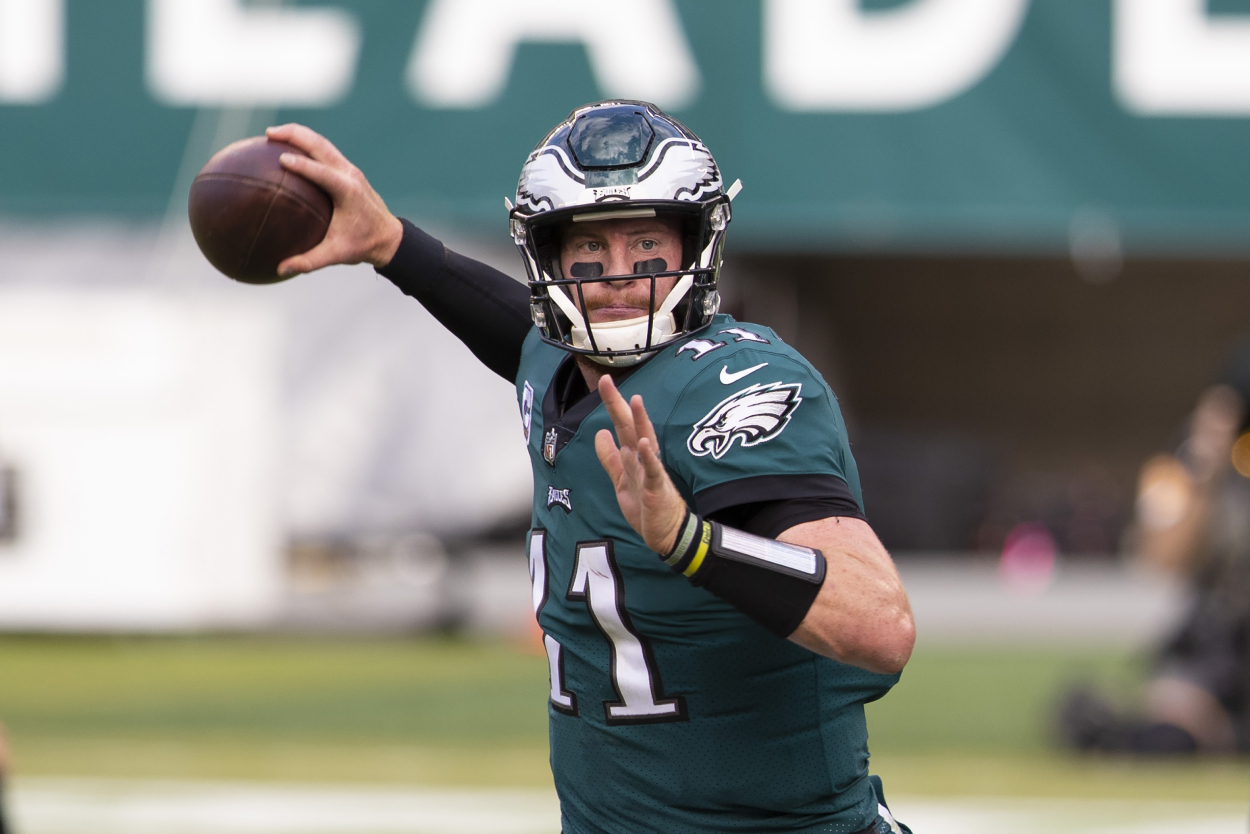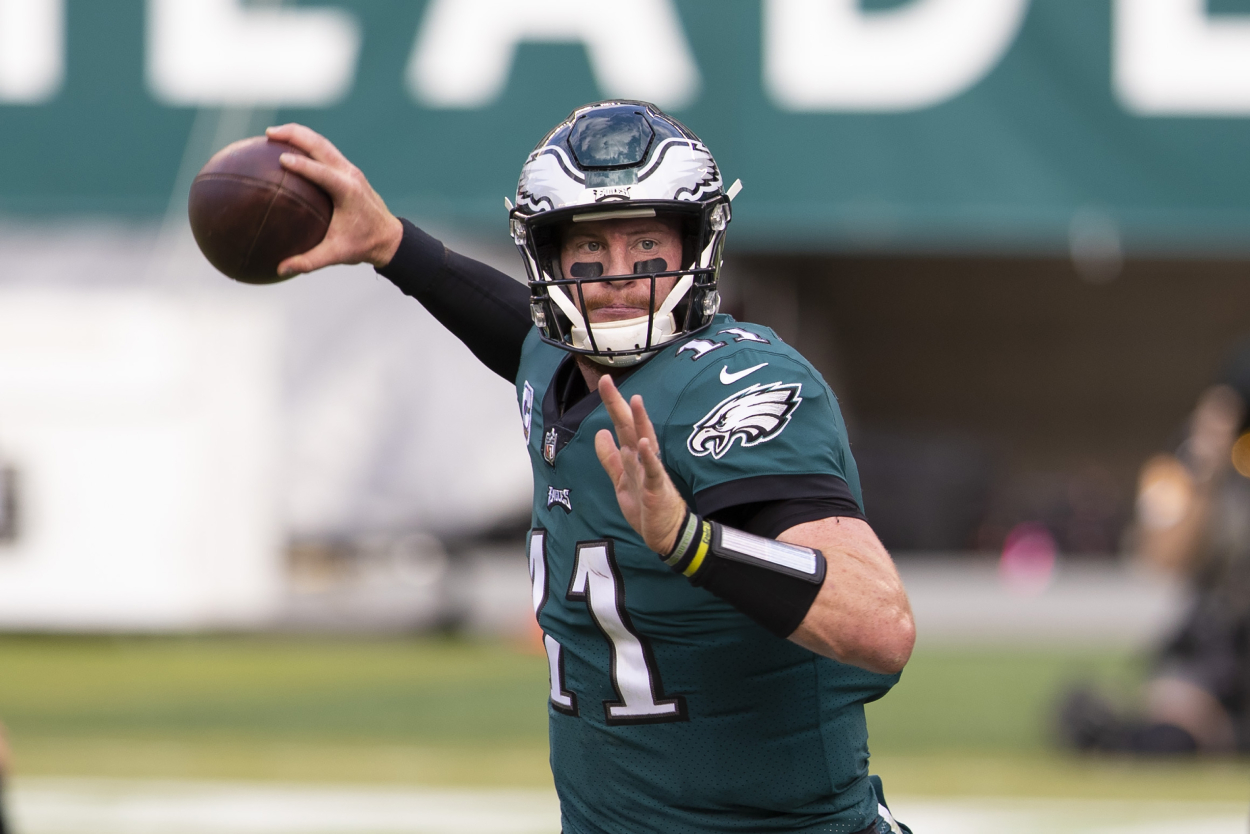 The Eagles parted ways with head coach Doug Pederson earlier this offseason. They have since hired Nick Sirianni as head coach. Sirianni was the Indianapolis Colts' offensive coordinators for the last three seasons, so he worked with Colts head coach Frank Reich. During the 2017 season, Wentz's best year in the NFL, Reich was the Eagles' offensive coordinator. So, many people believe that the Eagles hired Sirianni to try and get Wentz back to where he was in 2017.
However, ESPN's Adam Schefter ultimately reported that Wentz still wants the Eagles to trade him, according to ESPN.
Then, the day before the Super Bowl, Schefter reported that the "Eagles are expected to trade Carson Wentz in the coming days."
The Eagles, though, reportedly have a pretty high asking price for Wentz, which could make accomplishing a trade pretty difficult. However, the Bears and Colts have reportedly been in the mix to acquire him, according to ProFootballTalk.
So, where does Wentz want to go?
Carson Wentz reportedly wants to be the Colts' next quarterback
With so many rumors connecting the Colts and Bears to Wentz, Chris Simms of NBC Sports recently reported where Wentz prefers to play in 2021.
"I was told by some people I trust that he prefers the Colts' situation," Simms said on the Feb. 9 episode of ProFootballTalk.
This should come as no surprise as Reich is in Indy, and there is some familiarity between Wentz and Reich.
Additionally, the Colts are ready to contend for Super Bowls. They just need a quarterback. They have a solid offensive line, a really talented running back, some decent weapons, and one of the best defenses in the NFL. The Colts would easily give Wentz the best chance to win.
However, Carson Wentz can't just get what he wants; the Eagles will have to like the Colts' offer. If all goes to plan, though, he could be the Indianapolis Colts' next franchise quarterback as soon as the 2021 season.
Stats courtesy of Pro Football Reference