Carson Wentz Sent a Powerful Message to Indianapolis Colts Fans, Which Proves He's the Perfect QB to Finally Replace Andrew Luck
Carson Wentz is facing a significant amount of pressure in 2021.
Not only does he have a horde of angry Eagles fans still chasing after him due to how things ended in Philadelphia, but he has huge shoes to fill as the Indianapolis Colts' franchise quarterback. Replacing Andrew Luck is what the Wentz acquisition is ultimately about for Chris Ballard and the Colts. However, even replacing Philip Rivers should prove to be challenging. The longtime Chargers QB led the Colts to an 11-win season during his lone year in Indy.
While there's still a whole NFL season yet to be played, thus far, Wentz is pushing all the right buttons when it comes to proving his worth as a franchise QB.
Carson Wentz is expanding his food truck ministry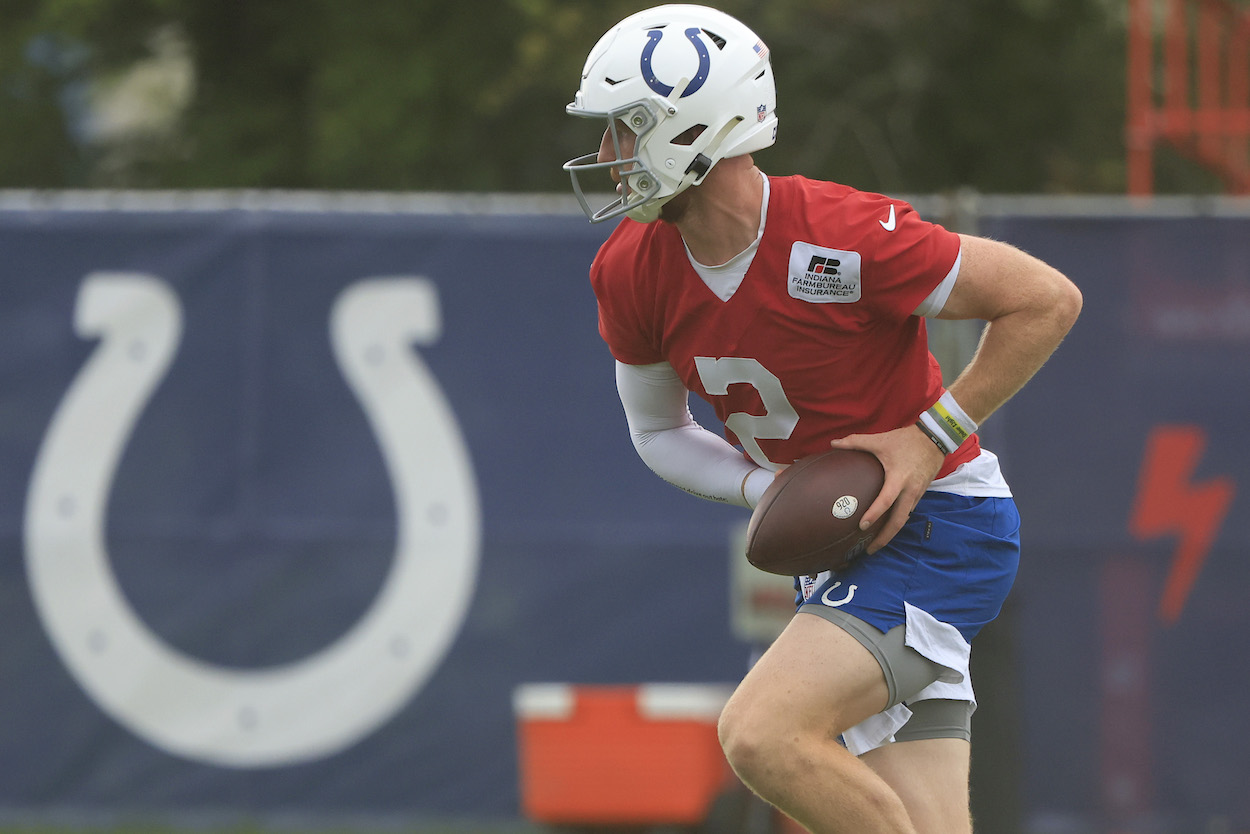 One of the major ways Wentz got involved in the community during his time in Philadelphia was operating a food truck ministry titled "Thy Kingdom Crumb." Wentz is a very religious individual and has never shied away from bringing it up during press conferences and/or interviews.
"Thy Kingdom Crumb" — a food truck organization designed to deliver free meals to those in need — has served 90,000-plus free meals in Philadelphia since it began operating in 2018. Upon being traded to the Colts, Wentz quickly began working to make sure his ministry extended to the Indianapolis region as well:
"As soon as we got settled in Indianapolis, we knew we wanted to bring Thy Kingdom Crumb to this area," said Wentz. "We've seen God change lives through this ministry, and we know He's got big plans for TKC Indy" (Indy Star).
For what it's worth, Wentz has zero plans of removing the ministry from Philadelphia. He wants to continue running it there in conjunction with Indianapolis:
"To my wife and I, continuing TKC in Philadelphia was always something we wanted to do," said Wentz. "I'm so proud of what we've been able to accomplish there, and that city will always hold a special place in our hearts."
Carson Wentz is proving his commitment to the Indianapolis Colts
It was a messy past year for Wentz and his family. There's no denying that.
First, the Eagles drafted his eventual replacement in Jalen Hurts. Then, they physically benched Wentz for Hurts just to tank the final few games of the season. Finally, they traded Wentz to the Colts in exchange for draft capital.
Wentz welcomed the trade to Indy, primarily due to his pre-established connection with Colts head coach Frank Reich. However, being shipped away to a new team is never easy. You still have to pick up your family and move halfway across the country.
Wentz immediately jumping into community-related charity proves his commitment to the Indy area and Colts fan base as a whole.
The Indianapolis Colts need their QB to be special
The Colts have been chasing the ghost of Andrew Luck for quite some time now, and their latest blockbuster trade to acquire Wentz signals as such.
They're still looking for a new franchise QB to build the organization around.
If Wentz can recapture the form he showed in 2017 and 2019, the Colts will be in a near-perfect situation. Wentz was an MVP candidate in 2017 and broke the Eagles' all-time franchise record for passing yards in a single season in 2019. Reich finding a way to get Wentz back to that level of play genuinely puts them in a position to contend with the Kansas City Chiefs and Buffalo Bills moving forward.
However, Wentz has to prove he can do so. He's coming off a rough 2020 and missed most of training camp with a foot injury.
Settling down and establishing roots in Indianapolis is a great first step for Wentz. Now he has to prove he's capable of leading the Colts to the promised land.
Like Sportscasting on Facebook. Follow us on Twitter @sportscasting19.
RELATED: Quenton Nelson Is Keeping His Offseason Surgeries a Secret for a Specific Reason