Carson Wentz Shared His Simple Advice for 49ers Rookie Trey Lance: 'Don't Let Any of Those Things Change Who You Are'
Carson Wentz has made it clear that Trey Lance is under his mentorship and protection. 
Forget for a minute that Wentz plays for the Indianapolis Colts, while Lance is a rookie on the San Francisco 49ers. Those former North Dakota State quarterbacks are determined to stay together and help one another succeed by any means necessary. 
Wentz said he gave Lance very simple advice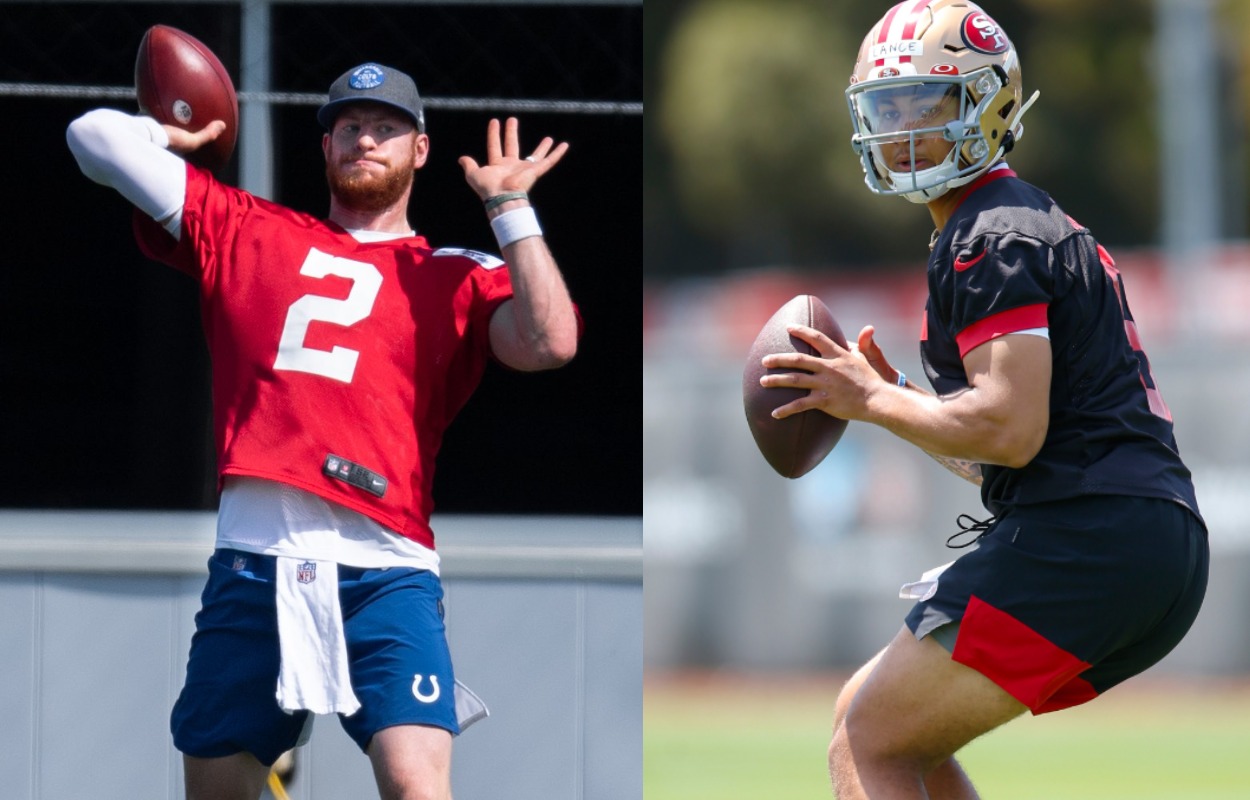 Despite a nearly 10-year age difference, Wentz and Lance have bonded over their shared experience as former NDSU quarterbacks. 
Their relationship allows Wentz, who turns 29 in December, to impart his wisdom to the rookie. The 21-year-old Lance recently attended Carson Wentz's charity softball game, which benefits his AO1 Foundation, in Fargo, North Dakota.
According to NBC Sports, the veteran quarterback advised Lance on what to expect in his first NFL training camp. Wentz shared some of what he told Lance when he met with reporters in North Dakota.
"They have a great culture there in San Fran, a good coaching staff. So I know he's going to do a great job, and I'm excited for him. I just keep telling him to be himself: 'Don't let any of those things change who you are, change your values, change your perspective on football. Just go play.'"

Carson Wentz
In response, Lance said he is grateful for having Wentz in his corner and setting the example.
"Playing as well as he did early in his career definitely helped for people being able to accept the transition from FCS to the NFL," Lance said of Wentz.
Lance should absolutely listen to Wentz's insight
Say what you want about Wentz as a quarterback, especially after his issues during the 2020 season, but it's hard to deny that he's someone who's already been through a lot in the NFL.
Wentz endured countless injuries, some of which he's played through, through his first five seasons. Nevertheless, he carried an injury-plagued Eagles offense to an NFC East Division crown in 2019.
When an older quarterback speaks, you listen. When that player is someone who has experienced the highs of going second overall and being an MVP frontrunner to the lows of watching your team win a Super Bowl from the bench, you give them your full attention.
Wentz has been around the block, and he's seen what makes teams tick and what causes them to fall apart. Lance needs to listen to Wentz and apply that logic, simple as it may be, when the 49ers open camp in July.
With respect to Jimmy Garoppolo, it's not his duty to mentor the quarterback who could replace him later this season. Garoppolo is in the middle of his career, and he's not an aging quarterback nearing the end. If Wentz wants to provide the insight that Garoppolo might not, who is Lance to turn it down?
October 24 could be a fun Sunday for North Dakota State fans
Depending on how the 49ers' first two months go, Lance could be starting at quarterback on October 24.
Why is that Sunday evening so significant? The 49ers host Wentz and the Colts that night on Sunday Night Football. Fans at home might be treated to a matchup of two former North Dakota State Bisons quarterbacks on national television.
The Colts should be one of the top two teams in the AFC South Division, even with Trevor Lawrence and Urban Meyer now on the Jaguars. If the 49ers stay healthy, they're a threat to challenge for the NFC West Division crown.
Who knows? That nationally-televised game might be an early forecast of a Super Bowl to come between two quarterbacks who are quickly becoming close friends.
Like Sportscasting on Facebook. Follow us on Twitter @sportscasting19.