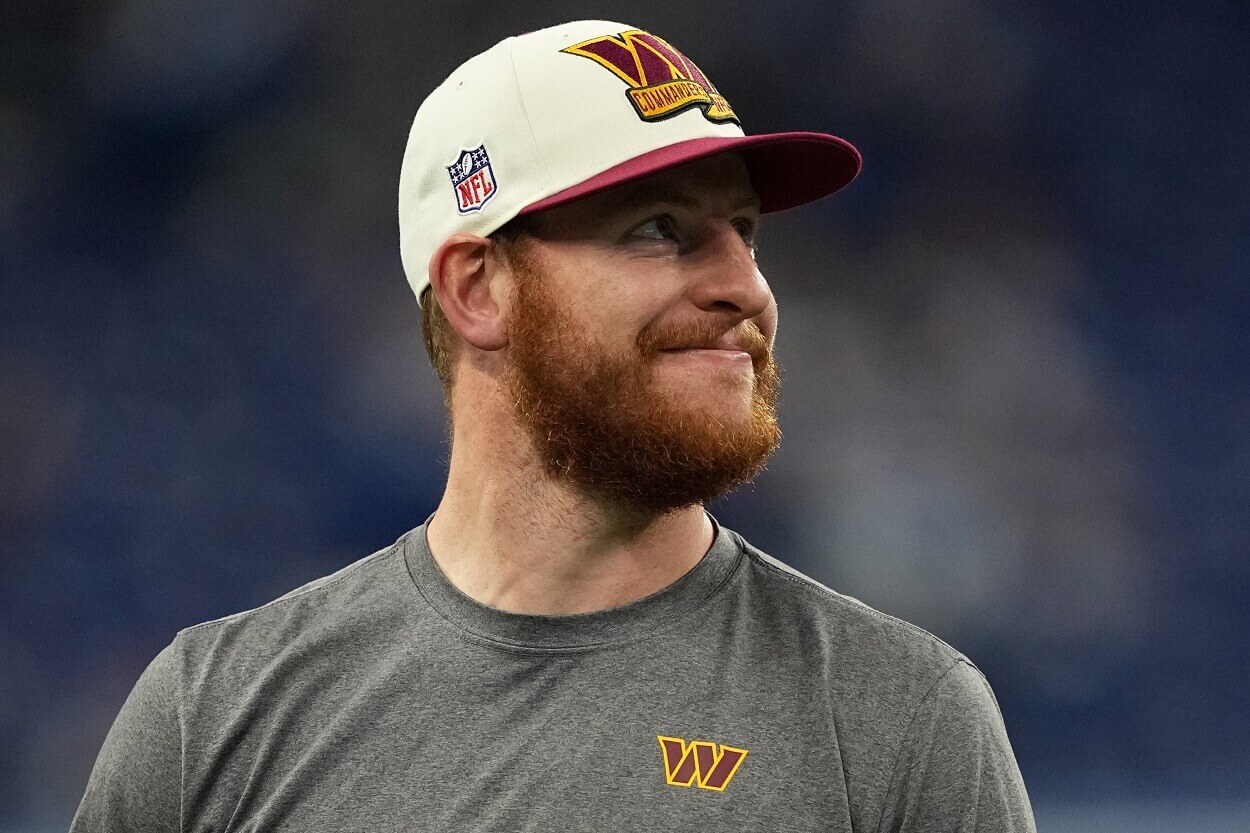 Carson Wentz Still Had 105 Million Reasons to Smile After Getting Cut by the Commanders
Carson Wentz has made a lot of money for being an average quarterback over the last few years.
The collapse of Carson Wentz was one of the most bizarre storylines to follow over the last few years. Once viewed as the savior of the Philadelphia Eagles, he quickly went from franchise quarterback to middling starter to out of a job. 
Yet even though Wentz had to find a new team upon his release by the Washington Commanders, it's not like he needs to. 
After all, despite failing to rediscover the magic that made him an MVP candidate by his second season in the league, the No. 2 overall pick from the 2016 NFL Draft succeeded at amassing a sizable fortune before he received his walking papers from the latest employer he left disappointed.
Washington wisely cut ties with Carson Wentz
Although he arrived to the Washington Commanders with the hope of reviving his career, Carson Wentz came up well short in his quest to re-enter the conversation as one of the top quarterbacks in the NFL. Instead of cementing his place as the Commanders' signal-caller for years to come, the former Eagle gave the front office no choice but to move in a different direction. 
The short-lived Wentz era officially came to an end in late February, with Washington releasing the veteran quarterback after a single disappointing season. 
Acquired for two third-round picks and a second-round pick swap from the Indianapolis Colts, Wentz posted an underwhelming 2-5 record as a starter for Ron Rivera. Coming off a 2021 campaign in which he threw 27 touchdowns and seven interceptions, he nearly threw the same number of interceptions (nine) as touchdowns (11). 
Besides freeing up a roster spot, cutting Wentz helped the Commanders open up much-needed cap space heading into free agency. With $26.17 million coming off the books, they gained more financial flexibility to pursue a veteran quarterback and potentially work on extensions for homegrown players like Da'Ron Payne and Montez Sweat.
Three NFL teams learned an expensive lesson by banking on Wentz
Whether Wentz lands a starting gig again, he shouldn't have any worries about covering his expenses. Even backup money would be more than enough, given how much he collected over the course of a three-year period in which he went 14-21 as a starter and lost the faith of three NFL front offices. 
Just how well did Wentz do off the field? 
According to Albert Breer of Sports Illustrated, the QB made $105,198,279 from the Eagles, Colts, and Commanders. Wentz signed a four-year, $128 million extension with Philadelphia in 2019 that, combined with the two years of his rookie contract, totaled $154 million. 
With the Commanders terminating that deal, the 30-year-old signal-caller watched roughly $53 million disappear. Meanwhile, his former team got out of that financial commitment with $0 in dead-money charges, a critical factor that led to the decision. 
Still, the fact the Eagles, Colts, and Commanders shelled out a combined $105 million for a quarterback who struggled with poise and turnovers should serve as a stark reminder about the risk of betting on an injury-prone player tap into his theoretical upside.