Carson Wentz May Have a Surprise Weapon When He Returns for the Colts, and the Player's Name Is Oddly Similar to a Pro Football Hall of Famer's
With the season quickly approaching, a foot injury currently has Carson Wentz sidelined for the Indianapolis Colts. But once he returns, Wentz should be in a position to have significant success on a highly-talented Indy team.
However, also when he makes his way back, Wentz may have a surprise weapon at wide receiver who is 1) probably unknown by many fans, but 2) has a name oddly similar to a Pro Football Hall of Famer's.
His name is Mike Strachan.
Wide receiver Mike Strachan went to the Colts in the seventh round of the draft
No, the name mentioned above does not say Mike (or Michael) Strahan. Just one extra letter is the difference between a Hall of Fame defensive end and a young wide receiver looking to have success in his rookie season with the Colts.
Strachan wasn't a big name in the 2021 NFL Draft process — at least among fans — given that he played for a Division II school in the University of Charleston (West Virginia). But he also saw his 2020 season canceled due to the COVID-19 pandemic.
Despite missing out on a whole year of football, though, NFL teams were already paying attention to Strachan and for good reason.
In his redshirt sophomore year in 2018, Strachan caught 48 passes for 1,007 yards — a school record — and eight touchdowns. He then had an even better year in 2019, catching a remarkable 78 passes for 1,319 yards and 19 touchdowns. He also earned second-team D-II All-American honors from the American Football Coaches Association.
It's not just his production that has been there, though. Strachan is bigger than Julio Jones, standing at 6 feet, 5 inches and weighing in at 225 pounds.
And he's fast enough to be an Olympian.
According to the IndyStar, Strachan planned to run the 400-meter dash at the Tokyo Olympics for the Bahamas before COVID-19 postponed the games from 2020 to 2021. He said he was on pace to hit the times he needed at the trials. But when the Olympics moved to 2021, Strachan chose to focus on football, which led to him going to the Colts in the seventh round of this year's NFL Draft.
Mike Strachan has been showing off at receiver during Colts training camp
Strachan caught the Colts' attention at West Virginia's Pro Day before the draft and has continued surprising them at training camp.
"We thought, coming from a small school, that he'd be rawer than what he is," Indy's offensive coordinator Marcus Brady said, per the IndyStar. "He's actually more detail-oriented in how he sets up routes, and (wide receiver coach Mike) Groh's done a good job teaching him, helping him understand what (the defensive back) is going to do."
The IndyStar reported that the combination of Strachan's size and speed has given the Colts' corners fits in one-on-one drills. In fact, the team's No. 1 corner, Xavier Rhodes, lined up across from him on Aug. 6, and after getting bested by Rhodes on the first rep, Strachan had a highlight grab during the second rep where he tapped his toes inbounds in the back corner of the end zone, catching the ball one-handed.
"It's a mental thing, coming out and just having that dog mentality," Strachan said, per the IndyStar. "Playing like a big guy, it's just wanting the ball and making plays for your team."
Strachan still has some work to do, but he can ultimately be a valuable receiver for Carson Wentz once he returns for the Colts.
"With his size, he's definitely a weapon," Brady said, per the IndyStar. "He creates mismatches with little corners. Even corners his size, he's able to use his body, whether it's positioning, his length, his ability to extend. We're going to need that from him."
Indy can be a great team … if healthy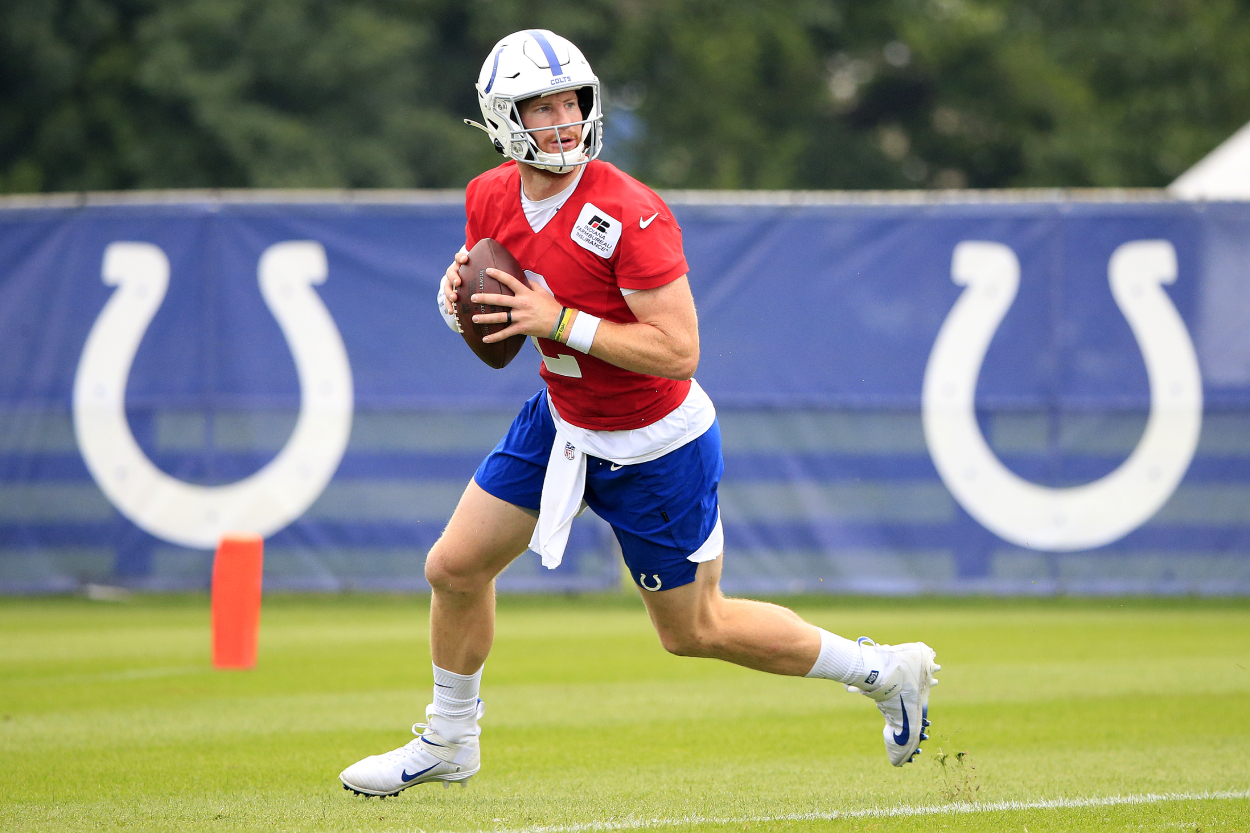 Strachan has a chance to succeed on an outstanding team in 2020.
But it has to be healthy.
In addition to having one of the top defenses in the NFL, Indy has a great offensive line and three excellent running backs in Jonathan Taylor, Marlon Mack, and Nyheim Hines. The Colts also have talented receivers in front of Strachan, including T.Y Hilton, Michael Pittman Jr., Parris Campbell, and Zach Pascal. 
However, Wentz is currently out 5 to 12 weeks with a foot injury, and so is All-Pro offensive lineman Quenton Nelson, who weirdly has the same injury. Those two must be healthy for the Colts to have success. With them on the field, Indy is a top team in the AFC; with them out, it's a squad potentially vying for a top 15 NFL draft pick.
If healthy, the Colts can have a special season in 2021, and Strachan can be a key piece to a talented playoff team. That could ultimately be fun to watch but also terrifying for opposing teams.
Stats courtesy of University of Charleston