Carson Wentz Trade: Can the Commanders Compete With the Cowboys in the NFC East?
Make no mistake about it, the Washington Commanders traded for Carson Wentz in order to take their shot at the Dallas Cowboys in the NFC East.
Newly rebranded and focused on the future rather than an often embarrassing past, Washington is taking a shot at the reigning NFC East champs and doing so by bolstering the most important position on the field: Quarterback.
Will Wentz be the missing piece for Washington in 2022, though?
Washington was at least competitive last season with Taylor Heinicke
The Commanders, then known as the Washington Football team, had to have felt they were close last season.
Even with Taylor Heinicke at quarterback, Washington was more competitive than it should have been, finishing with a 7-10 record.
They put up a few tough games against the Philadelphia Eagles and Cowboys while going 2-0 against the New York Giants. Sure, they were only 2-4 in the division, but Washington was at least a tough out.
The soon-to-be Commanders were up on the Eagles in Week 16 before a fourth-quarter collapse led to a 20-16 loss. In the first game against the Cowboys, Washington roared back from a 27-8 third-quarter deficit to give Dallas a scare. The Cowboys ultimatly squeaked by, 27-20, but Washington made it very interesting with a pick-six of Dak Prescott to bring the game within seven points with 4:13 to go.
Ultimatly, Washington was scrappy, but it just didn't have enough juice. A lot of that was due to injuries. Some of it was that while a great story, the team took the identity of its quarterback.
Heinicke was scrappy but ultimately not good enough. He finished the season with 3,419 yards and 20 touchdowns with 15 interceptions.
Carson Wentz is a significant upgrade for Washington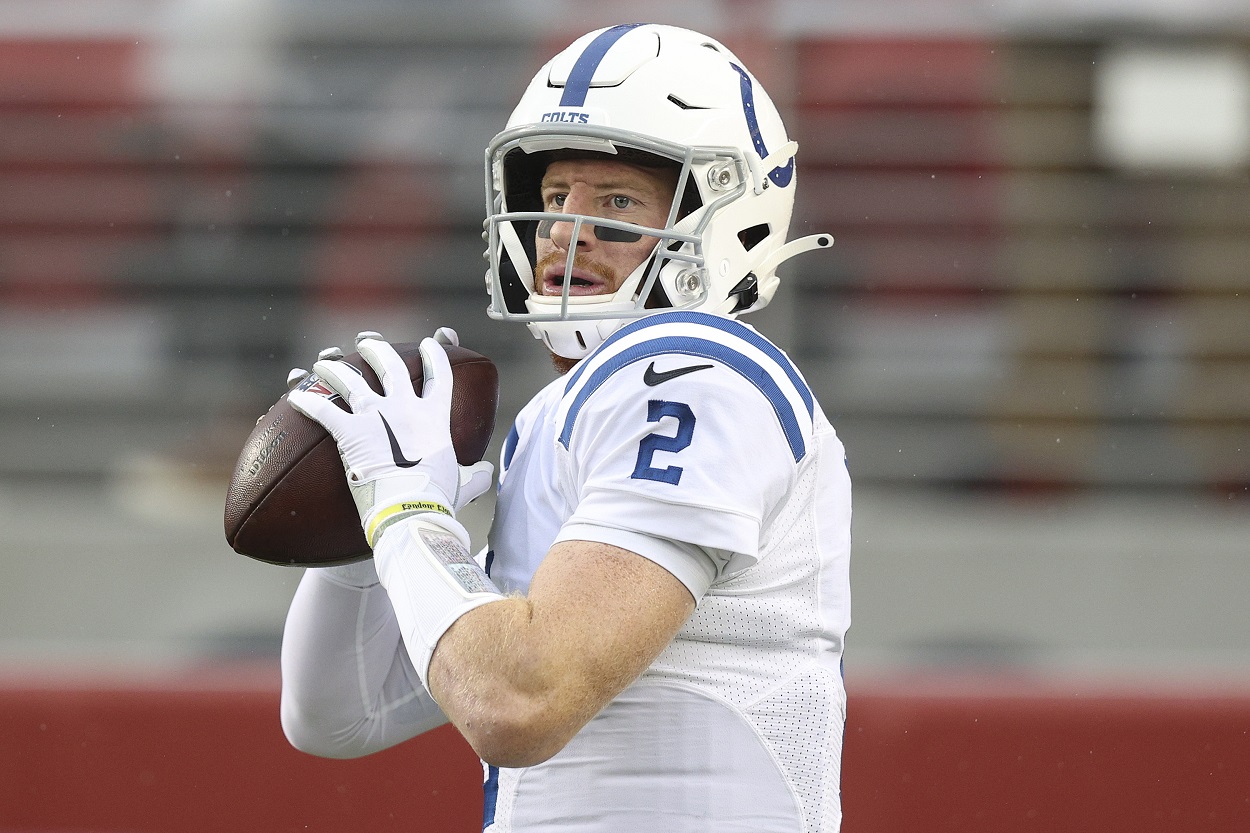 Wentz isn't the MVP-esque quarterback that he appeared to be in his heyday with the Eagles, but he proved in 2021 that with the right system in place around him, he can still be an above-average starter.
Throughout his career, injuries have been a concern for Wentz, but he played in all 17 games for Indy last season. He completed 62.4% of his passes for 3,563 yards, 27 touchdowns, and just seven interceptions.
The Colts faltered at the end of the season, which put a damper on an otherwise good year for Wentz. He finished 10th amongst all quarterbacks in touchdowns and QBR (54.7).
He wasn't perfect and far from it. In two of the three games in which he actually threw three touchdown passes, he also threw two interceptions. He averaged a pedestrian 209.6 yards per game (27th league-wide) and basically disappeared in the final two games of the season. Those were two losses that knocked Indianapolis out of the playoff hunt, including an unconscionable loss against the two-win Jacksonville Jaguars on the road. The Colts were in a win-to-get-in situation and Wentz couldn't even get them past the lowly jaguars.
That was the bad, and it was bad. Especailly at the end.
There was good with the bad for Wentz, though, and that's undoubtedly why Washington made the trade. What're two third-round picks and a second if you don't have a quarterback with the potential to win games in the playoffs? Heinicke wasn't that guy.
The good was really good, and Wentz proved that he still has flashes of the quarterback that he used to be. Sure, he'll likely never be that quarterback again, but he is undoubtedly an upgrade from Heinicke, and that's what was needed for Washington to try to get over the hump in a quarterback-driven league.
Wentz can help Washington win the NFC East, but he can't do it alone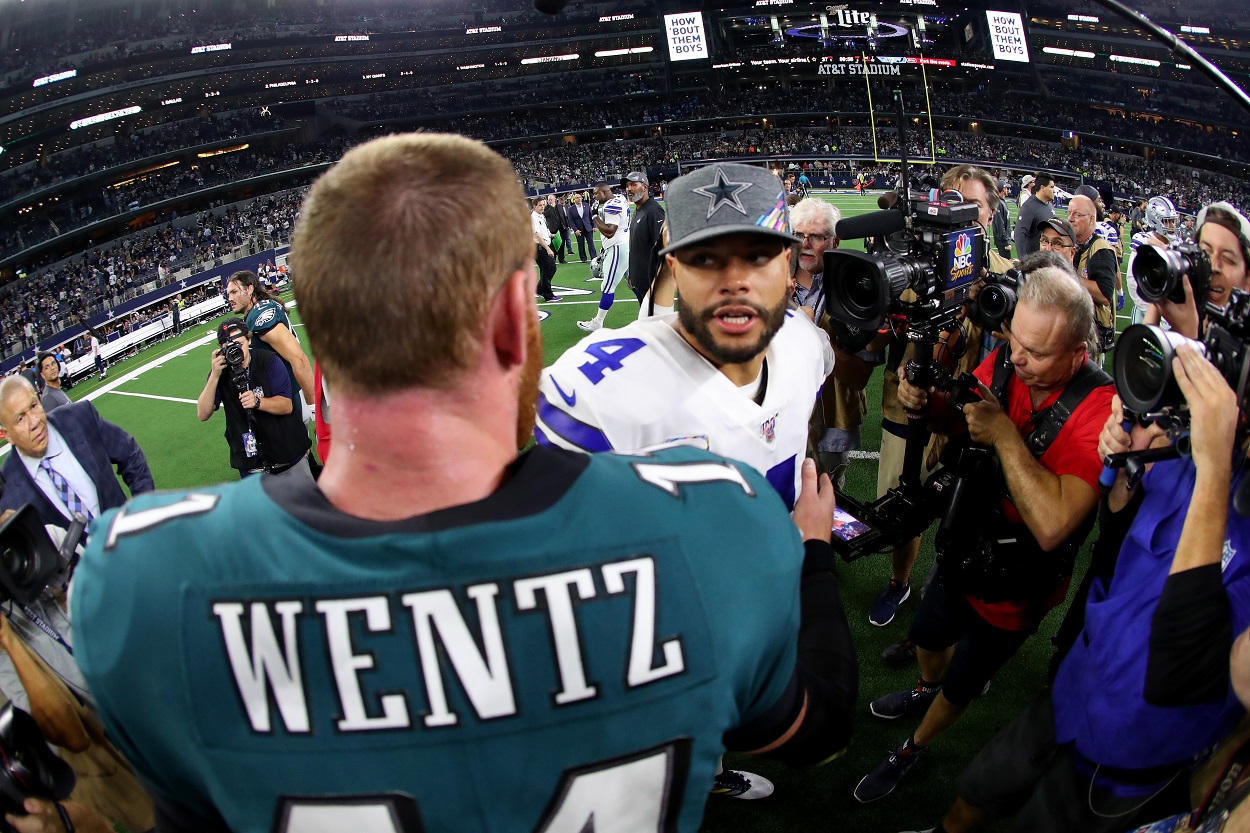 The addition of Wentz alone isn't going to propel Washington over the Cowboys and the Eagles are going to have something to say about the NFC East as well when all is said and done.
At least now, though, the Commanders have a legitimate shot.
Heinicke was a miserable 18-of-47 for two touchdowns and three interceptions in his two games against Dallas last season. That's not to say that Wentz will be able to do much better against the Cowboys in 2022 because Micah Parsons and Trevon Diggs will still be lurking on what should continue to be a mean Dallas defense, but Wentz does at least know a thing or two about winning in the NFC East.
He's also a bit more equipped than Heinicke to take advantage of the weapons around him. Wentz has always liked speedy wideouts, so expect Terry McLaurin to have a good season in 2022 if he can remain healthy. One would imagine having a threat like Wentz under center will make life easier for Antonio Gibson as well because defenses will have to at least respect the pass a bit more. Even with Heinicke at quarterback, Gibson rushed for 1,037 yards and seven touchdowns in 2021. His third NFL season could be his best one yet.
Ultimately, though, Washington's best chance at leap-frogging the Cowboys in the division is on the defensive side of the ball. The good news for Ron Rivera's club is that the defense should improve, almost by default.
Chase Young played in only nine games last season due to a torn ACL. Montez Sweat played in just 10 games due to injury. Getting those two back for a full season will do wonders for Washington's defense.
The Commanders do also have pick No. 11 in the first round of the 2022 NFL Draft to work with. That's a spot where they can go all-in on building an elite defense and take the best defender on the board. They could also take their pick of the deep wide receiver class and get Wentz a true No. 1 option to work with.
Ultimatly, Wentz alone is step one in the upgrade department, but he's just a part of what Washington is building.
He's arguably the most important part, considering how vital having a legitimate starting quarterback is in today's NFL. Still, it's his addition plus a healing defense and a strong draft that will make Washington a major threat to the Cowboys and the rest of the NFC East.
Stats courtesy of ESPN and Pro Football Reference. Contract information via Spotrac
RELATED: How Carson Wentz Trade Impacts the Indianapolis Colts in the 2022 NFL Draft