Carson Wentz Trade: Why the Commanders Decided Against Jimmy Garoppolo
The Washington Commanders' decision to acquire Carson Wentz has been met with a lot of criticism over the past several days. Many feel Washington overpaid for the veteran quarterback's services, that Wentz is no longer worthy of being considered a franchise-caliber passer.
However, it's essential to note that Washington reportedly did quite a bit of research on available quarterbacks before landing on Wentz. They even made a formal, sizable offer for Russell Wilson before he moved to the Denver Broncos.
Washington also kicked the tires on a few more affordable quarterbacks leading up to the Wentz trade, including current San Francisco 49er Jimmy Garoppolo.
Washington was in the mix for Deshaun Watson, Jimmy Garoppolo, and Mitchell Trubisky
According to a recent report by Yahoo Sports' Mike DePrisco, the Commanders had narrowed their quarterback search down to four players once Aaron Rodgers and Wilson became unavailable.
The four quarterbacks were Wentz, Deshaun Watson, Jimmy Garoppolo, and Mitchell Trubisky.
After canvassing the NFL in an attempt to acquire their next franchise quarterback, the Commanders narrowed their options down to Rodgers, Wilson, Wentz, Deshaun Watson, Jimmy Garoppolo and free agent Mitchell Trubisky according to ESPN's Jeremy Fowler.

In this case, if their choice came down to choosing between Wentz, Watson, Garoppolo and Trubisky, it's hard to knock giving up two third-round picks for arguably the lowest-risk option.

Wentz comes with his warts both on and off the field, including some bad performances in big games, off-the-field questions and injury concerns.

However, Garoppolo just had shoulder surgery on his throwing shoulder, which leaves some doubt as to whether he'd even be healthy enough to start the 2022 season. Watson's legal issues are well-documented at this point and until that situation is resolved, Washington couldn't realistically execute such a complicated move. Both Watson and Garoppolo would likely have cost the Commanders more than what they paid for Wentz, too.

Mike DePrisco, Yahoo Sports
Choosing Carson Wentz over Jimmy Garoppolo is particularly interesting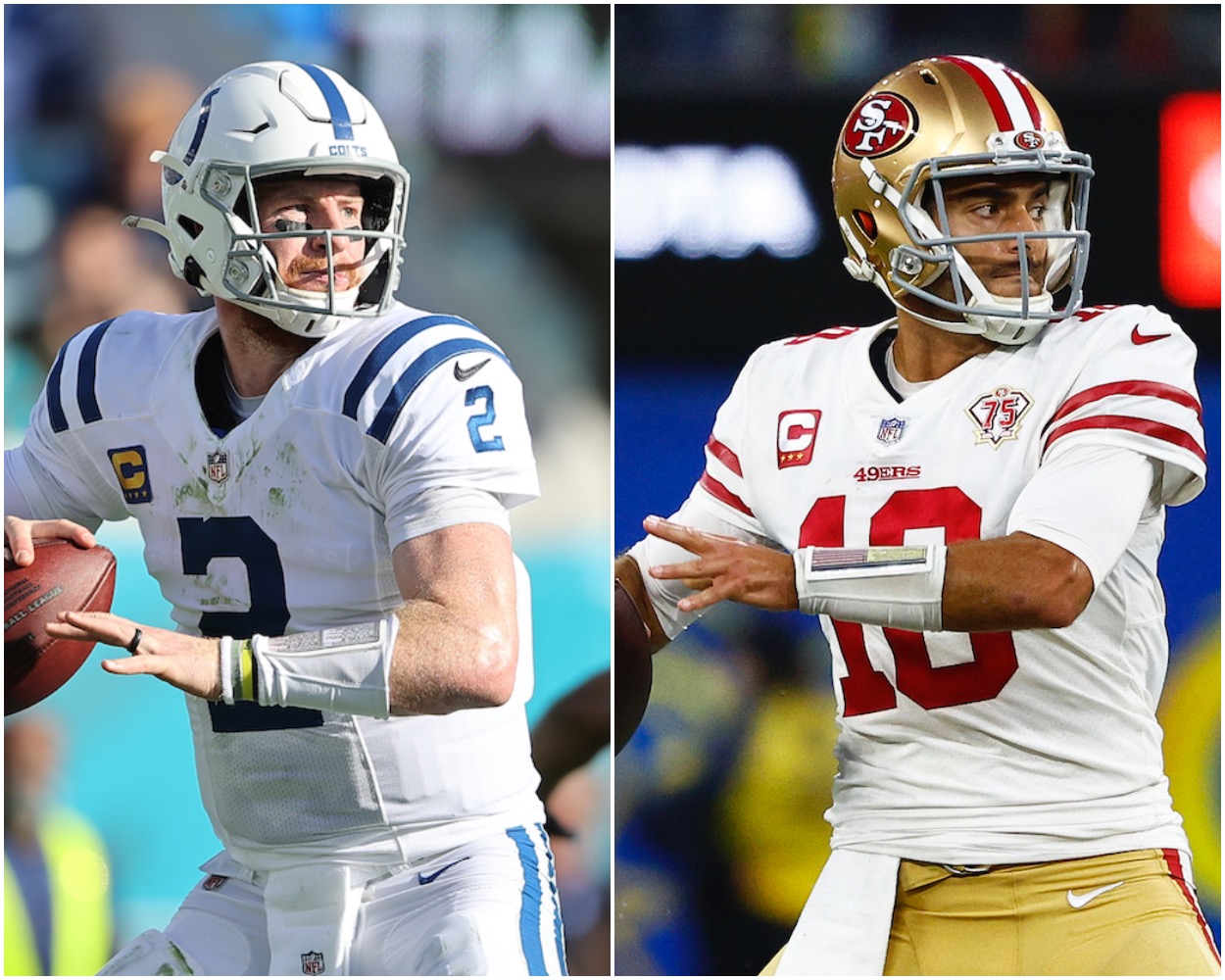 It's understandable why Washington chose Wentz over Watson and Trubisky. Watson's off-the-field situation is still murky, and Trubisky was never a good starting quarterback, to begin with. However, hearing that they passed on a Garoppolo trade for Wentz is interesting.
Garoppolo has been to the Super Bowl before and led the 49ers to the NFC Conference Championship this past season. Many NFL fans and analysts would argue he's a better quarterback than Wentz. In fact, the Colts may be looking to replace Wentz with Garoppolo.
Two factors likely played into Washington's decision to pick Wentz over Jimmy G. First, Wentz is healthy, and Garoppolo is not. Jimmy G underwent offseason shoulder surgery, and it's currently unclear when he can start throwing again.
Second, Wentz has a much higher ceiling than Garoppolo. Sure, Wentz tends to be far more mistake-prone. However, he can still show flashes of an elite quarterback when he's playing at his best. Garoppolo has never been that type of player.
Washington is betting on Carson Wentz and his ceiling
For Washington to be successful in 2022, they need to find a way to free that potential still trapped inside Wentz.
They need him to make the big throws and the occasional big plays with his legs, while simultaneously limiting the brainless interceptions and fumbles. If he can do that, Washington could easily compete with Dallas and Philadelphia.
Like Sportscasting on Facebook. Follow us on Twitter @sportscasting19.
RELATED: Carson Wentz Trade: What it Means for Jameis Winston