Carson Wentz's Worst Nightmare Is Being Avoided Following a Massive $8.38 Million Addition to the Colts' Struggling Offensive Line
Carson Wentz and the Indianapolis Colts are coming off a rough first week to their new marriage.
Despite all the hype surrounding Wentz's debut in Indy, the Colts' offensive line could not live up to their end of the bargain at home against a ferocious Seattle Seahawks defense. Seattle sacked Wentz three times and recorded 10 quarterback hits.
Not exactly a fun way to spend your Sunday afternoon if you're Wentz.
However, with a matchup against Aaron Donald and the Los Angeles Rams looming overhead, the Colts are receiving some last-minute reinforcements.
Carson Wentz is getting his starting left tackle back
Heading into this year's past offseason, the Colts didn't have a super concrete plan at left tackle. They lost veteran Anthony Castonzo to retirement and didn't draft his replacement with their first-round pick. However, as the offseason began to dwindle to a close, the Colts took a gamble and inked former Kansas City Chiefs LT Eric Fisher to a one-year/$8.38 million contract.
The only problem? Fisher's 2020 season ended with a torn Achilles. This injury typically keeps players out for a full calendar year, leaving the Colts and Wentz unsure when their new LT would join them on the field.
Wentz felt the effects of playing behind a backup LT against Seattle; going up against Donald will only make matters worse. However, quite miraculously, it's being reported that Fisher expects to play against the Rams.
Colts LT Eric Fisher won't be playing at 100%
While any version of Fisher on the field is good news for the Colts, it's worth acknowledging that he won't be playing at 100%.
According to David J. Chao (the "Pro Football Doc" on Twitter), there's "no way" Fisher will be at 100% on Sunday. As previously stated, Achilles injuries are nasty and typically take a full year to heal. Fisher is returning in roughly seven months.
Fisher has been practicing and doing individual work the past few weeks and is obviously cleared by Colts' doctors to play against the Rams. However, it will be interesting to see how the Rams attack the Colts' potentially hobbled left tackle.
Seattle had a large amount of success disrupting the Indy offense by applying pressure to Wentz. One can only assume LA will look to implement a similar strategy.
Carson Wentz and the Colts are still hunting for their first win together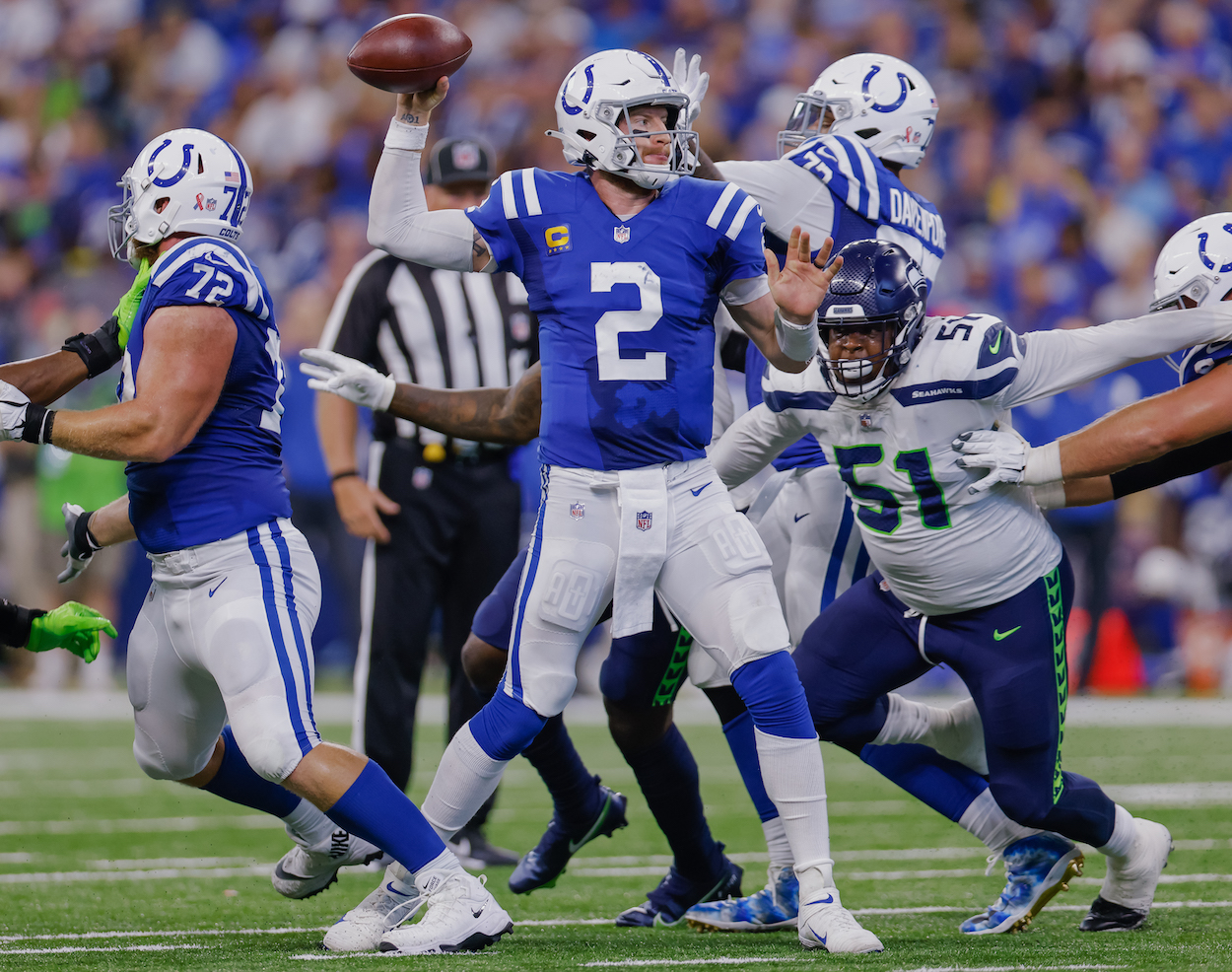 Wentz actually played fairly well during Week 1 despite the offensive line struggles. He finished the afternoon with 251 passing yards, two touchdowns, and a passer rating north of 100. However, it wasn't enough to overcome the Colts' injury woes.
In addition to the absent Fisher last weekend, the Colts were without regular starters, T.Y. Hilton and Xavier Rhodes. It's also worth mentioning that right tackle Braden Smith popped up on the injury report following the Week 1 loss and is expected to be out against the Rams.
Needless to say, getting Fisher back is a boost, but Wentz and the Colts are still fighting an uphill battle against a talented Rams team.
All stats courtesy of Pro Football Reference.
RELATED: Carson Wentz Sent a Powerful Message to Indianapolis Colts Fans, Which Proves He's the Perfect QB to Finally Replace Andrew Luck