Cassius Winston Was as Productive as They Come for Tom Izzo, Michigan State
When Michigan State guard Cassius Winston kissed the MSU floor during senior night on Sunday, in a game where the Spartans clinched a share of the Big Ten regular season title, he did not know that would most likely be the final game of his college career. However, due to the NCAA Tournament being canceled because of the coronavirus, that ended up being the case. The legacy Winston leaves at MSU, assuming the NCAA does not grant him another year of eligibility, is a great one. Throughout his career, Winston was easily one of the most productive players in the country for Tom Izzo and the Spartans.
Cassius Winston came on the scene as a sophomore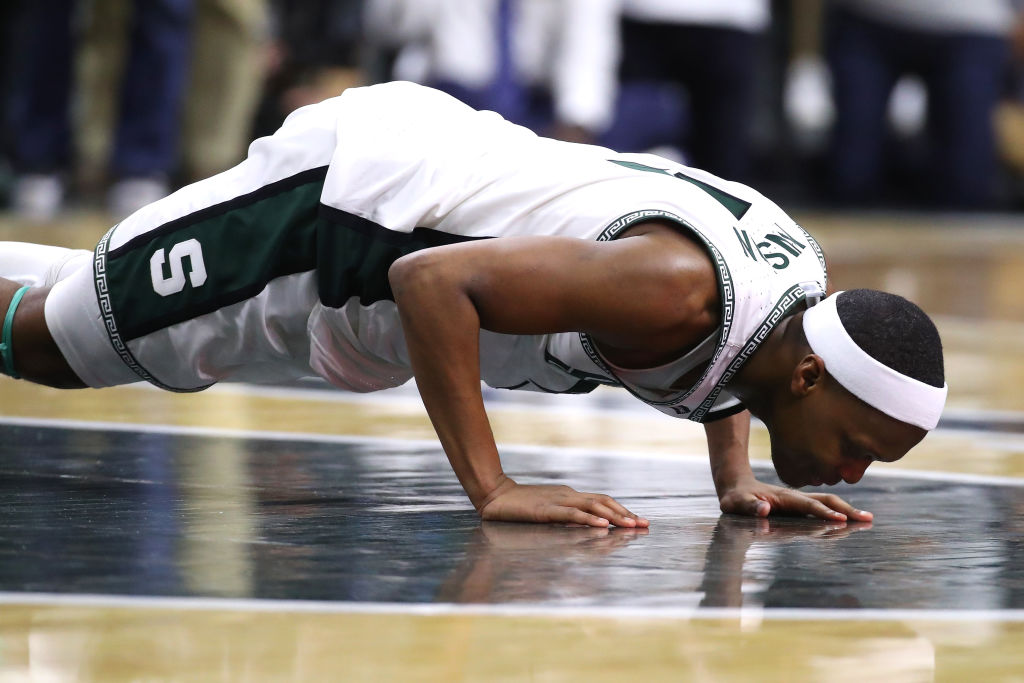 Winston averaged 6.7 points in 20.7 minutes per game as a freshman during the 2016-17 season. However, he became a productive weapon for the Spartans during his sophomore season.
Winston averaged 12.6 points per game in 28.1 minutes during the 2017-18 season, helping lead the Spartans to a 30-5 overall record. He had some really big games that year too as he scored 28 points to go with five assists in a win over UConn. He also performed well in the conference tournament as he scored 17 points to go with five assists in a win over Wisconsin.
Syracuse, who was an 11 seed, upset the three-seeded Spartans in the second round of the NCAA Tournament that year. Winston, however, ultimately earned Third Team All-Big Ten honors.
Winston and the Spartans reach the Final Four
While he had a great year in his sophomore season, Winston was one of the most dominant players in the country his junior year. That's during a season where Zion Williamson was in college too.
Winston averaged 18.8 points per game his junior year and 7.5 assists. He also had some huge individual performances. Scoring 28 points to go with eight assists against Rutgers, and 27 points to go with eight assists against Michigan, in back-to-back games, Winston was unstoppable at times. His tournament run, however, was magical.
Winston scored 26 points in the first round against Bradley, in addition to 17 points to go with eight assists in the Sweet 16 against LSU. However, he helped lead Michigan State to a huge upset win over Williamson and the Duke Blue Devils in the Elite Eight, clinching a spot in the Final Four. Winston was huge for the Spartans as he had 20 points and 10 assists in a 68-67 win.
Michigan State lost to Texas Tech in the Final Four, but Winston earned the Big Ten Player of the Year award that season. He was also a Second Team All-American.
Returning for his senior season
Winston chose to return for his senior season this year and ultimately played with a heavy heart the entire season. Zachary Winston, his younger brother, died in early November. Authorities said he intentionally stepped in front of a train, according to The Detroit News.
Winston still, somehow, had a great season for the Spartans as he scored 18.6 points per game to go with 5.9 assists. He also ultimately led his team to their third straight regular season Big Ten Championship.
With a wide-open field this year, Winston and the Spartans had as good a chance as any to reach another Final Four. They could have possibly gotten redemption too and reached a national championship. However, they will not get that chance as the NCAA Tournament was canceled on Thursday due to the spread COVID-19.
"I went out a champion," Winston said in a Friday interview on ESPN, according to MLive. "It's not the season that we wanted, it's not the season that we kind of expected, but at the end we fought through a lot, we battled, and we got the chance to hoist up a trophy. My senior year, I feel like I ended with a championship."

Cassius Winston
Winston will not be able to play in the NCAA Tournament this year. He may never play college basketball again. However, if that's the case, he leaves Michigan State with the sixth-most points in school history (1,969) and a Michigan State record, as well as a Big Ten record, 890 assists, according to MLive. Winston leaves MSU with an untouchable legacy. He was easily one of the most productive players in college basketball during the past four years for Izzo and the Spartans, as well as one of the most successful.