The Cavaliers Should Avoid Trading For Ben Simmons and Pursue Dennis Schroder Instead
The Cleveland Cavaliers suddenly have a backcourt need following Ricky Rubio's devastating ACL injury. While it could be tempting to reengage the Philadelphia 76ers in trade talks for Ben Simmons, the Cavs do not want to risk giving up a lot of future value when they're just starting to build a more consistent playoff contender.
Alas, Cleveland should bypass the temptation of making a splash for Simmons and instead settle for a very productive guard in Dennis Schroder.
Ricky Rubio gave the Cavaliers excellent production at the guard spot
Rubio's absence is a significant loss for the Cavaliers.
The Spanish guard was in the midst of a terrific individual season. In 34 games, Rubio averaged 13.1 points, 6.6 assists, and 4.1 rebounds. He took a lot of playmaking pressure off Darius Garland's shoulders while also showing a higher level of defensive intensity. He also showed veteran leadership in lifting up young players like Evan Mobley.
The Cavs have a real hole at the guard position without Rubio in the fold. Collin Sexton remains out with a meniscus injury suffered in November. Isaac Okoro is more of a defensive-minded wing than a guard, while Cedi Osman and Dean Wade are forward types who can't create a ton of offense.
Cleveland desperately needs to acquire another ball-handler and playmaker to fill the void left by Rubio. Given past interest, it stands to reason that the Cavaliers could try to trade for Ben Simmons.
The Cavaliers figure to be among the teams interested in trading for Ben Simmons
The Cavs have been listed as one of the teams that could make a play for Ben Simmons. Indeed, the polarizing 76ers star could be a boon in Cleveland's asset.
Simmons would make an already terrific defensive team all the more elite. His staunch perimeter defense would surely give primary ball-handlers nightmares, particularly when considering both Mobley and Jarrett Allen lurk in the paint.
Additionally, Simmons' ability to grab rebounds and immediately start breaks in transition could give the Cavs more pace and juice on the offensive end, especially given their bigs run the floor so well. While his shooting limitations inhibit spacing, he and Allen would haunt teams in the dunker spot.
Moreover, Cleveland has young assets, like Sexton, who might appeal to the 76ers, not to mention draft capital and pick swaps. But is it really wise for a team that is still building and establishing a foundation to give up so much for a player with a somewhat limited offensive ceiling?
The Cavaliers would be better served pursuing other, less costly backcourt upgrades.
Cleveland should trade for Dennis Schroder over Ben Simmons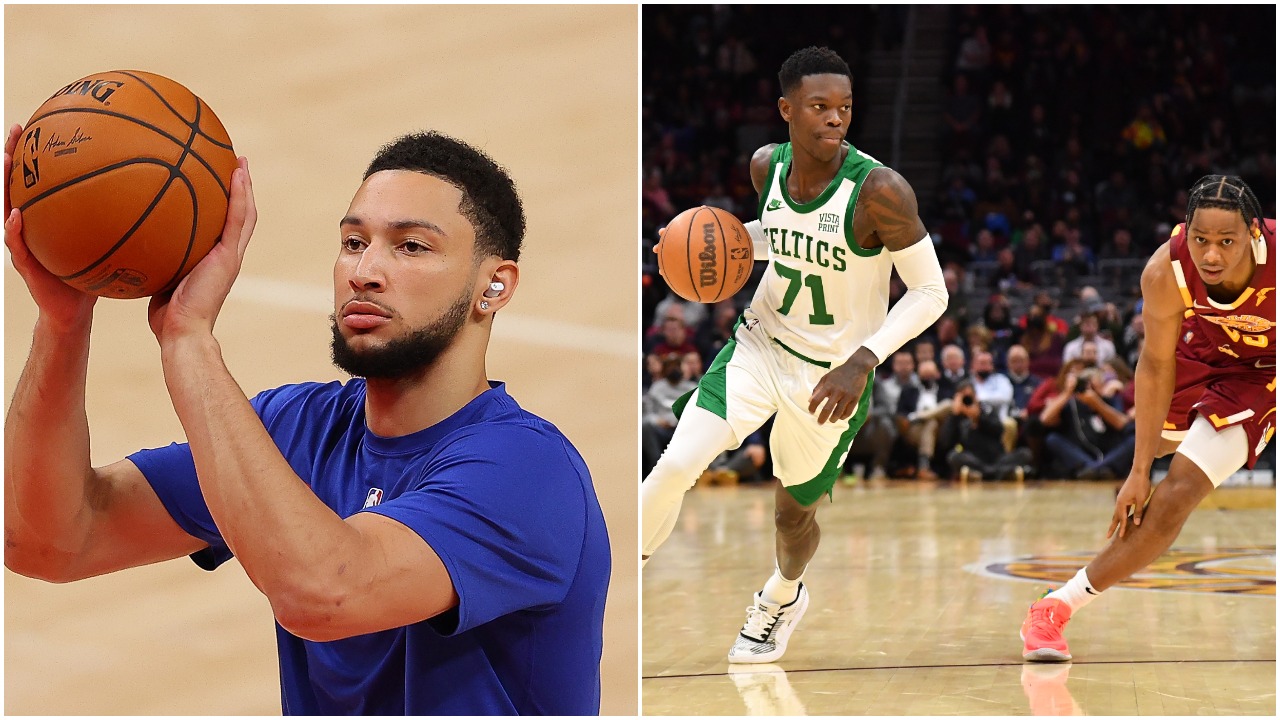 Ben Simmons would give Cleveland an All-NBA-caliber player and perennial Defensive Player of the Year candidate. But he'd also take a big bite out of the Cavs' wallets, both in terms of picks as well as the money owed to him in the next few seasons.
Why not pursue someone like Boston Celtics point guard Dennis Schroder, who is almost certain to move ahead of the NBA trade deadline?
Schroder isn't the best shooter. He's making just under 33% of his triples on 4.4 attempts per contest. But he's a viable playmaker (4.7 assists) who thrives as a slashing guard. His ability to get to the cup could make him a nightmare in pick-and-roll sets with Cleveland's monstrous frontcourt of Allen, Mobley, and Lauri Markkanen.
Moreover, Schroder is going to be far less costly. He's on an expiring contract and won't command nearly the same kind of return as Simmons in terms of draft capital and young talent.
If the Cavaliers feel pressured to wheel and deal for another possible franchise cornerstone, trading for Simmons could make some sense. But if they want a quality, scoring guard who can make plays off the bounce and act as more of a stopgap option, then someone like Schroder is the better option.
Stats courtesy of Basketball Reference.