Cavs Make Low-Risk, High-Reward Move by Signing Former Standout Moses Brown
The Cleveland Cavaliers potentially just made a season-saving move. 
Or it could have no impact on their performance at all. It's hard telling at this point.
The Cavs are entering a brutal stretch of their season, and they are doing so without All-Star center Jarrett Allen, who fractured his finger earlier this week and is out indefinitely. So, in response to the news, Cleveland went out and signed a young player in Moses Brown to a 10-day contract.
The transaction could pay off big time for a shorthanded NBA team looking to make the playoffs. Or, as mentioned earlier, it could have no impact at all.
The move is simply low risk, high reward.
The Cavs are missing All-Star center Jarrett Allen
Jarrett Allen has had a breakout season for the Cavs. After going to Cleveland in last season's blockbuster James Harden trade, Allen is averaging 16.1 points and 10.8 rebounds on 67.7% shooting this season. He also earned his first career All-Star selection and is a major reason why Cleveland is 38-27 and in sixth place in the Eastern Conference.
However, Allen fractured his finger in a win over the Toronto Raptors on March 6, and he is out indefinitely. It's unclear whether he will return before the end of the regular season or not.
While his injury would be a massive blow at any point in the year, it comes during an awful time. The Cavs are just three games away from being the No. 7 seed and in the NBA Play-In Tournament. They also have a gauntlet of a schedule throughout the next three weeks, including games against the Miami Heat, Chicago Bulls (twice), Philadelphia 76ers, Denver Nuggets, and Dallas Mavericks.
That could result in several losses.
So, to hopefully keep their heads above water until Allen returns, the Cavs signed former high school standout Moses Brown.
Cleveland signed Moses Brown to a 10-day contract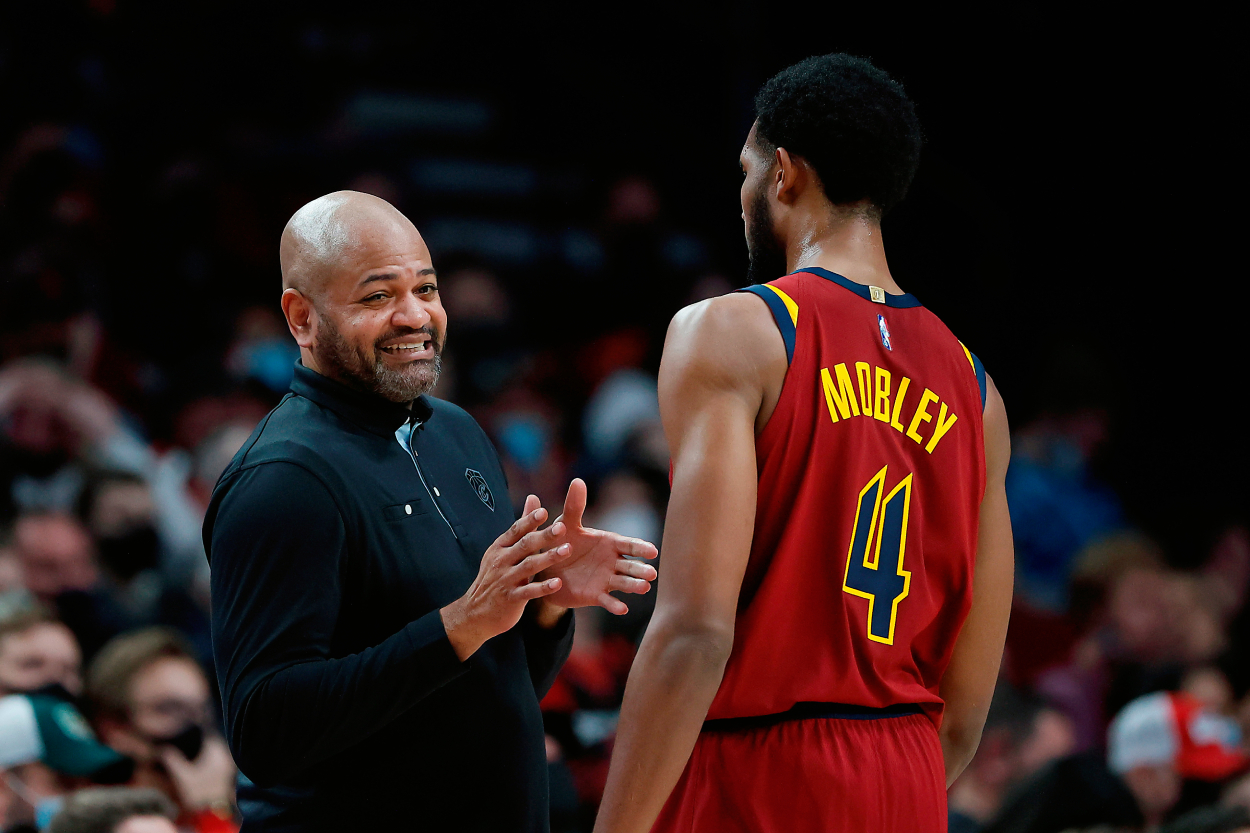 Luckily for the Cavs, they have big men who can step up in Jarrett Allen's place. Evan Mobley is the frontrunner for Rookie of the Year and is averaging 21.0 points and 14.5 rebounds in the two games since Allen's injury. They also have Lauri Markkanen and the resurgent Kevin Love.
But another tall rim protector would help a great deal defensively. Allen averages 1.3 blocks per game. Besides Mobley, who averages 1.7, no other Cavs player records more than 0.6 rejections per contest.
That's where the team's latest addition could come in.
The Cavs signed Moses Brown to a 10-day contract on March 10, according to NBA.com.
Brown is a former high school standout. He was a five-star center at Archbishop Molloy in New York and the No. 1 recruit in the entire state in 2018 (per 247Sports). He then went to UCLA, where he averaged 9.7 points, 8.3 rebounds, and 1.9 blocks in 32 games before going undrafted in 2019.
Brown has since played in 78 NBA games the last three seasons, having his best year in 2020-21 with the Oklahoma City Thunder. He averaged 8.6 points, 8.9 rebounds, and 1.1 blocks in 43 games. The big man also recorded 18.5 points, 13.9 rebounds, and 1.9 blocks in 14 G League games last season.
Moses Brown could be low risk, high reward for the Cavs
The Cavs don't need Brown to play big minutes. They just need him to fill in for their starters when they need a breather. And if he can play the way he showed he is capable of last season, Brown can become a low-risk, high-reward guy.
The 7-foot-2-inch UCLA product uses his height to defend the rim at a decent level. He had seven blocks in a game for the Thunder last season. He also recorded 24 points and 18 rebounds in that contest. Brown also showed glimpses of offensive brilliance for OKC, recording four 20-point games. And he pulled down 15 or more boards seven times, including a 21-point, 23-rebound game against the Boston Celtics.
Brown only played in 26 games for the Dallas Mavericks this season, averaging 3.1 points and 2.3 rebounds in 6.5 minutes per game. If he can play at the level he did at times last year, though, the 22-year-old should be able to give the Cavs precisely what they need: a big man who can be effective offensively and defensively.
If it doesn't work out, Cleveland can just let his 10-day deal run its course. No harm done.
The Cavs are entering a crucial stretch of their season. Maybe just maybe, Moses Brown can play a role in helping them get into the playoffs.
Stats courtesy of Sports Reference and Basketball Reference
RELATED: Cavs President Koby Altman Admits Cleveland 'Fell' on Its 'Face' After LeBron James' Departure