Cedrick Wilson Could Be the Key to Big Playoff Numbers for Dallas Cowboys
When you think about the Dallas Cowboys offense, names that likely come to mind are Dak Prescott, Ezekiel Elliott, Amari Cooper, and CeeDee Lamb. You probably haven't thought much about Cedrick Wilson, until now.
The Cowboys are star-studded, without a doubt, and the aforementioned players have had a huge role in the top-rated offense in the league for much of the season. As Dallas looks ahead to the playoffs, is there room for a role player or two to burst onto the scene and make a splash in the big dance?
Just ask Wilson.
Cedrick Wilson is coming off a massive game for the Dallas Cowboys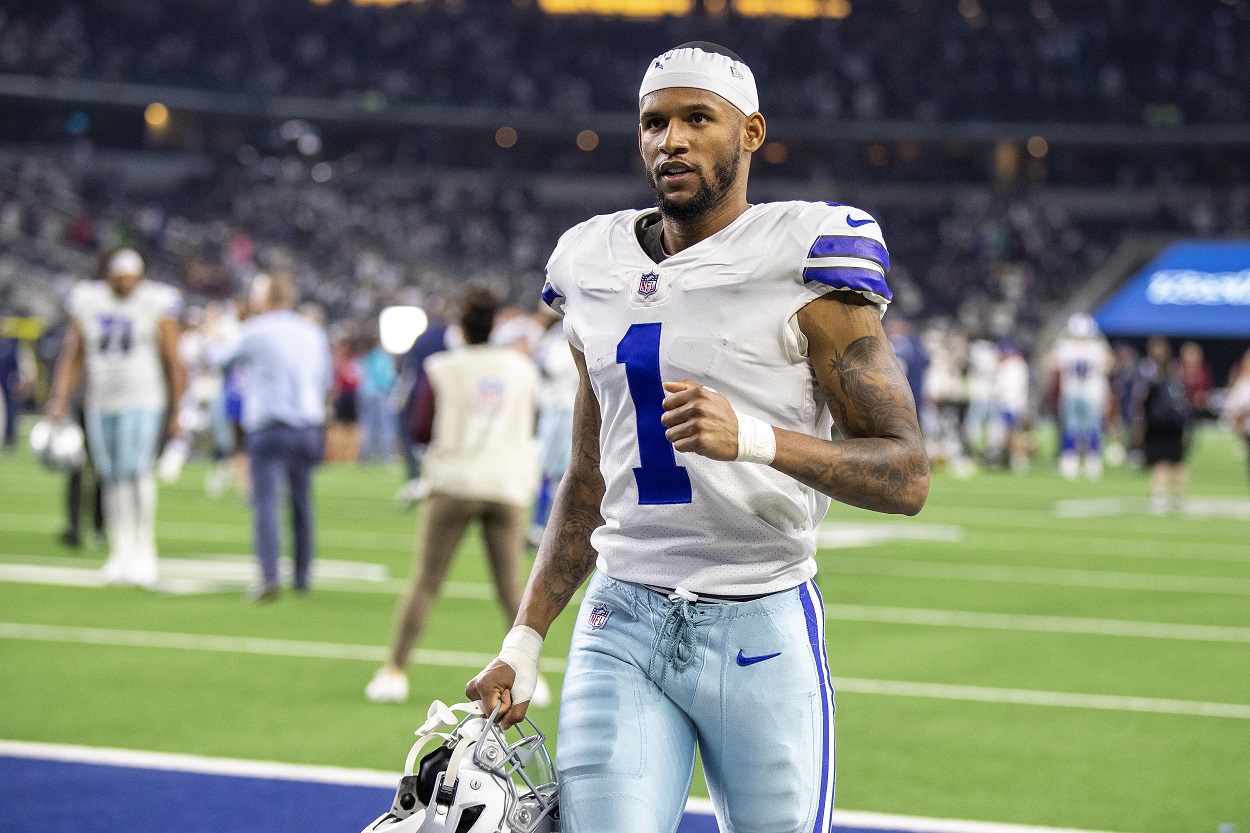 In a game that featured a heavy dose of Prescott and the passing offense, Wilson made the loss of Michael Gallup feel just a little bit more palatable for Dallas.
Nobody will confuse Wilson as Dallas' new top weapon, and you can't simply replace the element Gallup brought to the table for the Cowboys. Still, for an offense that can be scary good when it's clicking on all cylinders, being able to plug and play a guy like Wilson is vital, especially as the playoffs loom.
Wilson was actually the leading receiver for Dallas against the Eagles, as he caught five passes for 119 yards and two touchdowns, averaging 23.8 yards per catch.
He stepped up and proved he can be a very potent option for Dallas, especially if defenses focus on taking out either Cooper or Lamb. With 602 yards receiving and now six touchdowns on the season, his ability to be ready when his number is called is commendable.
"I practice hard every day, and when it's game day, I just rely on my preparation," Wilson said, according to Oakland News Now. "When it's out there like that, it's pretty easy to do. Dak throws a pretty easy ball to catch."
Wilson is stepping up at the right time for Dallas
As mentioned, it's not easy to replace a player like Gallup. Sure, he's the third wideout option in Dallas, but he'd be a No. 1 option for many teams across the league. That just shows you how deep the Cowboys are on offense…when a guy like Gallup is technically third in line behind Cooper and Lamb.
Gallup does play an important role for the Cowboys when he's healthy, though. He's a big and fast receiver who is a threat to take the top off a defense downfield, especially down the sideline. His presence alone opens up space for Cooper and Lamb to work, and that's not even mentioning making room up the middle for tight end Dalton Schultz or Ezekiel Elliott, who is a threat out of the backfield.
Gallup and Wilson have different roles in Dallas' offense when both are playing, but even as a slot receiver, Wilson proved against the Eagles that he can be a third high-level option for Dallas. Every defensive eyeball that has to go his way is one less that will ultimately be on Lamb or Cooper. When the ball comes his way and it's his turn to step up, though, he's proven that he can. As the Cowboy's offensive production against the Eagles showed, when your third option becomes the first option, great things can happen.
The Cowboys put up 475 total yards of offense against Philly, 304 of which came through the air. They were 8-of-13 on third down, 2-of-2 on fourth down, and went 5-of-5 in the all-important red zone.
"We can put up big numbers if we're all snapping," Wilson said after the game, according to the team website. "We have a few guys that don't even get touches, and they were part of the offense as well. It goes to our preparation in practice, when everybody gets in, and when we can roll it over into the game."
Wilson could be earning himself a nice payday this offseason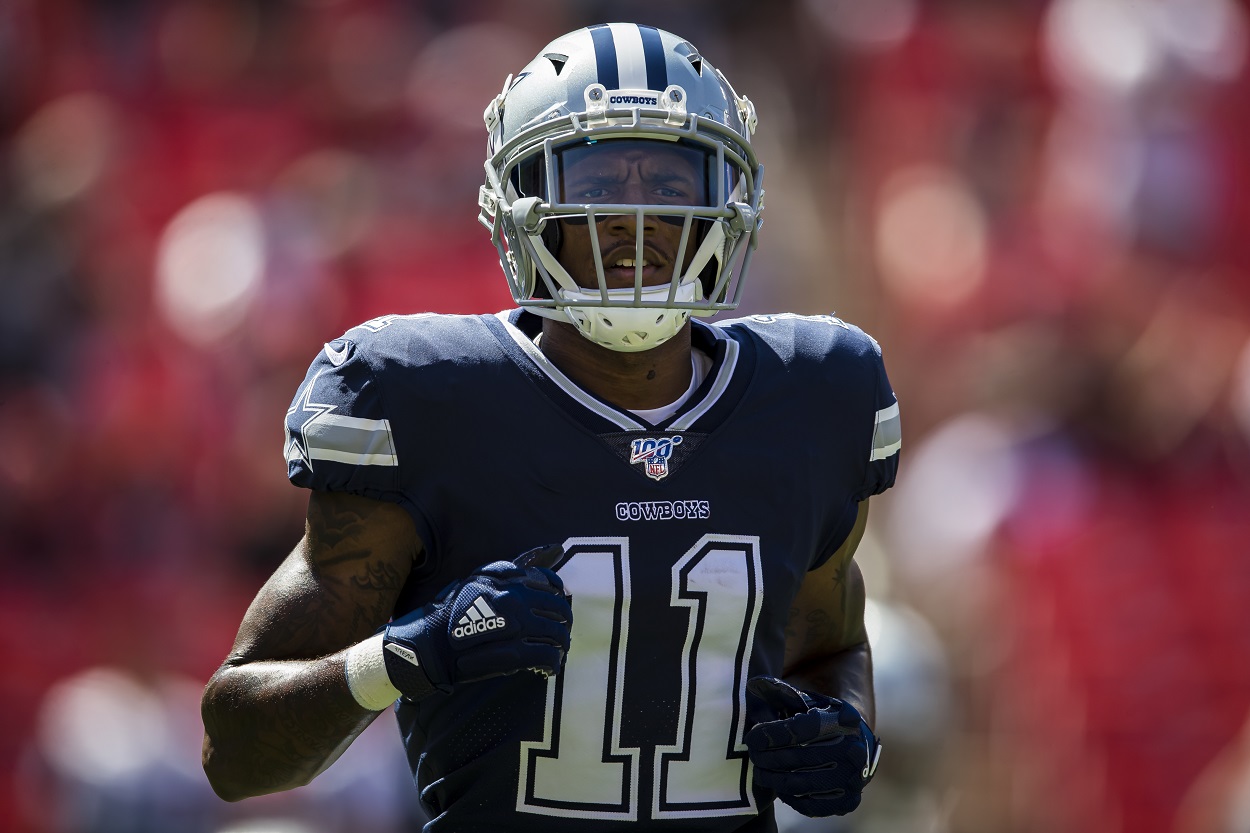 The NFL is a "next man up" league and Wilson is the living embodiment of that. He's had the opportunity to step up in place of Gallup multiple times this season, and now he'll be his permanent replacement as Gallup watches the playoffs from the sideline with a torn ACL.
Gallup's misfortune actually works out in favor of Wilson, as is often the case in the NFL. Both are slated to be unrestricted free agents in 2022. Gallup is going to be coming off a major knee injury with long-term questions abound. Wilson, on the other hand, has the opportunity to make himself some major money over the next month or so.
If he continues to play well, someone is going to want to pay, and that includes the Cowboys.
Even with that said, the fourth-year wideout says he's only focused on winning right now. The rest will take care of itself.
"That's part of the game. You play good, you get paid good," he said. "My focus right now is going into the playoffs and bringing a championship here."
Stats courtesy of ESPN and Pro Football Reference. Contract information via Spotrac.
RELATED: Even as Dak Prescott Puts Tony Romo in Rear View, Dallas Cowboys QB Is Focused on What Really Matters
Related post url: