Cedrick Wilson: Former Dallas Cowboys WR Will Break out With the Miami Dolphins
The Dallas Cowboys let Cedrick Wilson hit free agency, and the Miami Dolphins have taken advantage.
Wilson has reportedly signed a free-agent deal with the Dolphins, which means it's time to look out for the former Boise State wideout.
He's due for a breakout.
Cedrick Wilson was a tremendous depth piece for the Dallas Cowboys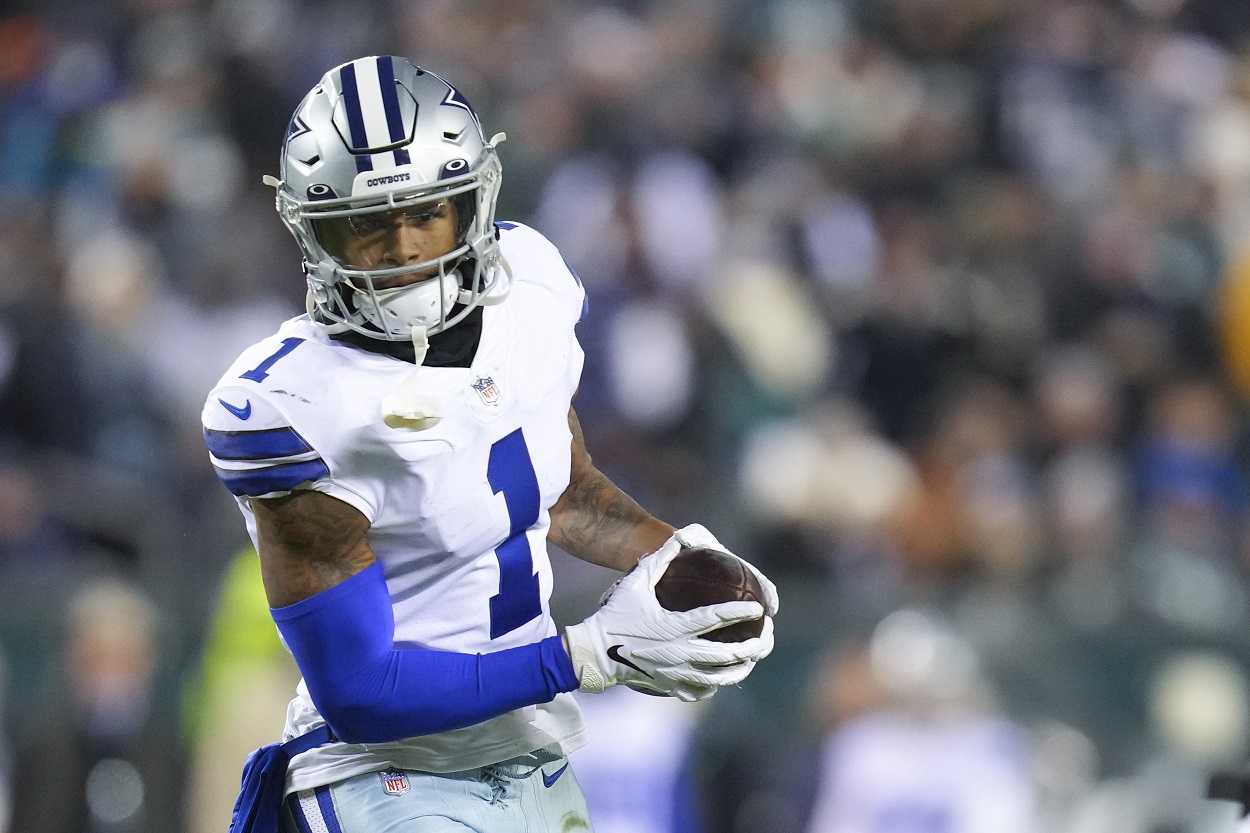 The big names in Dallas are the big names. Amari Cooper (who was just traded to the Cleveland Browns) was a star, and CeeDee Lamb is a rising star. There are, of course, Dak Prescott and Ezekiel Elliott to consider as well, two of the biggest names in the NFL. Heck, even tight end Dalton Schultz has star potential in him. The Cowboys franchise-tagged him last week, but he's worth a long-term deal.
With so much star power available, it was easy to forget about Wilson, who was tucked away on the depth chart behind Cooper, Lamb, and Michael Gallup (until his injury).
When he saw the field and got the ball, though, you saw flashes of what made Wilson such an intriguing depth piece for the Cowboys.
He consistently made the most of his targets and stepped up toward the end of the season when Dallas needed him in light of Gallup's injury. Wilson finished with 45 receptions for 602 yards and six touchdowns in 2021, which is extremely impressive for technically the 4th receiver on the roster. He averaged 13.4 yards per catch, which was 35th best amongst all NFL wide receivers, and he caught an impressive 45 of the 61 targets that came his way during the regular season. That came out to a cool 74% catch percentage.
What Wilson brings to the table for the Miami Dolphins
Wilson has been buried on Dallas' depth chart for the past three seasons, which isn't necessarily surprising for a player the Cowboys took in the 6th round of the 2018 NFL Draft.
As made evident above, the Cowboys have had their fair share of star power at the wide receiver position. Ironically, now that he's a member of the Dolphins, the 6-foot-2, 200-pound fourth-year wideout finds himself in another relatively stacked wide receiver room featuring Jaylen Waddle and DeVante Parker.
Make no mistake about it, Wilson has the skillset to challenge both players for supremacy on the depth chart. Perhaps he doesn't have the DNA to be a true No. 1 wide receiver like Waddle, the Dolphins' No. 6 overall pick in 2021, but he has everything that you look for in a top wide receiver.
He has the size, speed, and most importantly, the ability to get open and find cracks in a defense. At this point in his career, Wilson is a veteran route-runner who has displayed both the ability to go up and get the football and also soft, reliable hands.
Especially considering Parker's lackluster 2021 season, Wilson should be able to come into Miami and immediately compete as the No. 2 receiver on the depth chart. He has the talent to be more than that, though.
Wilson will be a good pairing with Tua Tagovailoa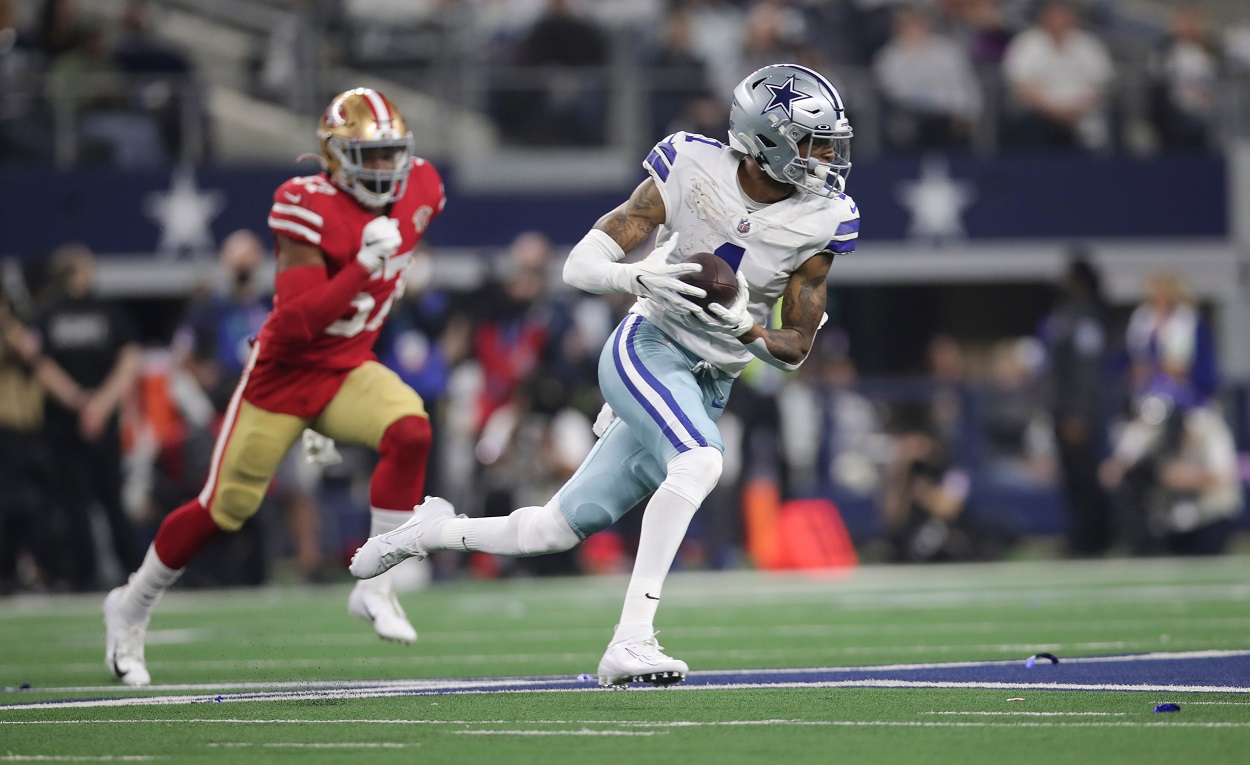 Perhaps the biggest thing Wilson can be for the Dolphins is a safety net for soon-to-be third-year quarterback Tua Tagovailoa. It's been a hectic two seasons for the former No. 5 overall pick. He's had to deal with injuries, rumors of being replaced by Deshaun Watson, and now a head coach who was not only fired but is embroiled in a lawsuit against the Dolphins and the league as a whole.
Young quarterbacks need stable environments in order to succeed, and Miami has been anything but for Tagovailoa over the past two years.
At least in Wilson, Tagovailoa now has a veteran wide receiver who is used to playing under the scrutiny and pressure of being a Dallas Cowboy. On the field, Wilson is also adept at getting open, and we've already discussed his efficiency and potential ad nauseam
Tagovailoa hasn't had the opportunity to have the franchise go all-in on him, despite the fact that they took him soo high in 2020.
Miami hired an offensive-minded head coach in Mike McDaniel and the Dolphins have used their franchise tag on Mike Gesicki, who was second on the team in receiving yards last season with 780 and second in targets with 112.
Bringing in Wilson and paying him to stick around for three years is another huge step in the right direction for Tagovailoa and a Miami offense that could be sneaky good in 2022.
Stats courtesy of ESPN and Pro Football Reference. Contract information via Spotrac
RELATED: Cedrick Wilson Sr., Father of Dallas Cowboys Receiver Cedrick Wilson Jr., Did Something Very Few NFL Players Have Done