If CeeDee Lamb Was a Doctor, the Dallas Cowboys Would Feel Great About Dak Prescott's Injury Heading Into Minnesota Matchup: 'To Me He Looks Perfectly Fine'
At 5-1 on the season, the Dallas Cowboys have to think about winning in the here and now while balancing a long-term mindset, because a Super Bowl is the expectation. The Cowboys are one of the best teams in the league in 2021, and quarterback Dak Prescott is a big reason for that.
He's top ten in the league in passing and has helped lead the Cowboys to a five-game win streak. Even in their lone loss, Prescott went toe-to-toe with Tom Brady and the Tampa Bay Buccaneers. He threw for 403 yards and three touchdowns in that loss with one interception. On the season so far, Prescott has thrown for 1,813 yards, 16 touchdowns, and just four interceptions.
In Dallas' last contest, Prescott threw for 445 yards and three touchdowns in an overtime win against the New England Patriots. The play of the game was a walk-off touchdown pass to CeeDee Lamb to win the game in overtime, but the quarterback, unfortunately, strained his right calf.
After a much-needed bye week, the Cowboys hit the road to take on the 3-3 Minnesota Vikings. Prescott is listed as questionable for the contest, but his star receiver, apparently flexing his medical skills, thinks the quarterback will be just fine.
CeeDee Lamb thinks Dak Prescott looks 'perfectly fine'
If it were up to Lamb, the second-year wideout out of Oklahoma, Prescott should easily see the field this Sunday in Minnesota.
Of course, Lamb is a football player and not a doctor, but he knows what he sees on the practice field. Prescott was a limited participant in practice on Wednesday, but reports from those who saw him play all seemed positive. That includes Lamb's take.
"Same Dak. He looks great in and out of his drops," Lamb said, according to ESPN. I don't know the restrictions on him or what's going on, but, to me, he looks perfectly fine."
Head coach Mike McCarthy did tell the media that Prescot is preparing to play against the Vikings, but there is a certain spot the Cowboys want him to be at in order to fully clear him to take the field.
"He's got to cross the threshold to make sure he's full-go," McCarthy said.
Mike McCarthy and the Cowboys need to consider the long-term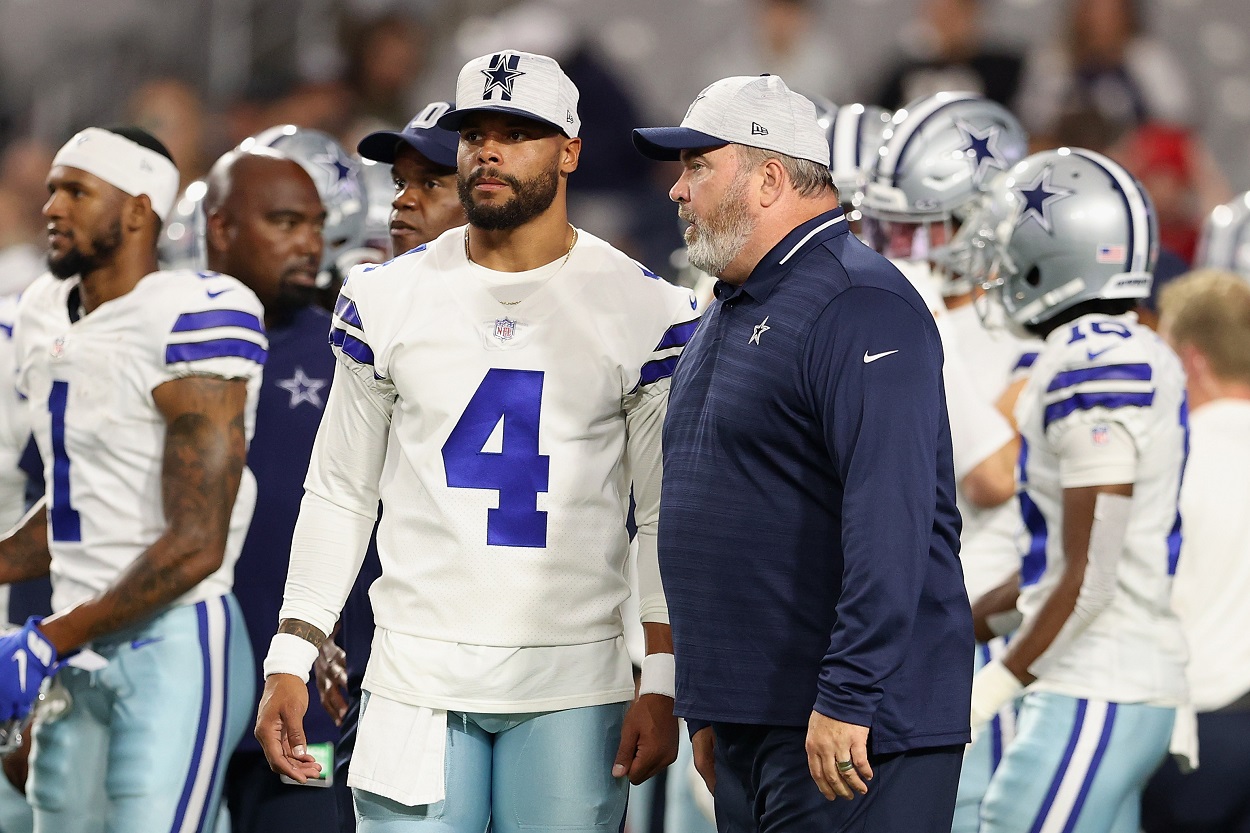 While any team would obviously prefer to have its starting quarterback, especially on the road, the Cowboys do have to consider the long-term ramifications of potentially rushing Prescott back onto the field.
Outside of Dallas, the NFC East is putrid. It normally is, so that's par for the course, but the Cowboys currently have a 3.5 game lead over the second-best team in the division, the Washington Football Team. The Cowboys are riding their five-game win streak, while Washington has lost three in a row. The division seems to be a safe bet for Dallas, so rushing Prescott back just for one game against a 3-3 team doesn't make a ton of sense.
Now if the Cowboys were playing the Packers, Rams, or Cardinals, the calculations are probably different. There are a handful of teams that will be fighting for the No. 1 seed in the playoffs when all is said and done, but Minnesota will likely not be among that group. Of course, every win is important in the grand scheme of the conference, but McCarthy made it clear that the Cowboys are viewing this with a long-term lens.
"I think it's a clear decision, we don't want this to be a week-to-week situation, so until he clears that threshold to try to minimize the risk is really what the decision will come down to," he said.
For what it's worth, McCarthy did coach Aaron Rodgers in Green Bay, who in 2014 played through a calf injury and led the Packers to the NFC Championship game.
Can Cooper Rush win a game for the Cowboys?
If McCarthy and his staff feel that backup quarterback Cooper Rush can win a game in a spot-start, the calculations for Sunday Night's game become much more cut and dry.
The scary thing, for Cowboys fans at least, is that the average NFL fan probably has no idea who Rush is. That doesn't mean he can't play for Dallas, and it doesn't mean he can't lean on Ezekiel Elliott, Lamb, Amari Cooper, and an incredible defense to help guide him to a win. It just means that he has very little experience, and that's something Minnesota would definitely try to exploit.
Though Rush has played in six games in his NFL career, he's only thrown three total passes and has never started a game. He's been with the Cowboys since 2017 after going undrafted out of Central Michigan, but his last pass was also in 2017. Of his three NFL attempts, he's only completed one. For two yards.
It's probably not ideal for the Cowboys, but again, with Elliott behind him and a cast of weapons on offense, there is a path where the Cowboys could ask Rush to take a spot-start. Take care of the football, control the clock, and let the defense take care of business on the other side.
Who would McCarthy rather have taking hits from Danielle Hunter and Everson Griffen? Rush, or Prescott coming off an injury?
Answering that question, and doing so correctly, is why McCarthy makes millions of dollars a season.
Stats courtesy of ESPN and Pro Football Reference.
RELATED: A Familiar Face is Coming Back to Help the Cowboys Unlock Their Full Potential Under Dak Prescott