CeeDee Lamb Has Already Accomplished Something That Dez Bryant and Michael Irvin Never Did
CeeDee Lamb joined the Dallas Cowboys this offseason when he went off the NFL draft board with the 17th overall pick. The Cowboys added him to an already stacked offense with Dak Prescott, Ezekiel Elliott, Amari Cooper, and Michael Gallup. He also joins a franchise that has had some legendary receivers in Michael Irvin and Dez Bryant. However, Lamb has already accomplished something that Irvin and Bryant never did.
CeeDee Lamb was dominant at Oklahoma
Throughout his college career at Oklahoma, CeeDee Lamb was one of the best wide receivers in the country. 
He caught 46 passes for 807 yards and seven touchdowns in 2017 before having a breakout year in 2018. During the 2018 season, Lamb caught 65 passes for 1,158 yards and 11 touchdowns. Then in 2019, Lamb was arguably the best receiver in the country as he caught 62 passes for 1,327 yards and 14 touchdowns. 
His play in 2019 helped him earn Consensus All-American honors. 
Lamb also came up big when it mattered most. In Oklahoma's College Football Playoff game against Alabama in the 2018 season, Lamb caught eight passes for 109 yards and a touchdown. Then in Oklahoma's CFP game against LSU during the 2019 season, Lamb had four catches for 119 yards.
It is pretty apparent why the Dallas Cowboys wanted Lamb for Prescott to throw to. 
Michael Irvin and Dez Bryant are Dallas Cowboys legends
Michael Irvin had a pretty good college career at Miami as he gained over 700 yards in each of his seasons with the Hurricanes. In the NFL with the Cowboys, though, Irvin was one of the best wide receivers of all-time.
After a slow start to his career in his first three seasons, Irvin led the NFL in receiving yards in 1991 with 1,523. He then gained over 1,000 receiving yards in seven of eight seasons from 1991 through 1998. Irvin also led the NFL in receiving yards per game in 1991 and 1996. 
For his career, Irvin ultimately became a Hall of Famer as he was a five-time Pro Bowl selection, he earned First-Team All-Pro once, and he won three Super Bowls. Irvin caught 750 passes in his career to go with 11,904 receiving yards and 65 touchdown catches.
Bryant, on the other hand, was a star at Oklahoma State in college. In 2008, Bryant caught 87 passes for 1,480 yards and 19 touchdowns. Then he had some excellent years in the NFL for the Cowboys. 
After he didn't gain over 1,000 receiving yards in his first or second seasons, Bryant gained 1,382 yards to go with 92 receptions and 12 touchdown catches in 2012. He then ultimately had 1,200 receiving yards or more from 2012 through 2014. He also led the NFL in touchdown catches in 2014 with 16. 
Bryant hasn't played since 2017, but he is not retired. Bryant has earned three Pro Bowl selections for his career, and he has earned First-Team All-Pro honors once. He has ultimately caught 531 passes for 7,459 yards and 73 touchdowns.
Lamb accomplished something Bryant and Irvin never did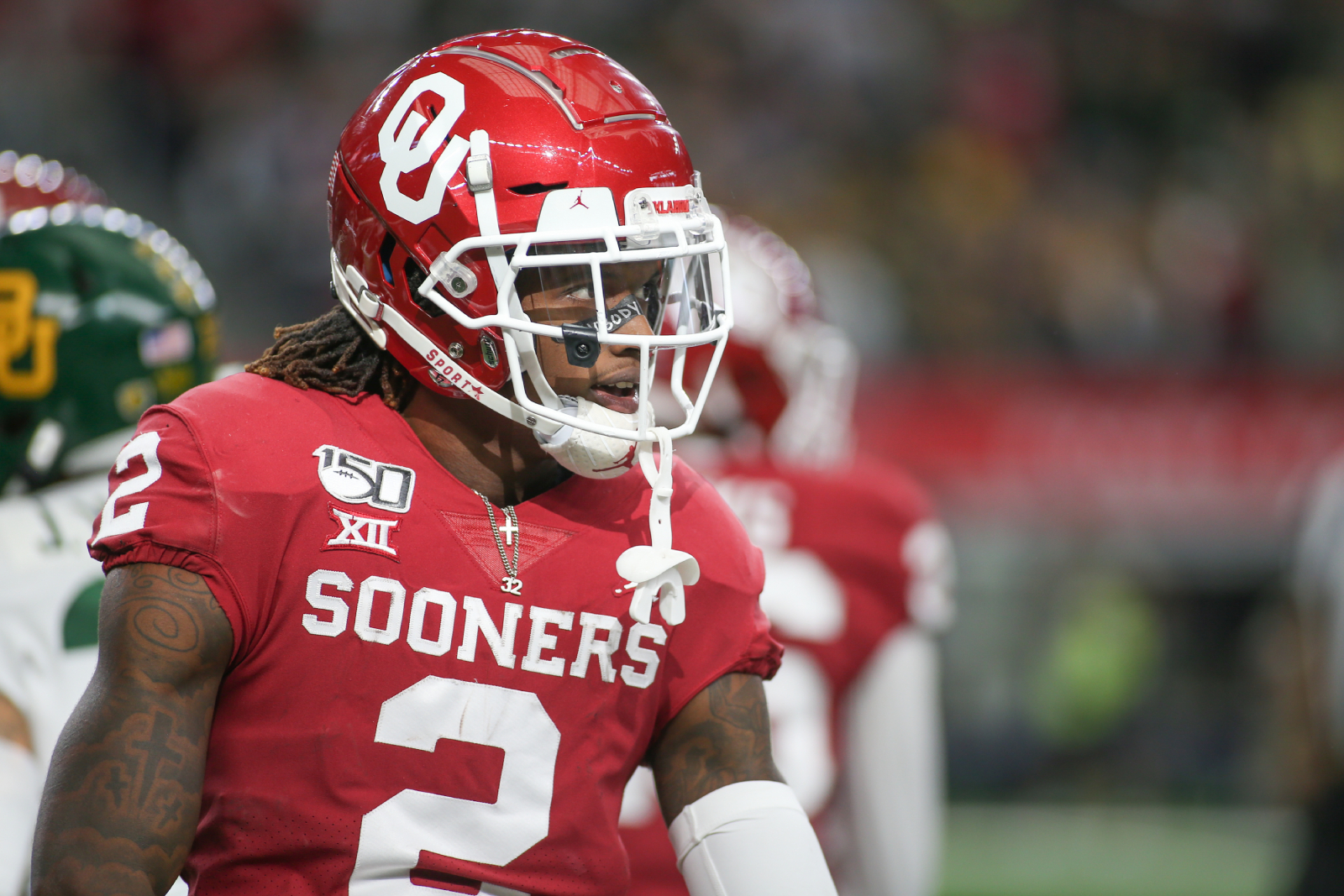 No, Lamb has not played one play in the NFL yet. However, he accomplished something in college that Bryant and Irvin never did. 
FanDuel reported that Lamb averaged 19 yards per reception in his career. That is tied with Randy Moss' college average, and just 1.2 yards fewer than Marvin Harrison's. However, it is more than Tim Brown's (18.2), Torry Holt's (17.7), Steve Largent's (17.5), Larry Fitzgerald's (16.6), Keyshawn Johnson's (16.6), Mike Evans' (16.5), Calvin Johnson's (16.4), Odell Beckham Jr.'s (16.4), Jerry Rice's (15.6), and Julio Jones' (14.8).
It is also more than the two guys we discussed in length above. Irvin only averaged 16.9 yards per reception in college, and Bryant only averaged 16.5. 
CeeDee Lamb is certainly in good company with this stat. Now, he has a chance to be up there with some of the greatest Cowboys receivers of all-time. He already has them beat in terms of college numbers. The Cowboys' offense should be fun to watch.
Stats courtesy of Sports Reference and Pro Football Reference