Celtics Backup Center Robert Williams Could be the key to the Season
With the departures of both Al Horford and Aron Baynes, the Boston Celtics need a fresh look at center. Although the team added Enes Kanter to help bolster their depth at the position, the key to the Celtics' success could be a seldom-used piece from last year — 6-foot-10 center Robert Williams. He appeared in 32 games in his rookie season, but this year could be a breakout year for him if he continues to grow into a viable NBA center.

Robert Williams's college career and rookie season
Robert Williams first made his name at Texas A&M. There, he provided valuable minutes both as a starter and as a bench player. Although he was never one of the stars of college basketball, he developed a reputation as a guy who worked in the background to help boost his team with his size and relentless defense. He, putting up 11 points and nine rebounds to go along with 2.5 blocks and an assist for his career.

That was good enough to get him drafted in the first round by the Boston Celtics. Williams automatically had a reputation as a character when he was coming into the league. A missed conference call followed by a missed flight on a team plane got him nicknamed "Time Lord" by Celtics Twitter as an ironic nod to his penchant for less-than-timely manner. Tag this onto his proclamations that the world is flat, and the Celtics knew they were in for an interesting experiment with Williams.

On paper, there is not much that sticks out about his rookie season due to the sparse minutes he played throughout the season. He averaged just two points and two rebounds on 70% from the field. That wasn't his fault, however. He was a case of a player who was simply not as good as a rookie as the guys ahead of him, and his sophomore campaign should put his name on the map.

Bigger picture
Robert Williams is more than his goofy persona and first-season statistics. He has the makings of a defensive juggernaut who could provide the exact type of production that the Celtics need next to Enes Kanter. Kanter has a penchant for rebounds and the occasional offensive outburst, but his defense has always been suspect. Much like he did in Oklahoma City with Steven Adams, playing with a physically imposing player like Williams could be mutually beneficial.

Kanter has typically thrived most when he is not a primary option. His ability to score both inside and occasionally outside make him a valuable player on the offensive side of the court. During his split season with the Portland Trailblazers and the New York Knicks, He averaged nearly 14 points and 10 rebounds, but his defensive woes continued.

On the other hand, Williams' numbers per-36 minutes show a player who is a potential double-double every night. Even more impressive, they show a guy who could block five shots a game in more minutes. That doesn't mean that Williams must match these numbers, but it shows how productive he was during his limited time during his rookie season.

Two-headed monster?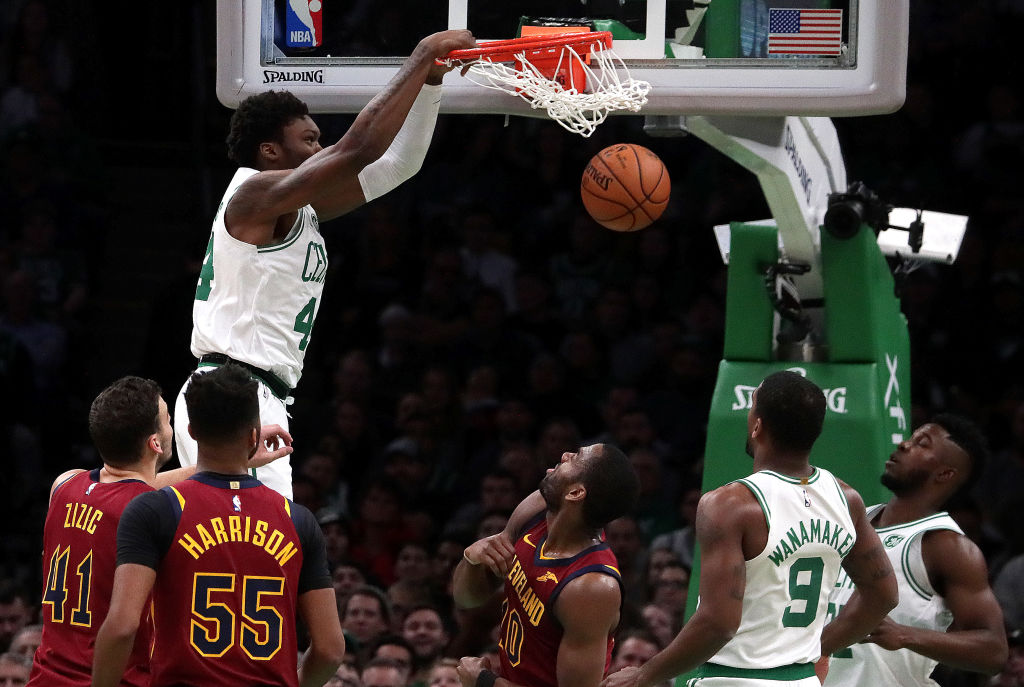 Nobody expects Enes Kanter and Robert Williams to be All-Star caliber players, but with a revamped Celtics roster, the team will need their presence on both ends of the court to compete with teams like the Bucks and the 76ers. Williams will be just 22 years old when the season kicks off, and Kanter is still in the prime years of his career.

There are a lot of question marks regarding the Celtics. Will Kemba Walker fit? How will the young guys take the next step? Will the team miss Kyrie's on-court talent? However, if Williams can step up, he can help usher in a brand new era of Celtics basketball.