Why the Celtics Gordon Hayward Believes Jaylen Brown is Worth Every Penny
When the Boston Celtics gave Jaylen Brown a four-year extension worth $115 million, many questioned whether that was the right move for the franchise. While Brown is a valuable piece at just 22 years old, the money offered to him is massive for a player of his role. Still, Brown has his supporters, and teammate Gordon Hayward might be the most vocal one.
Gordon Hayward's comments about Jaylen Brown
Gordon Hayward is no stranger to a lucrative payday and the hefty expectations that come with it. Just minutes into his four-year, $128 million contract with the Celtics, he suffered a gruesome injury that cost him his entire first season. Now, he is still adjusting the role on the new-look Celtics, and he spoke words of encouragement to his young teammate.

"I'm just so happy Jaylen got his extension done," Hayward said (per NBC Sports Boston). "Because we need him here for a very long time. Jay is one of the best athletes in the entire league, and when he puts his mind to it, he can truly be a lockdown defensive player — and I'm talking at multiple positions."

That is where fans and pundits don't always look at the big picture. Jaylen Brown may not be worth that type of money for many teams, but his role on the Celtics is undeniable. In a team that has the offensive power it needs, Brown can work with Smart to help fortify the defensive front of the Boston Celtics.

Hayward explained exactly why Brown means so much to the Celtics.

Jaylen Brown's impact on the Celtics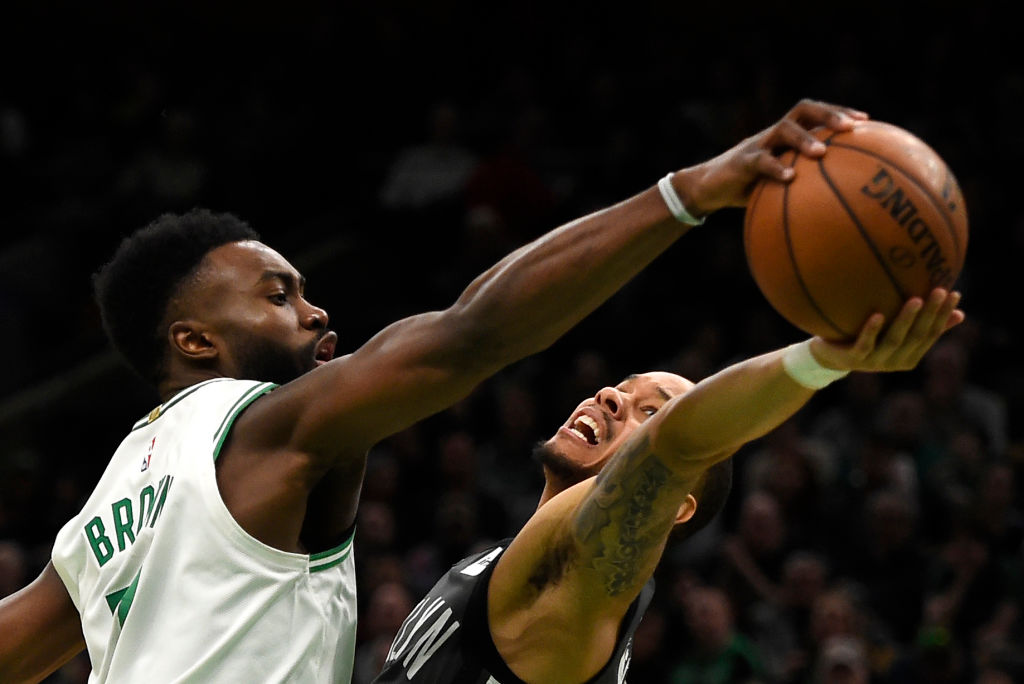 Some defenders, especially wings, can only guard a position or two. Jaylen Brown has shown an ability to defend whatever position he needs to. That means that the Celtics can fit him into multiple lineups and have him guard the player he's most capable of guarding while allowing the more offensively-gifted players to do their thing.

"That's what sets his game apart from a lot of the young wings he gets compared to," Hayward said. "A lot of guys, maybe they can lock it down at one spot….. and then 'hold their own' at another spot or two. But not that many guys have the ability to legitimately play lockdown D at multiple spots on the court — against bigs and point guards alike."

One of those players would be Hayward. Although his offense has always been his selling point, his defense was never where it needed to be as a player. Brown and Smart allow Hayward to stay inside his comfort zone while knowing that his teammates are there to bail him out in case something goes wrong.
Brown's value goes beyond the stat sheet
Brown's impact on defense is not the type that will be measured by looking at his steals or blocks. It is measured by the impact he has on the players he guards on a night-in, night-out basis.

Jaylen Brown has the quickness to play with players his size, and as he gets older, he should develop the strength that allows him to guard big men even more effectively than he already does. Brown, as shown by Hardwood Houdini, is the perfect type of physical player to complement the more finesse-driven gifts of Jayson Tatum.

The Celtics are looking into another rebuild after the Kyrie Irving experiment didn't go as planned. Kemba Walker, Jayson Tatum, and Gordon Hayward lead the offense, to which Brown adds his own gifts. However, it is his overall package that makes him so appealing to the team that decided to pay him.

Time will tell whether or not Jaylen Brown's contract is a positive, but looking at the Celtics' current situation, it appears as though Brown was a vital piece to their strategy moving forward.