The Celtics Could Reap the Benefits of Dennis Schroder's $5.9 Million Bargain
After trading Kemba Walker this past offseason, the Boston Celtics understood they needed backcourt depth. Despite lacking financial flexibility, the C's capitalized on Dennis Schroder's declining market in NBA free agency to bring him to Beantown. Now, Boston can look to flip him for future assets.
Schroder said before the start of the season he needed to be more comfortable in a new playing environment. While the Celtics have struggled to find a groove, the veteran point guard is giving them vital contributions and looking more and more like a premium trade candidate.
Dennis Schroder is outperforming his $5.9 million contract
Dennis Schroder got clowned this offseason when reports surfaced that he declined an $84 million extension offer from the Los Angeles Lakers. The jokes grew more abundant when he signed with the Celtics for just $5.9 million.
However, Schroder never wallowed in apparently missing out on his small fortune. Instead, he used his nightmarish free agency as motivation.
The 28-year-old is having a strong season in Boston. Through 27 games, he is averaging 17.1 points, 4.8 assists, and 3.6 rebounds. Are those the most outstanding numbers? No. But they sure do look pretty appetizing for a guy who only cost the Celtics $5.9 million.
Indeed, Schroder's strong production and the affordable expiring contract could make him one of the more desirable point guards available. That gives Boston an opportunity to get future assets as it decides how best to build for the future.
Schroder is likely available in trade talks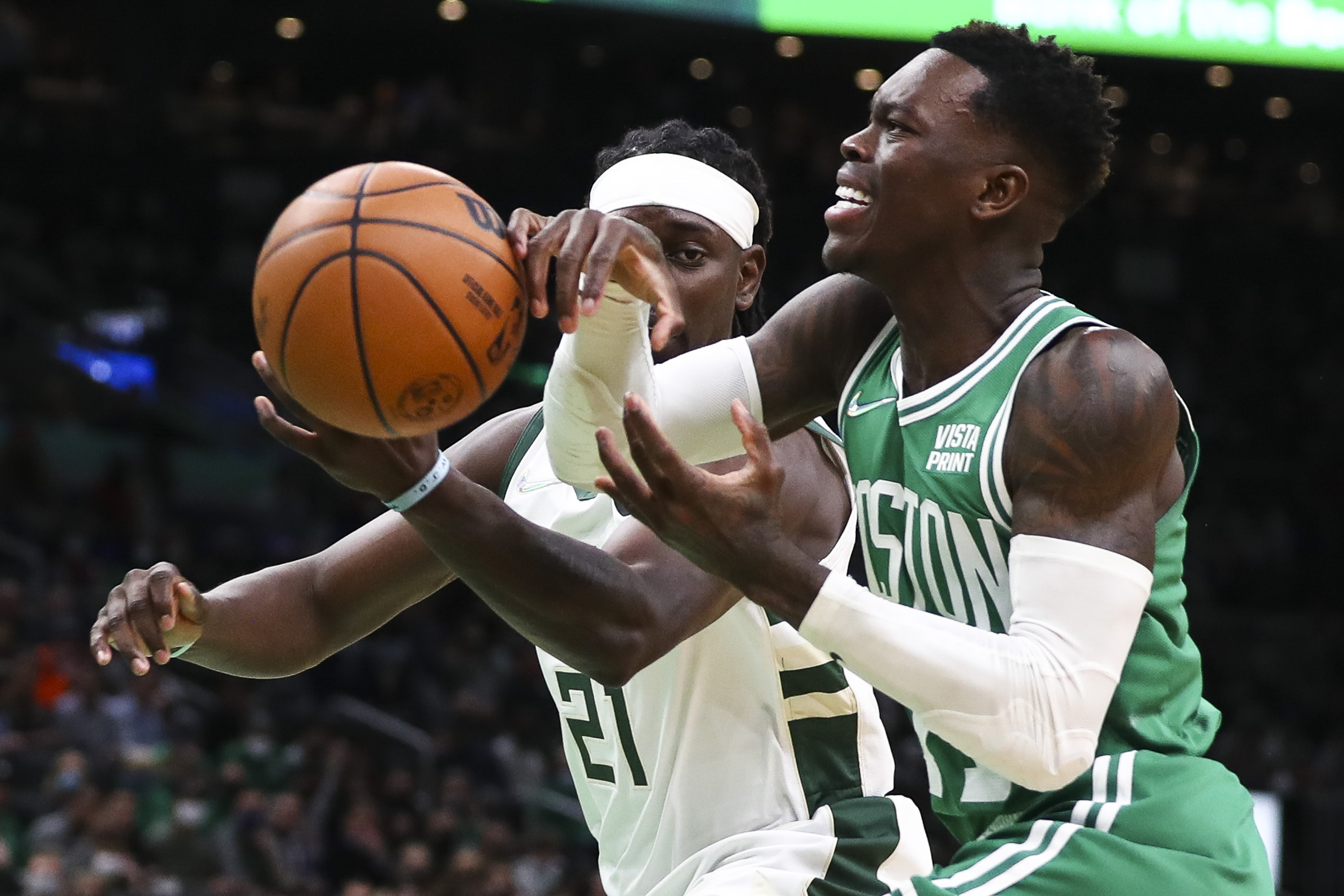 Having taken the initial flier on Dennis Schroder, the Celtics could now cash in on his early production by trading him elsewhere.
Playmaking point guards are typically in high demand ahead of the trade deadline, making Schroder something of a commodity. Shams Charania of The Athletic reported on Dec. 13 that "Rival teams expect" the Celtics will engage in talks for Schroder. The German guard becomes trade-eligible on Dec. 15, the same day as benched New York Knicks star Kemba Walker and underwhelming New Orleans Pelicans guard Devonte' Graham.
It's unknown whether the C's will try to move Schroder immediately or field numerous offers and trade him closer to the deadline. Maybe current team president Brad Stevens hopes the ninth-year player can contribute to a turnaround in Boston.
However, the Celtics are better served trading Schroder sooner. They stand to gain more in doing so, which matters since they probably can't afford to re-sign him this upcoming summer and need to add assets to surround Jaylen Brown and Jayson Tatum with going forward.
The Celtics need to start thinking about shaking it up
Trading Dennis Schroder could be the first in a series of moves for the Celtics, a team that seriously needs to consider shaking things up.
Boston has looked fairly stagnant in the last couple of seasons and is mostly reliant on Tatum and Brown to create everything on offense. After signing a $77 million extension, Marcus Smart has been an offensive abomination. The Celtics lack extensive playmaking and shot creation, which is negating some of their defensive strengths.
A roster shakeup could be necessary. The Celtics aren't going to get a haul for Schroder, but might still be able to accrue fairly valuable draft capital. He's a slasher who can make plays off the bounce and shoots the 3-ball at a respectable clip. Schroder could also be a premium bench player on a contender.
It's also possible Boston tries to move off Smart, Al Horford, and Josh Richardson. Regardless, Brad Stevens' front office has to start thinking aggressively and getting as many assets as possible. Moving Schroder might kickstart that process.
Stats courtesy of Basketball Reference.