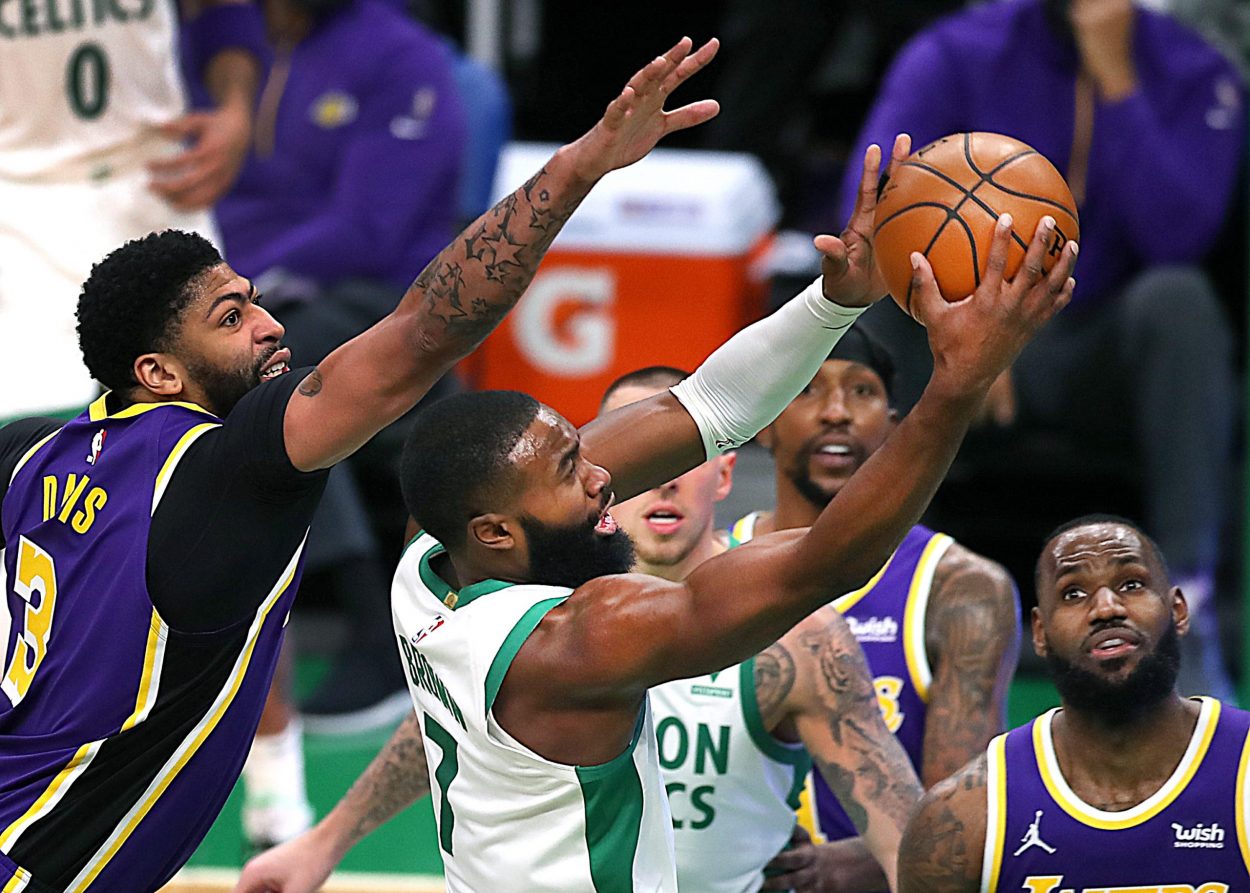 The Celtics Would Scoff at NBA Executive's Anthony Davis Trade Proposal
One NBA executive has a theoretical trade sending Anthony Davis to the Boston Celtics, but it isn't one the C's would likely consider.
Sports fans cannot fully grasp the history without understanding the iconic rivalry between the Boston Celtics and Los Angeles Lakers. It's a grudge match that's spanned multiple decades and, most notably, created a coastal feud full of bad blood and resentment.
The animosity runs so deep that the two franchises rarely engage in trade discussions. However, one NBA executive believes that should change.
The Lakers had their eyes on Celtics wing Josh Richardson before the Feb. 10 trade deadline, only for Boston to send the veteran 3-and-D guy to the San Antonio Spurs as part of a package for Derrick White. However, after bypassing the Purple and Gold at the deadline, a league insider feels the C's should make a play for Lakers star Anthony Davis.
It's an absurd proposal of epic proportions, one that should have Celtics fans doubling over in laughter.
An NBA executive proposed that the Celtics should make a blockbuster trade with the Lakers for Anthony Davis
Davis' continued injury issues and the ominous aura in LA could ultimately prompt the Lakers to consider trading The Brow. Would he make sense in Beantown?
In an interview with Heavy.com, an anonymous NBA executive elaborated on the Celtics' past flirtations with AD when Danny Ainge presided as team president. The insider still believes that a deal exists somewhere in the ether.
"But put [Davis] in a deal with Horton-Tucker for Jaylen Brown, Marcus Smart, Aaron Nesmith? The Lakers would have to consider that. I'd take it."

–NBA executive to Heavy.com
However, complications exist.
While the executive said they would make that deal if they ran the Lakers, they also acknowledged the possibility that Davis does not want to play for the Celtics. That factor could nullify any possible trade if LA tries to act in AD's best interest.
It's a moot point. Boston would never offer that package. And if Rob Pelinka — if he is lucky enough to remain Lakers GM through the summer — rang up Brad Stevens with such a framework, the first-year Celtics president should laugh him off the phone.
Why would Boston make this trade?
Anthony Davis is an elite-level player in the NBA. He's one of the best two-way forwards of this generation and arguably of this millennium, even if his place on the 75th Anniversary Team was highly controversial.
Still, the Celtics have zero incentive to acquire The Brow.
For starters, the injury history is a big concern. Davis has eclipsed 70 games just twice in his career. He played just 36 games last season and will be lucky to register more than 45 appearances in 2021-22 after suffering a mid-foot sprain in February. The eight-time All-Star already admitted to playing through an MCL that hadn't fully recovered.
Davis will be on the verge of 30 this time next year. He is owed over $78 million in the next two seasons, with a $43 million salary and early termination option for the 2024-25 campaign. Does Boston want to pay an injury-riddled big all that money, especially if it costs them Jaylen Brown?
For all the early-season smoke, the Celtics repeatedly asserted a commitment to Jaylen Brown. Jayson Tatum has done the same, erasing any doubts about his star partnership with Brown during a segment on J.J. Redick's The Old Man and the Three podcast.
Brown just turned 25 in October. He's already one of the best two-way wings in basketball and has yet to reach his ceiling. Given that elite wings come at a premium, the Celtics aren't guaranteed to make up his value in the aggregate.
Additionally, even though they are "throw-ins," in this framework, Marcus Smart and Aaron Nesmith are anything but that.
Smart's gritty play and dogged defensive efforts have made him a fan favorite in Boston. He still has limitations as a shooter, but is also making steady gains as a playmaker and distributor. Nesmith, the No. 14 pick in the 2020 draft, hasn't gotten a ton of minutes, but still projects as a 3-and-D type with upside because of his athleticism.
The Lakers can't give the Celtics enough reasons to make this deal. Even schematically, Davis doesn't fit in Boston, given he's in the midst of his worst season in terms of three-point percentage. Sure, Robert Williams' passing ability lends itself to playing a little on the perimeter and at the elbows, but the C's need more outside shooting. Davis can't give them that; he'd only disrupt the spacing further.
Staying the course
When it comes to these Celtics: If it ain't broke, don't fix it.
According to NBA.com, Boston ranks first in net rating since the start of 2022. The C's dwarf everyone in defensive rating in that span, giving up 3.4 fewer points per 100 possessions than the next-closest team, the Dallas Mavericks.
Celtics fans have every reason to believe this team, as currently constructed, can come out of the Eastern Conference. Boston is just 5.0 games behind the No. 1-seeded Miami Heat and 3.0 games behind the No. 2-seeded Chicago Bulls. Ime Udoka's team has a terrific chance of earning home-court advantage in the first round, and perhaps to the Conference Finals.
The Celtics cannot afford to hit the panic button and give up premium assets to acquire Anthony Davis, not when this group has finally hit its stride. In fact, it's foolish even to consider such a trade.
Stats courtesy of Basketball Reference unless otherwise noted. Contract information courtesy of Spotrac.