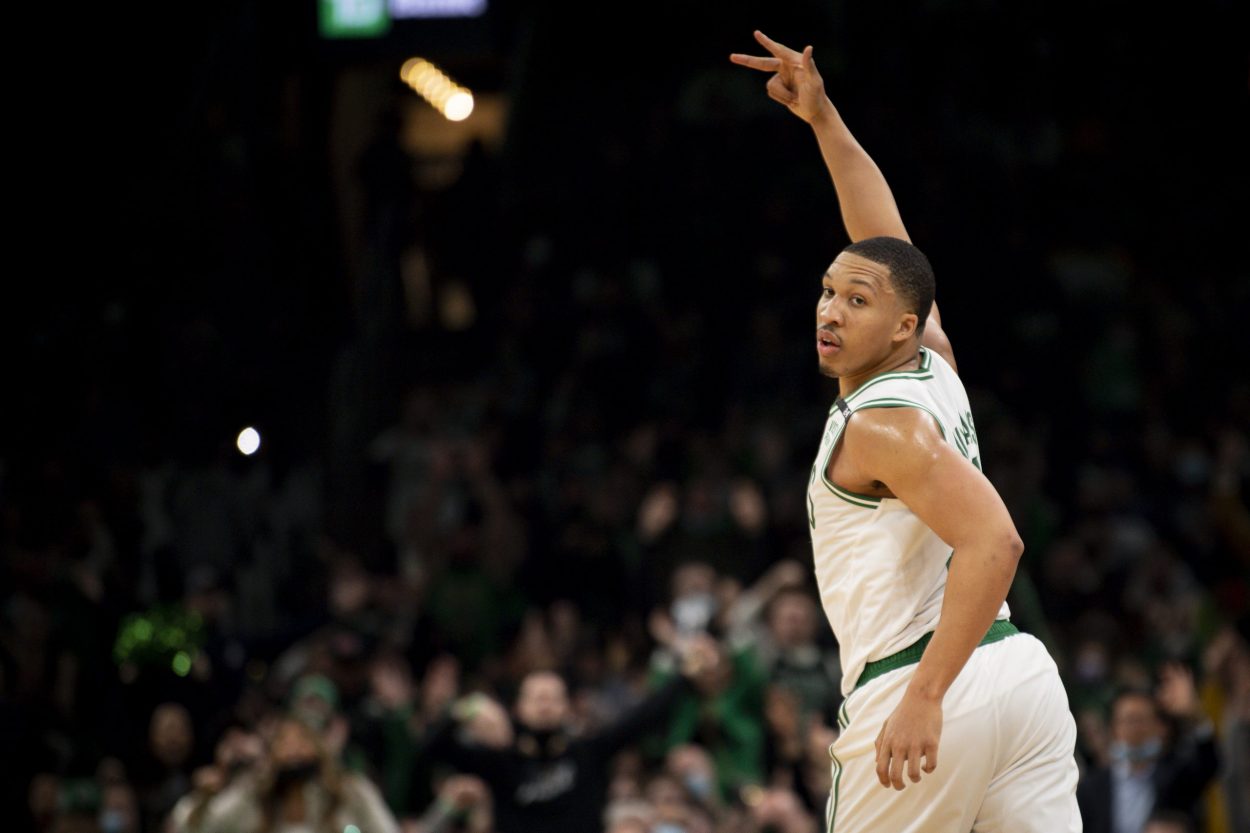 Celtics X-Factor Grant Williams Is Quietly Trending Toward NBA History
Boston Celtics forward Grant Williams is trending toward an unprecedented achievement in joining one of the NBA's most exclusive clubs.
More than 30 years after Larry Bird became the first member of the NBA's esteemed 50-40-90 club, another Boston Celtics player could soon find himself in elite company. He's the furthest thing from a legend of Bird's caliber. In fact, he probably won't ever earn the "star" label. Yet, he's one of the most important pieces on a Celtics team that heads into the home stretch feeling more confident than ever.
While Jayson Tatum, Jaylen Brown, and Marcus Smart earn much of the national coverage and adoration from the fans in Beantown, Grant Williams has carved out a role as the team's X-factor. The former Tennessee Volunteers star came into the NBA as an accomplished collegiate player who hung his hat on a blue-collar style of play.
That style has made Williams an excellent fit on Boston's roster. But it's his shooting efficiency that demands attention, especially because he's quietly on the cusp of making NBA history.
Grant Williams has seen a sizable role increase this season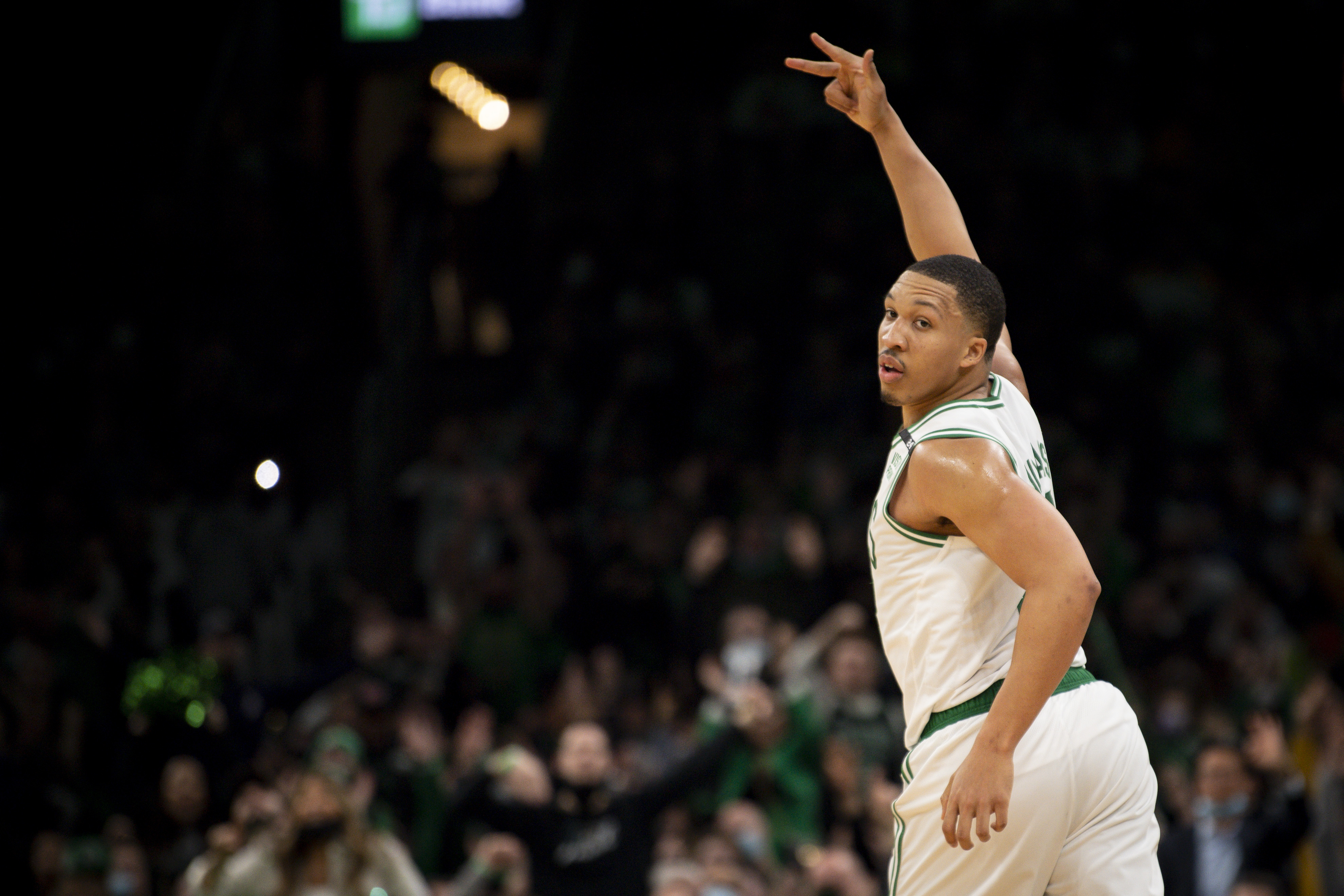 From the time they drafted him in 2019, the Celtics knew Williams would give them a valuable bench piece. Now in his third season, the 23-year-old has finally carved out a more prominent role on this team.
Boston has needed more in the way of frontcourt depth, especially with Jayson Tatum continuing to play more on the ball and hone his playmaking chops. Williams has answered the call.
Through his first 58 games, Williams is averaging a career-high 23.6 minutes. He's made 16 starts, more than he had in his first two seasons combined.
The Houston native is doing a lot with his minutes, too. Williams has a 1.1 defensive box plus-minus, giving the C's a switchable forward who can extend to the perimeter and hold his own against opposing guards and wings.
However, the biggest reason why Williams has gotten more run is that he provides Boston with a stretch-4 type who allows the Celtics to go with two-big looks. His gains as a shooter also have him eyeing a spot in the history books.
Williams could make NBA history as the 10th member of the 50-40-90 club
Grant Williams' shooting efficiency has seen a prolific leap this season. It could culminate in him making NBA history.
As a rookie, Williams went just 24-of-96 (25%) from beyond the arc. He made big gains during his sophomore season, shooting a far more respectable 37.2% on 2.0 attempts per contest.
Williams has shown even more comfort in being the stretch-4 type in 2021-22, converting a whopping 43.7% of his triples on 3.7 attempts per game. Indeed, he has already made more three-pointers this season (87) than he did in his first two campaigns combined (72). That's astounding growth, particularly for a guy who rarely shot threes in college.
The Celtics forward hasn't just improved from the perimeter. He's made a career-high 59.2% of his twos and has only missed four free throws (91.5%) all season.
Suddenly, Williams is on the verge of a historic achievement.
The General is on pace for a 50-40-90 season. His field-goal percentage (49%) is currently below pace, but he could feasibly get back to 50% with a few strong shooting nights.
There's a big caveat here: Williams would have to meet the minimum thresholds to qualify as a league leader in all three categories. That could prove difficult because of how seldom he gets to the free-throw line. Still, it's notable that Williams is currently the only player in the NBA this season shooting at least 49% from the field, 40% from the three-point arc, and 90% from the charity stripe.
The Celtics would surely relish Williams hitting all the benchmarks. But Boston will surely feel even more gratified if Williams can maintain this level of shooting in the playoffs.
Perimeter shooting could make or break the Celtics' title hopes
The Celtics have the makings of an NBA title contender.
Boston is blessed with elite two-way wings in Jayson Tatum and Jaylen Brown. Their team defense remains stout, with Marcus Smart guarding everyone on the perimeter and Robert Williams contesting everything at the rim while developing as a passer who can operate at the elbows. Meanwhile, Derrick White's role as a slashing playmaker and elite defender makes him a perfect fit.
Ultimately, the Celtics' chances of truly contending could depend on their ability to make jumpers.
Boston ranks 12th in the NBA in three-point attempts. But the C's are just 21st in efficiency, shooting 34.4% from deep on the season. That mark has to climb come playoff time, when the court shrinks and contested shot-making becomes paramount.
The above point defines why Williams is such a critical piece on this Celtics team. Even as he pursues a spot in NBA history, he'll quickly shift his sights to knocking down triples when it matters most.
Stats courtesy of Basketball Reference.