College Football By the Numbers: 10 Stats You'll Need to Know for Week 2
With another college football weekend upon us, it's time to take a look at the key numbers, stats, and storylines worth knowing from across the country as you get ready to sit on the couch for 12 hours in a row, set up your tailgate, or find your seat in the stadium for Week 2.
571
Florida State hasn't trailed in a regular season game for more than 571 minutes (571:49 to be exact.) That's nearly 10 straight hours of football domination. The last time the No. 1 Seminoles were behind in a game in the regular season? Nearly 12 months ago vs. Boston College. The Seminoles host The Citadel Saturday night, and we'll go out on a limb and predict that streak will get quite a bit longer.
103, 73
Missouri's Gary Pinkel is the all time winningest coach at his school — and the all time winningest coach at Toledo as well. Pinkel owns 103 victories with the Tigers since 2001, but also won 73 games on the Rockets' sideline from 1991-2000. Pinkel's past and present programs collide Saturday when No. 24 Mizzou visits Toledo at 12:00 p.m. ET.
One other coaching history note in a similar vein worth pointing out this weekend: Virginia's Mike London faces Richmond Saturday, the program he led to an FCS national title in 2008.
17
Stanford owns a 17-game home winning streak, the longest in the nation. That bodes well for David Shaw's team when the 13th-ranked Cardinal look to make it 18 in a row at Stanford Stadium. They play host to No. 14 USC at 3:30 p.m. ET Saturday in a pivotal Pac-12 battle.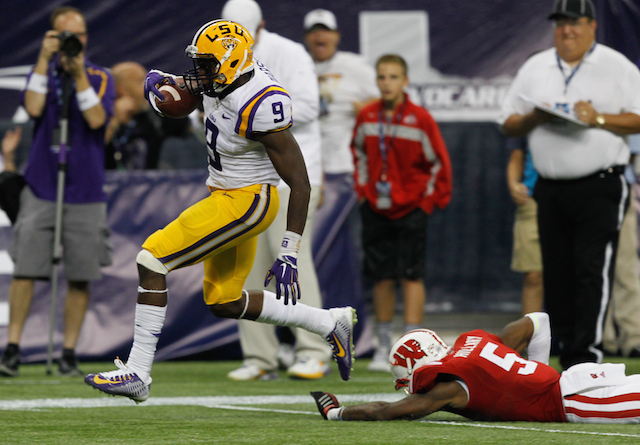 0
Virginia Tech has played a grand total of zero regular season football games against Big Ten opponents. The Hokies change that when they visit No. 8 Ohio State Saturday night.
46
The No. 12 LSU Tigers own a 46-game winning streak against non-conference opponents in the regular season after rallying past Wisconsin 28-24 in Houston Saturday. LSU is even more dominant at home, with 40 consecutive victories against non-conference foes. The last time LSU slipped up against a non-conference team at Tiger Stadium? A 2000 defeat to UAB. Les Miles has never lost a non-conference game at home as LSU coach (28-0). Let's just say the Sam Houston State Bearkats have their work cut out for them Saturday night in Death Valley.
911, 875
Two of the greatest programs in college football history square off Saturday night when Michigan visits No. 16 Notre Dame. The Wolverines have won 911 games, more than any other school, while Notre Dame checks in at third on the all time FBS list with 875 victories, just behind Texas at 876; 911 or 875: one of those numbers will inch one higher Saturday night in South Bend.
1974
Tulane will play its first on-campus home game since 1974 Saturday when the Green Wave open new Yulman Stadium against Georgia Tech. Tulane football has called the Superdome home for nearly four decades, but that changes with this weekend's opening of a brand new 30,000-seat facility.
<60
Moving right along to another member of the 'New Stadium Club.' When No. 10 Baylor gets the football this weekend against Northwestern State, expect them to score and score fast. The Bears had three touchdown drives of less than a minute each in a Week 1 shutout of SMU, and led the nation with 29 '60 seconds or less' scoring drives in 2013. No other program had more than 21.
784
Nebraska set a modern era Big Ten record with 784 yards of total offense in its season opening win over Florida Atlantic, and the No. 19 Huskers' offense will likely continue to roll when McNeese State comes to Lincoln Saturday. According to the Big Ten, the 784 yards in Week 1 was the most by any conference team since Minnesota piled up 832 in one game way back in 1905.
2
In case you've been wondering where the Bearcats (not the Bearkats, this would be the UC version) are lately: While most schools will be playing their second game of the year this weekend — hence the handy 'Week 2? moniker — Cincinnati will be enjoying (or more likely suffering through) a second consecutive bye week. The Bearcats are guaranteed to stay undefeated for at least another few days, as they'll be the last major college team to play when they host Toledo on Friday, September 12. Cincinnati was last in action for a bowl date with North Carolina on December 28, 2013, so Tommy Tuberville's team is in the midst of a 257-day stretch without football.