CFB: How Recent Championship Players Are Doing in the NFL
In team sports, you always want the type of player who knows how to win and knows what success feels like. These players generally don't get overwhelmed by the magnitude of any given moment and are able to handle the pressure that comes along with playing for a big-time franchise. Sometimes, this type of player is bred at the collegiate (and even high school) level. Large amounts of success and countless wins gives a player confidence that he or she is almost "unstoppable" and causes them to crave the feeling that success creates, which can create a special player at the professional level of sports.
With the conclusion of the college football season on Monday night (and with Alabama's championship), we wondered how recent college football national championship-winning players have fared at the NFL level? So, we took a look at the past five championship-winning teams (prior to Alabama this season, of course) to see how some of the key players from those teams are doing in the pros. This allowed us to ultimately answer the question, "Does success in college lead to success in the pros (at some level, at least)?"
2010 Auburn Tigers
Back in 2010, the Auburn Tigers went on an improbable run to finish 14-0 and win the national championship (22-19 over Oregon). Among the impressive players on the Tigers' roster that season was Heisman-winning quarterback Cam Newton. Obviously, the success of Newton at the NFL level is unquestionable. In his rookie season in 2011, Newton took home Offensive Rookie of the Year Honors. This season, he should win the MVP award after leading the Carolina Panthers to a 15-1 record.
Carolina has won the NFC South title in each of the past three seasons and is in a position to capture the franchise's first Super Bowl title this year, largely thanks to the presence and talent of the Auburn product. The success of Newton can likely be attributed somewhat to his experience at Auburn. While he is talented and clearly gifted as a football player, you can't underestimate what the exposure of playing for a major college football program and having success with that program has done for Newton's development.
2011 and 2012 Alabama Crimson Tide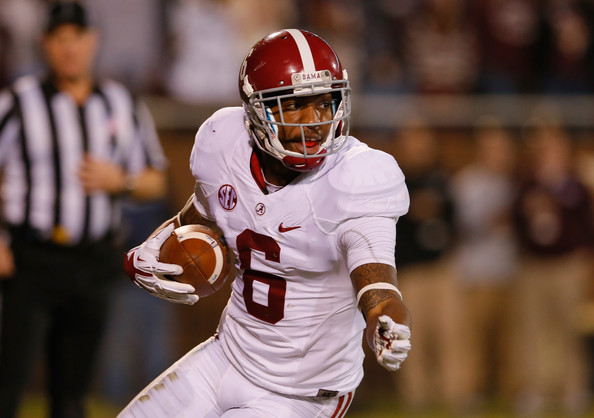 The Crimson Tide have had so much success in recent seasons that dwindling down the number of players who have won a championship with the program and are playing in the NFL is a difficult task. However, we were able to pick a handful from the Tide's back-to-back title-winning teams in 2011 and 2012. In 2011, the likes of Trent Richardson, Eddie Lacy, AJ McCarron, C.J. Mosley, and Ha Ha Clinton-Dix were present for Alabama's title-winning season.
The 2012 season included many of the same players, but also had wide receiver Amari Cooper on hand. Of those players, Cooper has already proven his capability as legitimate stud receiver in the NFL, as he recently finished a terrific rookie campaign with the Oakland Raiders that saw him gain over 1,00 yards. McCarron was thrust into the starting role for the Cincinnati Bengals this season and had to lead his team in their playoff loss against the Pittsburgh Steelers. McCarron really proved that he can play during his time filling in for the injured Andy Dalton.
Lacy and Clinton-Dix are both key members of the Green Bay Packers, who are still alive in the hunt for a Super Bowl title this season. Lacy has been a productive back in his three-year career and Clinton-Dix is one of the leading tacklers for the Packers. Mosley, who has played two seasons for the Baltimore Ravens, is one of the top tacklers in the league and is a force at linebacker for the Ravens. The one player from these championship teams that hasn't lived up to his collegiate success is Trent Richardson. He had a decent rookie campaign for the Cleveland Browns in 2012 after being taken high in the draft, but fell apart after that season and didn't play a single down for any team in 2015.
2013 Florida State Seminoles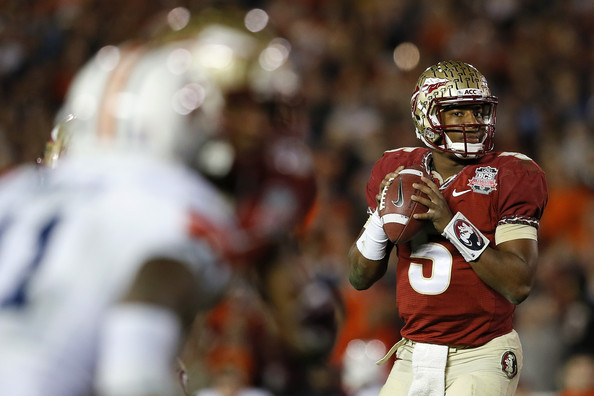 Florida State's undefeated championship season of 2013 was led by Heisman-winning quarterback Jameis Winston and a bevy of talented players on offense and defense. We decided to focus on Winston as well as two other players from that team, receiver Kelvin Benjamin and running back Devonta Freeman.
Winston recently completed his rookie season with the Tampa Bay Buccaneers, which turned out to be an up-and-down campaign with plenty of reason for optimism. The rookie compiled more than 4,000 yards through the air to go along with 22 touchdowns and 15 picks in a 6-10 finish for Tampa Bay. It feels like the Bucs have found their QB of the future and Winston could win Offensive Rookie of the Year, but the verdict is still out on how his career will develop. Year two will tell us a lot.
Freeman really broke out this season for the Atlanta Falcons in his second professional season. He gained more than 1,600 total yards and scored 14 touchdowns in a non-playoff season for the Falcons and appears to be a solid option at running back in future seasons for the team. Benjamin had an excellent rookie campaign for the Carolina Panthers, going over 1,000 yards and scoring nine touchdowns in a division-winning season in 2014. However, an injury prior to the season forced Benjamin to miss the Panthers' remarkable 15-1 campaign this season. Once Benjamin is healthy, it's scary to think how much better Carolina can be on offense.
The verdict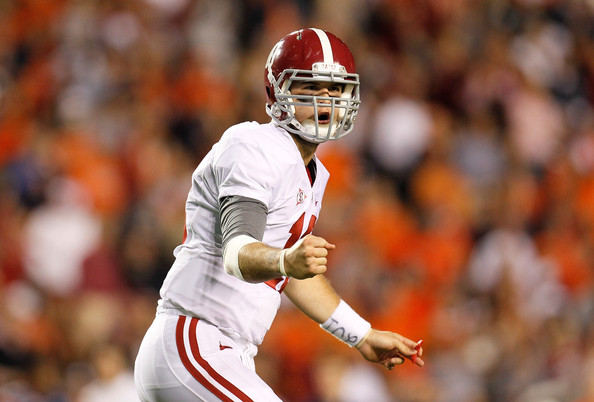 Seeing as many of the players from Ohio State's championship-winning team of 2014 returned for another run with the Buckeyes this past season, it's yet to be determined how the collegiate success of those players may ultimately affect their NFL careers. However, for the players we did look at, it's tough to tell just how winning a national championship has affected their young NFL careers.
Obviously, Auburn, Alabama, and Florida State all have terrific football programs that churn out a bunch of wins each season and produce some of the top talent in the NFL. The recent championships from these programs and how the players from those championship teams have played in the NFL to this point have to have some connection, however.
Whether it's the national exposure, the building of confidence, or the breeding of a player who knows how to win, winning a championship in college certainly can't be viewed as a negative thing for NFL scouts. We saw how McCarron played for the Bengals under intense pressure, we've seen the development of Newton as a leader for the Panthers, and we've seen how some of these other national champions have effected their NFL team. Winning a college championship isn't the only criteria for making the NFL (obviously), but it certainly seems to be a nice addition to have on your resume.
Statistics courtesy of ESPN.go.com and SR/College Football.