Will Notre Dame Reach the National Championship Game Again?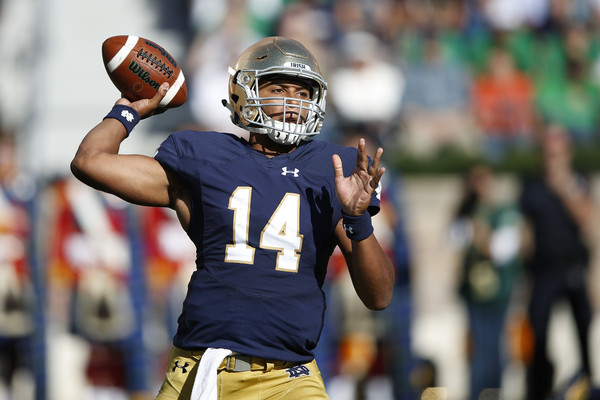 The Notre Dame Fighting Irish are rolling right now. After a huge win over Georgia Tech a couple of weeks ago and last weekend's historic performance against UMass, the Irish have put themselves in prime position for success as the calendar flips over to October.
What's impressive about Notre Dame's perfect start to 2015 is the fact that they've been successful despite dealing with plenty of adversity. Their starting QB Malik Zaire went down in week 2, which easily could of sent their hopes and dreams packing. Instead, they have taken a next man up mentality and played brilliantly in their two contests without the talented Zaire. His replacement, DeShone Kizer, has filled in nicely and the team has been fueled by their doubters' criticisms.
Not only has Notre Dame established that they can win with their second string QB, the Irish have also proven to have one of the best running backs in the country. C.J. Prosise has been the MVP of their past two wins and owns over 600 yards and 6 touchdowns on the ground already this season. With the offense clicking and putting up over 40 points per game, the defense for the Irish has also shown signs of greatness, holding Texas to just 3 points in week 1 and containing a vaunted Georgia Tech running attack in week 3.
So, as we said, things appear to be on point in South Bend. Now, it is time to consider just how well the Irish's season can end up. Of course, in 2012, Notre Dame managed to run the table and make it all the way to the National Championship game (where they got hammered by Alabama). Does this version of the Irish of what it takes to reach those heights (or even higher ones)? Their schedule is manageable at the very least, so really the question to consider is "where could they slip up?"
This coming Saturday, the Irish will have likely their biggest challenge of the season so far when they hit the road to take on a talented Clemson team. The Tigers' boast a dangerous dual threat at QB in DeShaun Watson and a receiving duo that can create matchup problems for Notre Dame. It will be a difficult game for them to win (especially with Clemson having two weeks of prep coming into it), but should the Irish come out on top, their schedule eases up in a hurry.
After Clemson, the Irish will get Navy at home before facing USC (also at home). While the Trojans are talented on offense with one of the best QBs in the nation in Cody Kessler, their defense clearly has holes, as Stanford proved a couple of weeks ago. Notre Dame's offense is better than that of Stanford, so it could be an uphill battle for USC in that contest. It won't be a walkover, but the Irish are good enough to handle the Trojans.
Once USC leaves town, the Irish could be 7-0 with a favorable four game stretch that would almost certainly see them reach 11-0. Then, to end the season, they will have one more challenge before securing a potentially unblemished record. They will travel to Stanford for their last game of 2015 to face a team that doesn't give up a bunch of points and could be fighting for their own postseason dreams in that game as well. If there is a road block in Notre Dame's path to a premiere in the College Football Playoff and a return to the National Championship, Stanford is it.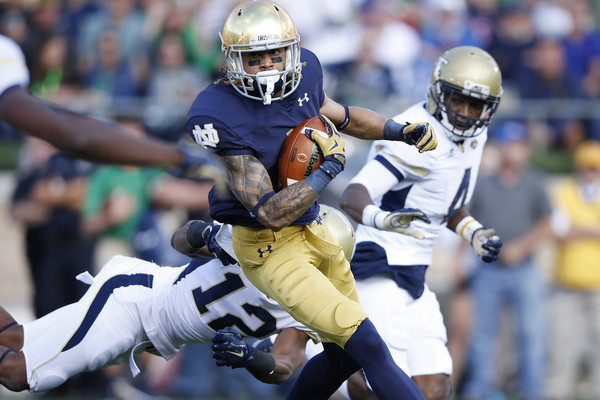 Regardless of what happens, the Irish have at least given themselves a shot at a repeat of their 2012 performance and have the makeup of a championship contending team. We've seen some pretty wild things happen in college football, so picking Notre Dame to run the table this season isn't a far-fetched idea.
Obviously, if the Irish do manage to pull of an undefeated regular season once again, they will be hoping for a much different result than their previous title game experience. Surely, coach Brian Kelly has that game in the back of his mind and wouldn't let that type of embarrassing performance happen again. While that may be the case, this team won't have to worry about those circumstances for a while; they still have 8 games to prove that they belong in that situation.