CFP: National Championship Game Preview and Prediction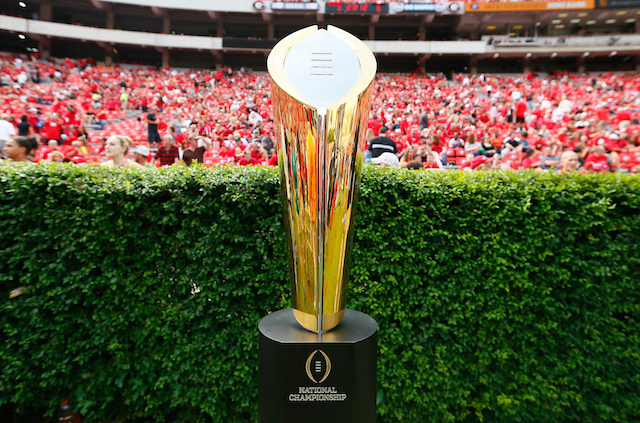 And then there were two. The long-awaited College Football Playoff National Championship Game is here and will feature the Oregon Ducks (13-1) from the Pac-12 Conference versus the Ohio State Buckeyes (13-1) from the Big Ten Conference.
Oregon punched its ticket to the CFP National Championship Game by thoroughly dominating Florida State in its 59-20 blowout win at the Rose Bowl. The Ducks prevailed in every phase of the game, outscoring the Seminoles 41-7 in the second half. Their statement Rose Bowl win sent the message to the rest of the country that they are more than just a high-powered offense in flashy uniforms.
Ohio State earned its CFP Championship Game berth by upsetting the heavily favored Alabama Crimson Tide in the Sugar Bowl. Behind another impressive performance by quarterback Cardale Jones and a huge game out of running back Ezekiel Elliott, the Buckeyes prevailed 42-35 in a game that very few people expected to be a shootout.
Outside of having 13-1 records, the two longest active winning streaks in the Football Bowl Subdivision (Ohio State at 12 games, Oregon with nine games), and high-powered offenses, these two programs have very little in common. Oregon quarterback and 2014 Heisman Trophy winner Marcus Mariota is firmly entrenched among the greatest college football players of all time, while Ohio State's Cardale Jones will be making his third career start.
Ohio State head coach Urban Meyer has won two national titles, while Oregon coach Mark Helfrich has just two years of head coaching experience. Ohio State has had seven Heisman Trophy winners and won seven national titles, while Oregon has had one Heisman Trophy winner and has won zero national titles. That being said, all of this will be irrelevant as soon as the opening kickoff is in the air.
Here's a look at five things to watch for and a final prediction for the inaugural CFP National Championship Game between the Oregon Ducks and Ohio State Buckeyes.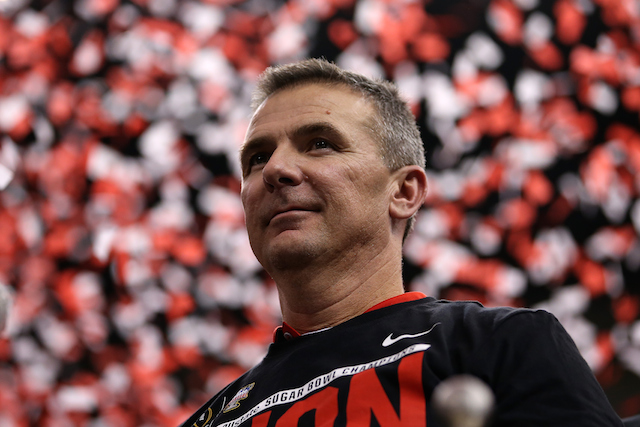 1. Will Urban Meyer's big-game experience be a factor?
Meyer is one of the most successful and decorated college football coaches of all time. He has won two national titles and led his teams to an overall record of 5-1 in major (CFP, BCS) bowl games. His counterpart, Helfrich, has an impressive résumé as an assistant coach, but the Ducks' Rose Bowl win was his first major bowl game as a head coach. Meyer holds a significant edge in big-game experience that may end up being a critical advantage for the Buckeyes.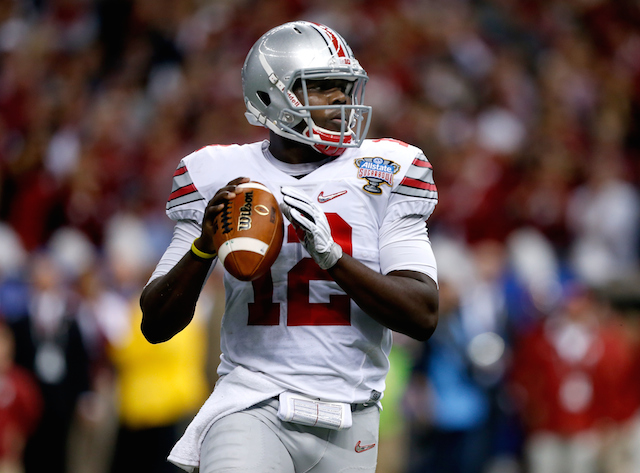 2. Will Cardale Jones continue his run of impressive performances?
Jones erased nearly every concern over the loss of Braxton Miller and J.T. Barrett with his performance against Alabama in the Sugar Bowl. In only his second career start, he helped the Buckeyes put up 537 yards of offense against one of the nation's toughest defenses. While Ezekiel Elliott's performance took a lot of the pressure off Jones, there is no denying that he looked like a seasoned veteran against the Crimson Tide. In the CFP Championship Game, his performance will go a long way in deciding which team will be walking away as national champions.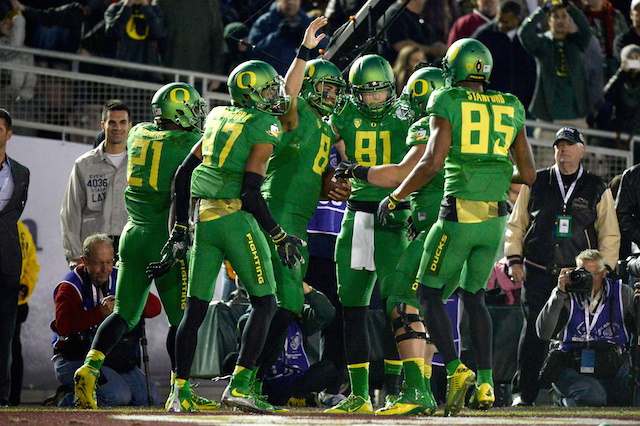 3. Will the high-octane Oregon offense run the Ohio State defense into the ground?
There were times in the second half of the Sugar Bowl when it seemed like the Alabama offense was wearing down the Ohio State defense. With all due respect to Lane Kiffin and Alabama, if they were wearing down the Buckeyes' defense, Oregon has the ability to run them into the ground. Not only do the Ducks rack up massive amounts of yardage, they do so by running an up-tempo offense that can wear down any team in the country. If Oregon can get their well-balanced attack going early, it will be hard for the Buckeyes to keep up with the Ducks for four quarters.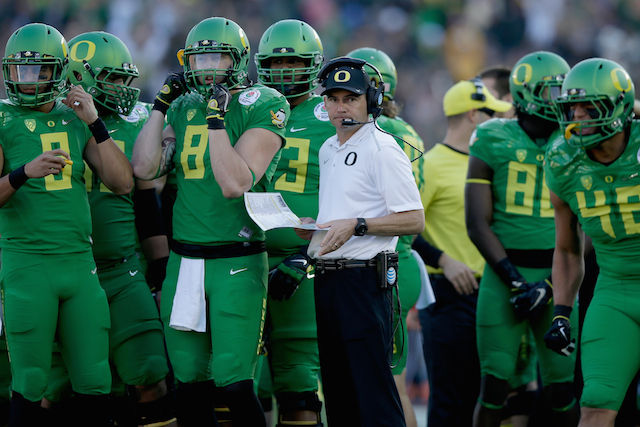 4. Will Mark Helfrich escape from Chip Kelly's shadow?
Many people around the country feel that Helfrich is winning with a roster and schemes built by his predecessor, Chip Kelly. While some Oregon players have hinted that the team may actually prefer Helrich's personality and demeanor over that of Kelly's, most of the country still gives the majority of the credit for the Ducks' success to Kelly. With a win in the CFP National Championship Game, Helfrich will do something that Kelly was never able to do: bring a national title to Eugene.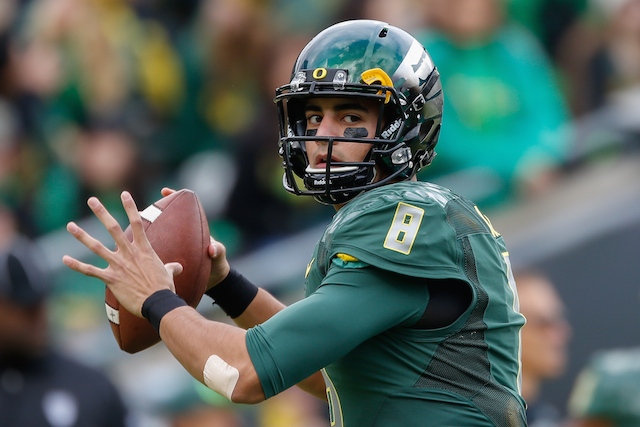 5. Will Marcus Mariota cap off one of the best careers in college football history with a national championship?
It seems like the only thing missing from Mariota's résumé is a national championship. He has already become the first Heisman Trophy winner in Oregon program history and broken countless records along the way. A win in the CFP National Championship Game will only strengthen his case as arguably the best player in college football history.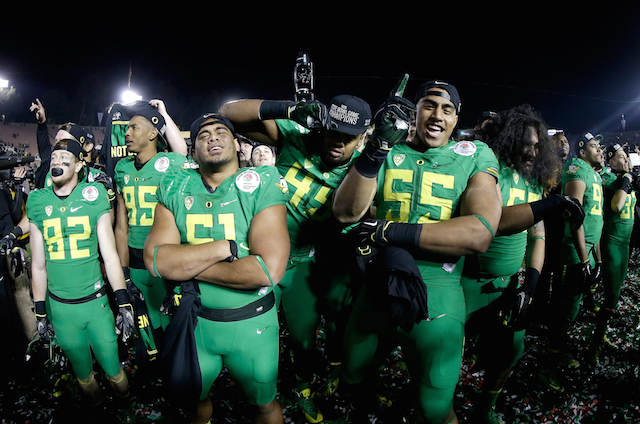 Final prediction: Oregon 48, Ohio State 38
The Ducks' offense, led by Mariota, will wear down the Buckeyes' defense and bring home the first national title in program history.