Chad Hutchinson Lost a Cowboys QB Battle When He Asked One Simple Question
Chad Hutchinson had an opportunity to become the NFL's newest golden boy with the Dallas Cowboys.
A former relief pitcher for the St. Louis Cardinals, Hutchinson entered the 2003 season in a heated quarterback battle. If Hutchinson won and built off an intriguing rookie season, Dallas may have found Troy Aikman's true successor behind center.
Hutchinson never got that chance, though, and a simple question he asked Cowboys head coach Bill Parcells may have been why.
Chad Hutchinson had an interesting journey to the NFL
Before he ever became an NFL quarterback, Chad Hutchinson was a standout outside linebacker at Torrey Pines High School in California.
Hutchinson earned a football scholarship to Stanford and started two seasons for the Cardinal to pursue a baseball career with, coincidentally, the St. Louis Cardinals.
The Atlanta Braves used a first-round pick on Hutchinson in 1995. The two sides didn't agree on financial terms and Hutchinson elected to play baseball and football in college.
The Cardinals used a second-round pick to pry Hutchinson away from the Cardinal. Hutchinson climbed through the minor leagues and opened the 2001 season on the Cardinals' MLB roster.
The 2001 season marked Mark McGwire's final year in the big leagues and Albert Pujols' rookie campaign.
Hutchinson had a 24.75 ERA in four innings that April ad spent the rest of the year in the minors. At 25 years old, Hutchinson opted to forgo the rest of his baseball career and instead give the NFL a chance.
Hutchinson participated in the Cowboys' 2003 quarterback battle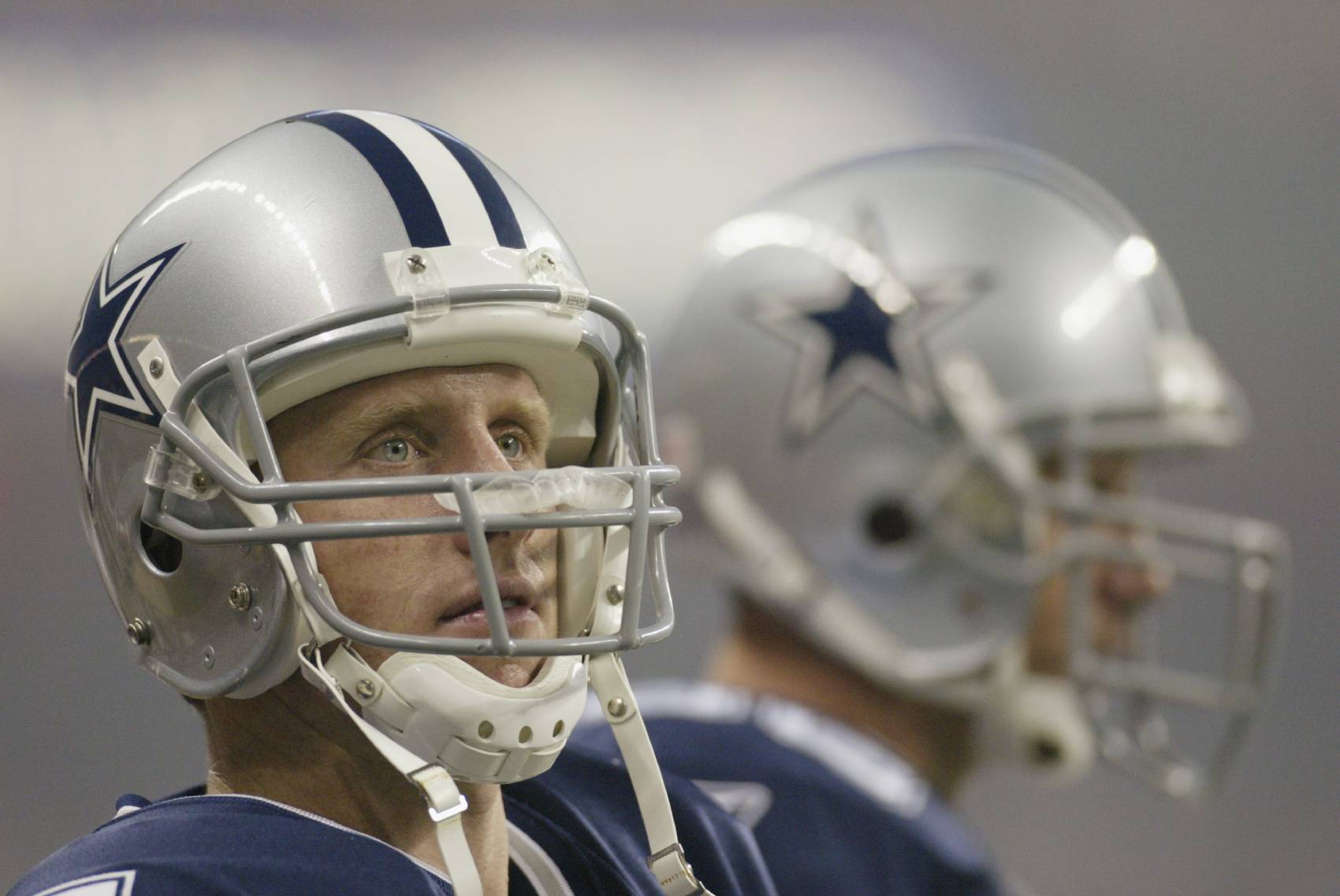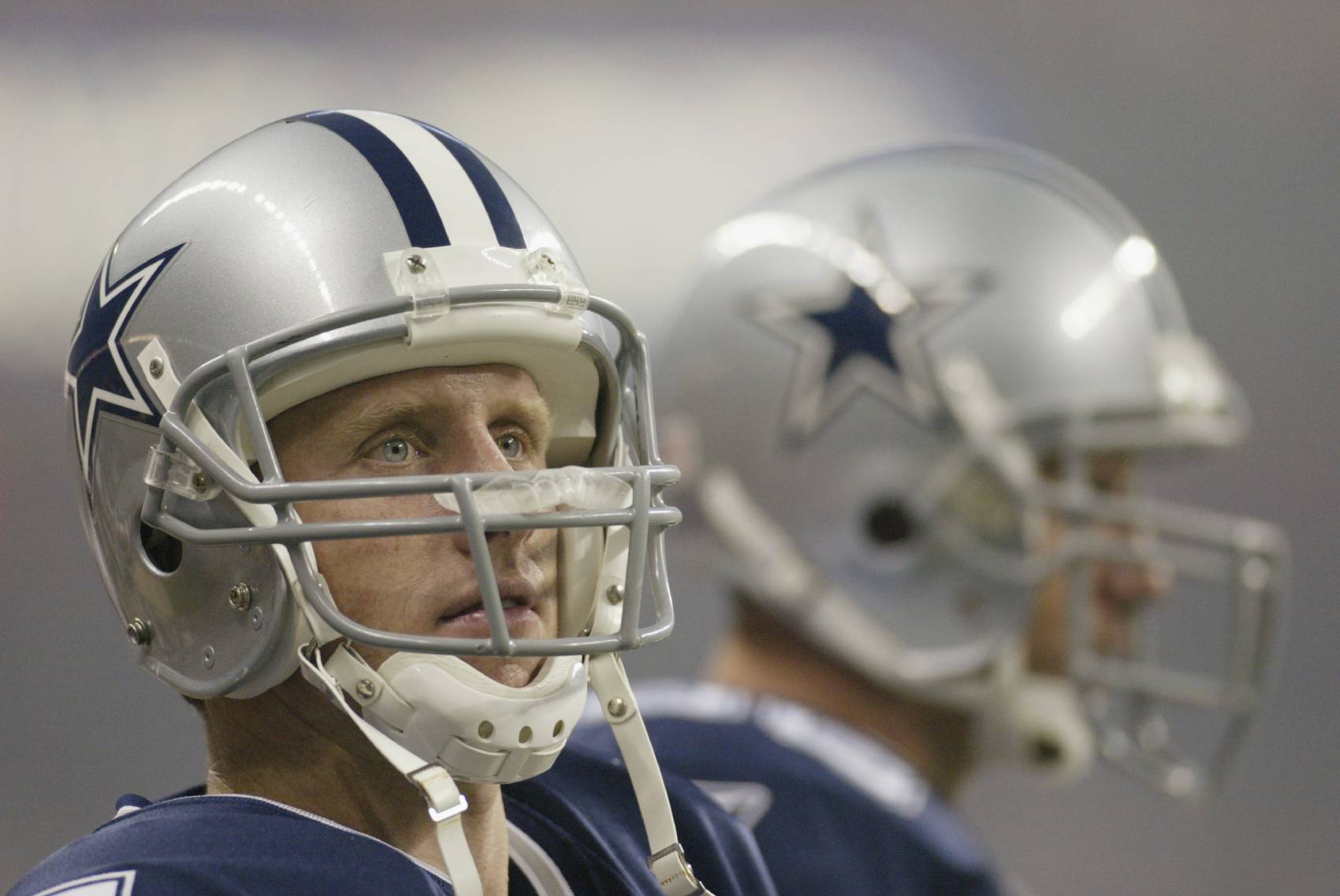 Three teams attended Chad Hutchinson's open workout in early-2002 and the Dallas Cowboys signed him to a three-year contract with $5 million guaranteed. The Cowboys also included a no-baseball clause in the contract.
Hutchinson got his chance midway through the 2002 season. He completed 51% of his passes for 1,555 yards, seven touchdown passes, and eight interceptions in nine starts.
Hutchinson didn't throw an interception in his first 95 passes, a record that stood until Carson Wentz and Dak Prescott each broke it in 2016.
Considering Hutchinson had spent the last four years playing professional baseball, those were impressive numbers for a 25-year-old rookie. The future appeared bright for Hutchinson and the Cowboys.
Chad Hutchinson lost the battle when he asked one simple question
When Bill Parcells took over the Cowboys following a dismal 2002 campaign, all eyes were on the quarterback battle between Chad Hutchinson and Quincy Carter.
Although the battle was publicized on HBO's Hard Knocks, viewers may have been disappointed when Carter effectively won the job with a preseason game left.
Parcells' decision may not have had to do much with Carter or Hutchinson's play. In his 2004 book, When the Tuna Went Down to Texas, longtime Dallas sports columnist Mike Shropshire explained what really happened.
Hutchinson, according to Shropshire, asked Parcells, "what's my role going to be?" Parcells later mentioned the incident to the media but didn't mention Hutchinson's name.
Later that week, Parcells announced Hutchinson wouldn't play in the preseason finale. All of the quarterback reps would go to Carter, who later officially won the job, and undrafted rookie Tony Romo.
Parcells said he wanted to see what Romo could do with more snaps. Dallas routed Oakland, the defending AFC champions, 52-13 in Texas.
Hutchinson completed one of two passes in 2003 for eight yards. He went 1-4 in five starts with the Chicago Bears a year later and never played in the NFL again.