Chad Johnson Calls Out Baker Mayfield and the Browns for Wasting Odell Beckham Jr.'s Talent: 'There's No Reason Odell Should Have 1 Catch'
The Cleveland Browns chose not to deal Odell Beckham Jr. before the NFL trade deadline, and it may come back to bite them. OBJ, Baker Mayfield, and the Browns' coaching staff can share blame for the disappointing start to the 2021 NFL season. Former Pro Bowl wideout Chad Johnson feels Mayfield and the coaches deserve more blame.
Johnson weighed in after Cleveland's loss to the Pittsburgh Steelers in Week 8.
Odell Beckham Jr. and Baker Mayfield lack chemistry
When the Cleveland Browns acquired Odell Beckham Jr. in a trade with the New York Giants in 2019, it seemed like an intriguing fit.
Beckham Jr. finally got the opportunity to reunite with his close friend and former LSU teammate Jarvis Landry. However, he and quarterback Baker Mayfield haven't clicked.
OBJ caught 74 passes for 1,035 yards and four touchdowns in his first season in Cleveland. Despite his low touchdown number, he enjoyed production in the Browns' offense. The chemistry between the veteran wideout and his quarterback has deteriorated since.
Mayfield is in his fourth NFL season, but the former No. 1 overall pick has yet to live up to his high draft tag. Adding OBJ to the fold was supposed to help the young signal-caller develop. However, both players have paid the price as a result.
Beckham Jr. suffered a season-ending injury in 2020, which also caused him to miss the start of the 2021 season. When he's been on the field, though, it's apparent that something is missing between him and Mayfield.
OBJ recorded 23 receptions for 319 yards and three touchdowns in seven games in 2020. In his six games in 2021, he's caught just 17 passes for 232 yards. He has yet to get in the end zone.
According USA TODAY Sports, the 28-year-old's father accused Mayfield of intentionally throwing to other receivers over Beckham Jr.
The two players just can't seem to get on the same page.
Chad Johnson blames the Browns for wasting OBJ's talent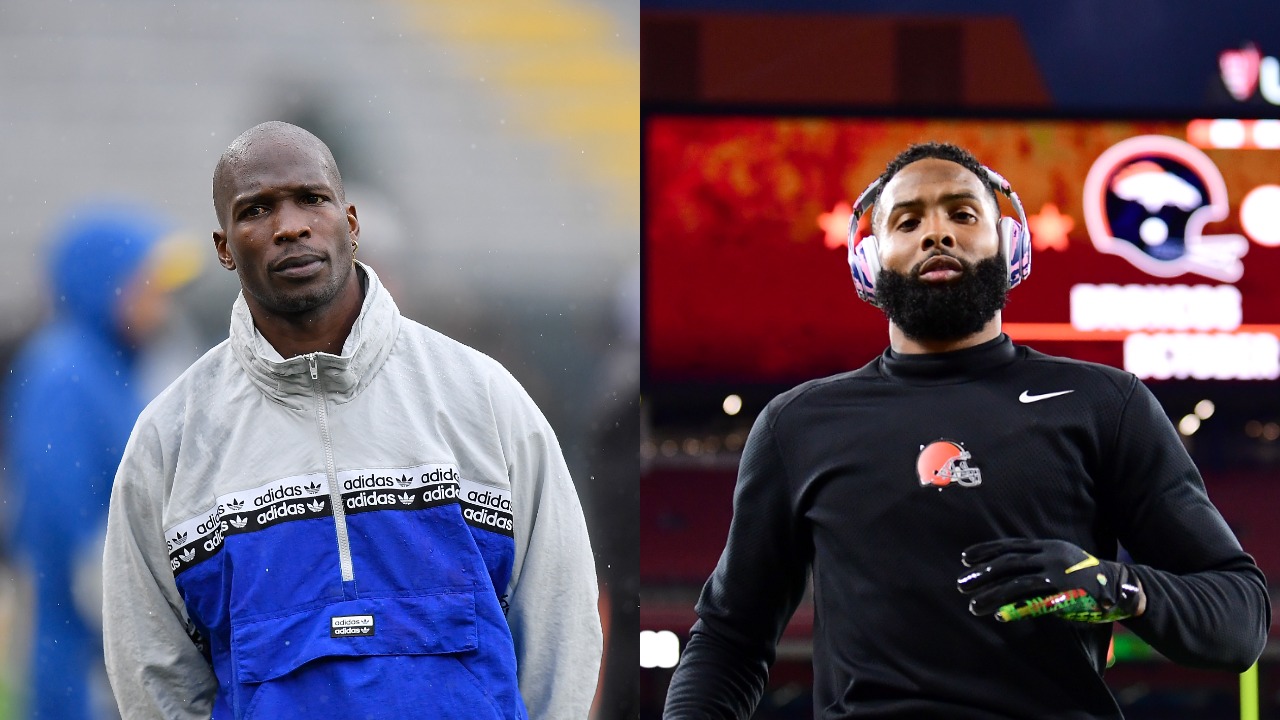 Odell Beckham Jr.'s lack of production is concerning, but his lack of usage is even more alarming.
The New Orleans, Louisiana native has received 34 targets in his six games since returning from injury. When healthy, OBJ can be a true No. 1 in the NFL. That's just not going to cut it.
Former Cincinnati Bengals wide receiver Chad Johnson took to Twitter to express his thoughts on the frustrating situation.
"As a fan of the game and a complete understanding on the importance of coaches taking advantage of their best players' strengths to give the team its best chance to compete and win," said Johnson. "There's no reason Odell should have one catch no matter the f****** circumstances."
The former six-time Pro Bowler is pointing at head coach Kevin Stefanski with that comment. Stefanski found success with Adam Thielen and Stefon Diggs as the Minnesota Vikings' offensive coordinator. However, he hasn't enjoyed the same success with OBJ.
Chad Johnson believes it's unacceptable that a player of Beckham Jr.'s caliber has one catch for an entire game. He has a valid point, too.
While Stefanski is running the show, Baker Mayfield is in charge of getting the ball to his star receiver. He's failed to do so consistently.
Cleveland should've found a way to trade its disgruntled wideout
The Nov. 2nd NFL trade deadline has come and gone, but Odell Beckham Jr. is still a member of the Cleveland Browns.
Rumors swirled about whether or not the front office would try to trade him before the deadline. However, nothing concrete got done.
The Browns may end up regretting not pushing harder to find a suitor. Beckham Jr. and Mayfield do not mesh. They've had time to figure it out, and it's not working. It's unclear what more they want to see.
Injuries have derailed OBJ's trajectory in the NFL, not his talent. From a talent perspective, he's one of the best wide receivers in the past decade, even though his production doesn't match.
It's unclear if any teams were willing to acquire OBJ before the deadline. Cleveland also probably doesn't want to give up on the player they traded for, but enough is enough.
Under no circumstances should Baker Mayfield be targeting Beckham Jr. one time in a single game. That's unacceptable.
The Browns went into the 2021 NFL season with high expectations and even Super Bowl aspirations. At this point, they'd be lucky to make the playoffs.
Odell Beckham Jr. and the Cleveland Browns are better off apart.
All stats courtesy of Pro Football Reference
RELATED: Odell Beckham Jr. Leaving the Browns at the Trade Deadline Might Be Best for Both Parties According to Nate Burleson: 'He's Not the Same Receiver He was When He was With the Giants'