Chandler Jones' Trade Request Makes no Sense Whatsoever
Arizona Cardinals star edge rusher Chandler Jones expressed his discontent at the most curious of times.
The Cardinals and general manager Steve Keim made a series of moves this offseason, which could result in Arizona establishing itself as a more legitimate contender in the NFC West. Keim pulled the shocker of the offseason when he signed star defensive tackle J.J. Watt. He also inked veteran cornerback Malcolm Butler and former Pro Bowl wide receiver A.J. Green while trading for Pro Bowl center Rodney Hudson.
All these moves figure to benefit a Cardinals team that should be pretty dangerous with Kyler Murray leading a potentially potent offense. Yet Jones, long the anchor of the Cardinals defense, is unhappy with his standing in the organization.
Jones needs to put his pride to the side and focus on helping Arizona on the field.
Chandler Jones requested a trade from the Arizona Cardinals in the offseason
Jones' frustration appears to stem from his contract situation.
Jeremy Fowler of ESPN reported Jones is unhappy with the contract, which served as his motive for missing offseason workouts. Fowler added the Cardinals expect Jones to report to camp, but it's unclear whether Arizona feels pressed to offer him new money.
Jones is owed $15.5 million in 2021, the final season of his current deal. There could be some irritation because the Cardinals have not made much of an effort to extend Jones, but it's more likely he is frustrated with the monetary value.
Several star defensive linemen have signed big deals in recent seasons. This includes edge rushers such as Joey Bosa ($135 million) and Myles Garrett ($125 million). Jones might want to be paid at a higher annual average similar to the likes of Bosa and Garrett based on past production.
The two-time All-Pro certainly has a case. Jones had at least 11.0 sacks in each of his first four seasons with the Cardinals. He had 19.0 sacks in 2019 and led the NFL with eight forced fumbles.
Then again, Jones isn't getting any younger. He will be 32 in February and missed 11games last season due to a biceps injury.
The timing of the trade request is curious
Again, it's a bit odd that Jones made his trade request this offseason, considering the direction the Cardinals appear to be heading in.
It's hardly ideal for players to face the uncertainty of an expiring contract. Still, Jones should be ecstatic with Arizona's current situation. Moreover, he could be set up for his best year yet.
The addition of Watt gives the Cardinals a terrifying defensive front. Watt can play inside or on the edge, giving the Cardinals the chance to employ several different looks. His presence should also take some of the attention off of Jones and give the three-time Pro Bowler more one-on-one looks.
Arizona has the chance to be as good as they've ever been since Jones first came to the desert and could have a vastly improved defense. That should make Jones ecstatic.
There is time to rectify the situation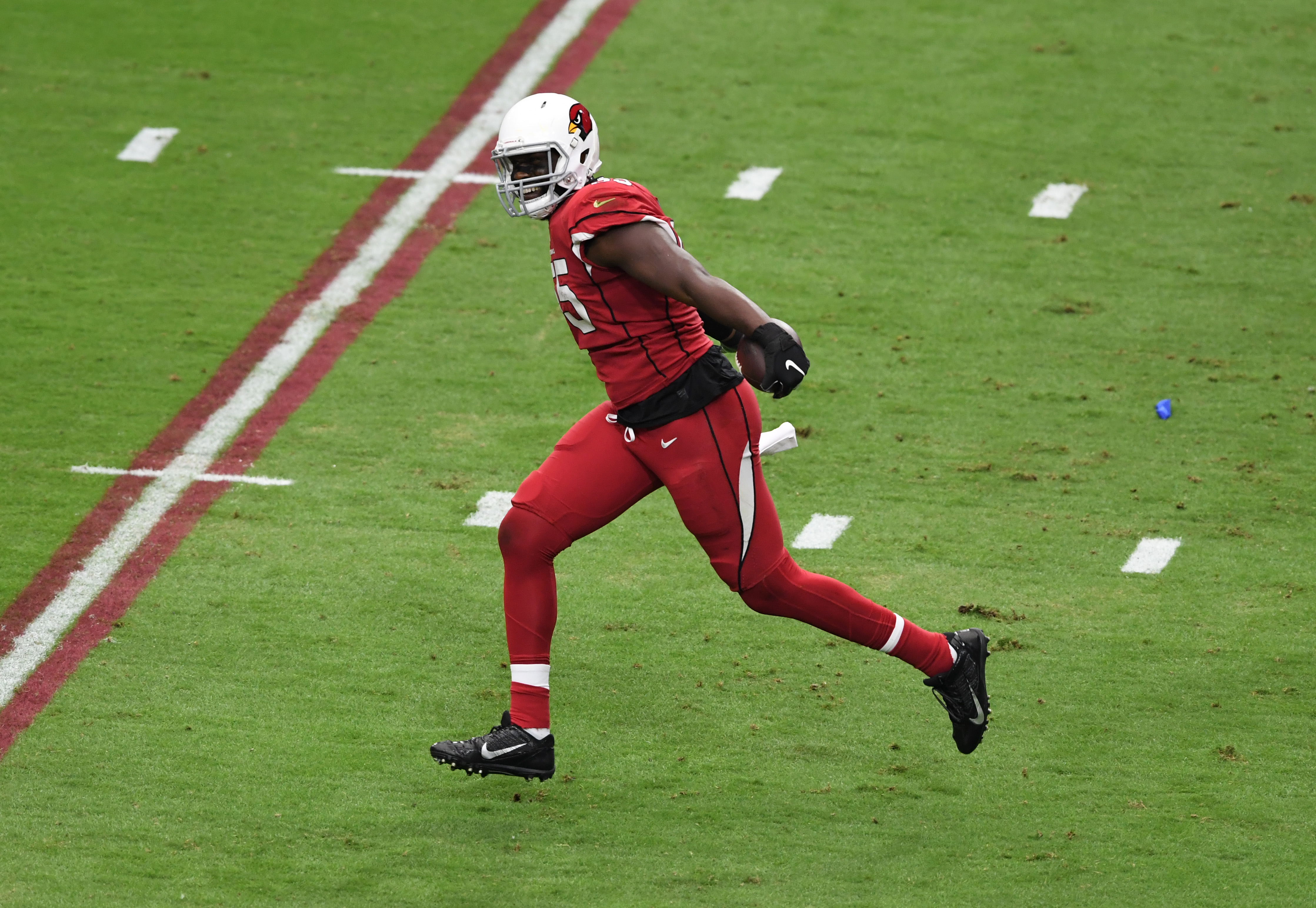 Fowler reported the Cardinals have no interest in trading Jones. A source also told ESPN Jones is held in high esteem within the organization.
In other words, there is still time for the two sides to work things out.
Jones can prove his worth by staying healthy and having a big season, which would undoubtedly make the Cardinals all the more interested in re-signing him. It's just hard for Arizona to justify giving him big money given his recent injuries and the fact the team just doled out big extensions to DeAndre Hopkins and Budda Baker.
The Cardinals will likely hope Jones can put aside the unrest and help the team contend in a loaded division. Doing so would probably lead to more harmony for all parties.
Stats courtesy of Pro Football Reference. Contract information courtesy of Over The Cap.