1 Simple Change Has Turned Joel Embiid Into an NBA MVP Candidate
Although the NBA season hasn't even reached its halfway point, fans and pundits alike have already begun considering various awards categories. In particular, the MVP award is generating intense amounts of debate. At the moment, the race comes down to two main players: LeBron James and Joel Embiid.
While it's no surprise for James to find himself in the midst of an MVP debate, Embiid's position as a legitimate candidate is a bit more surprising. Here we take a closer look at Embiid's time in the league, his current season, and the one simple change that has vaulted him into the MVP race.
Joel Embiid's NBA journey so far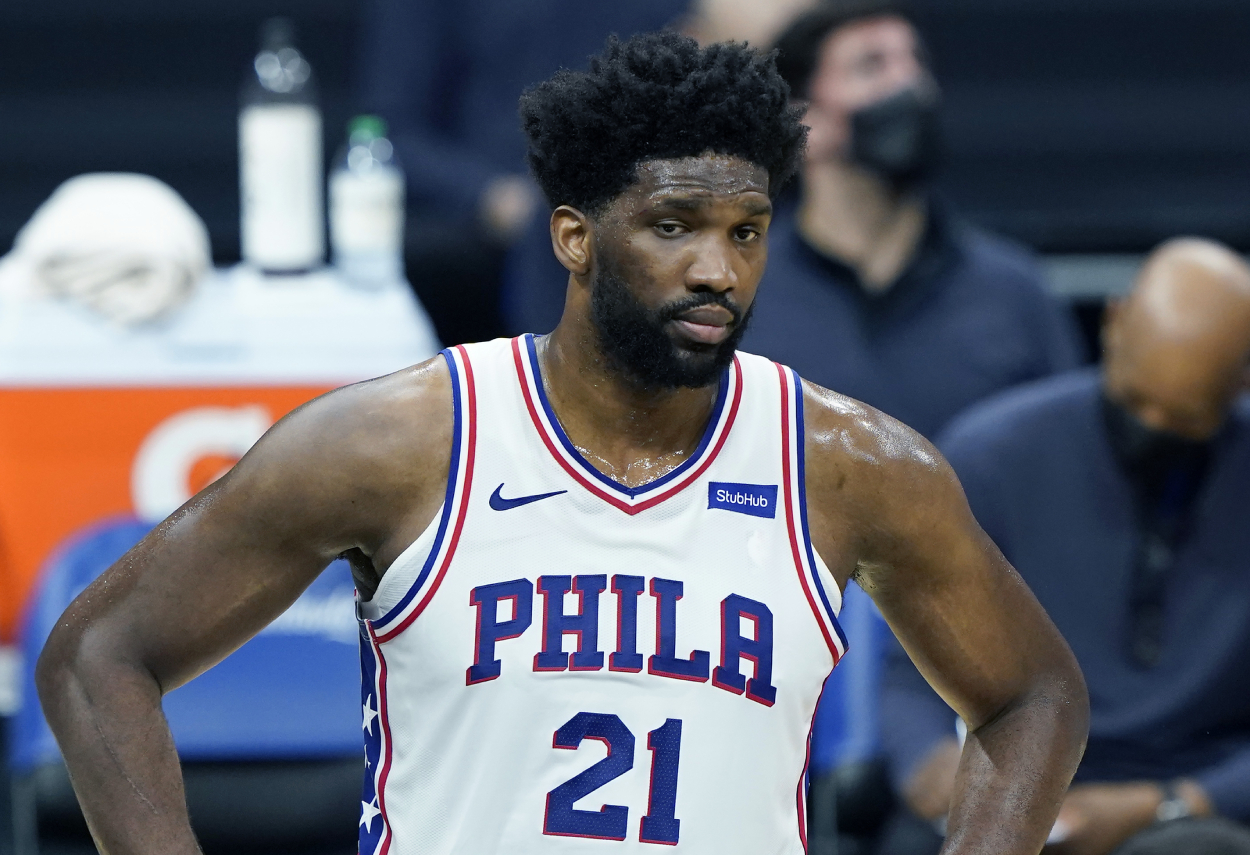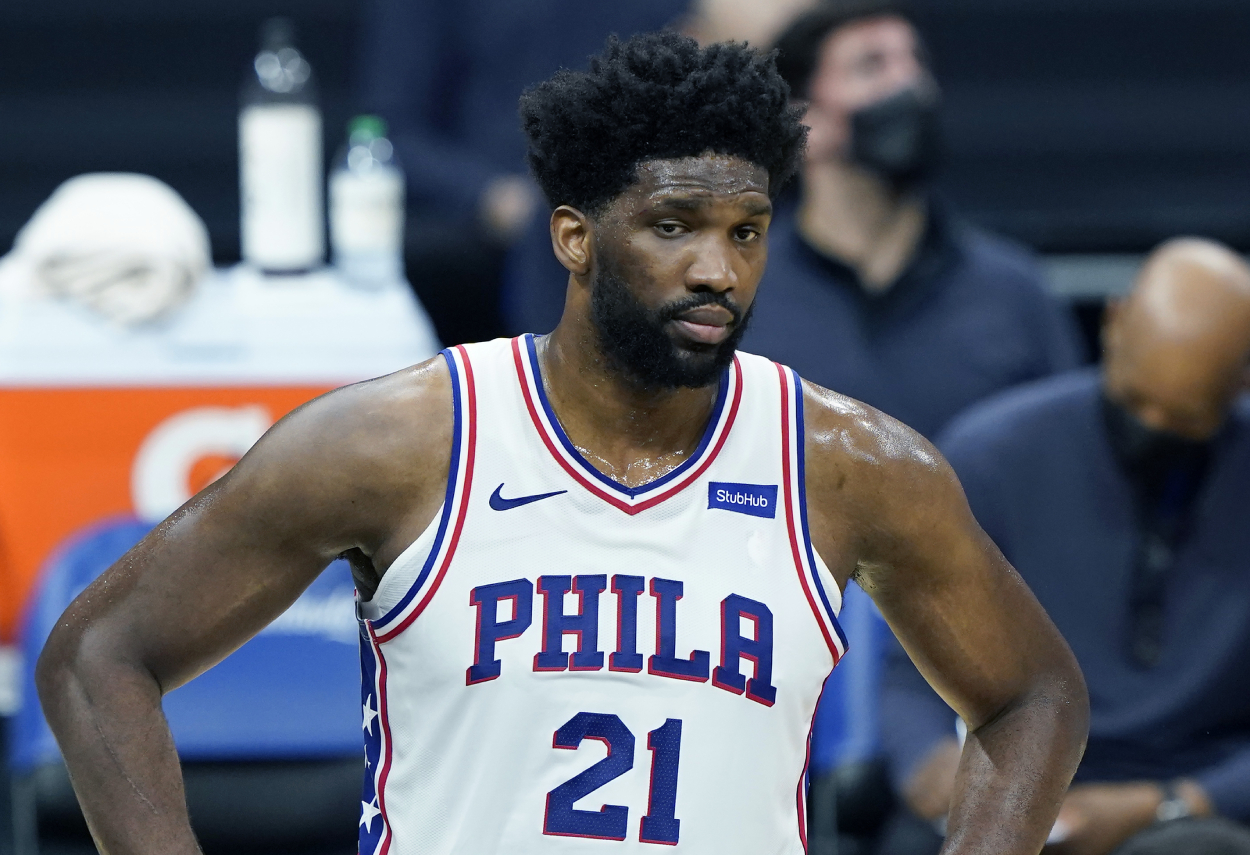 Embiid played a single year of college basketball at the University of Kansas before declaring for the draft. The Philadelphia 76ers selected him with the third overall pick of the 2014 NBA Draft. Prior to the draft, Embiid broke the broken navicular bone in his right foot and had to undergo surgery, per ESPN.
The initial time-table for his recovery was four to six months. Yet Embiid suffered several setbacks in his healing, and ultimately missed two entire seasons of NBA basketball.
He finally made his debut in 2016-17, averaging 20.2 points, 7.8 rebounds, and 2.5 blocks per game, according to Basketball Reference. Yet he played in only 31 games before a torn meniscus cost him the rest of the season.
In 2017-18, Embiid boosted his scoring average to 22.9 points per game — then to 27.5 in 2018-19, when he also averaged a career-high 13.6 rebounds per game.
Though his numbers sank slightly last season, Embiid remained one of the most dominant big men in the game, equally imposing both as an offensive and as a defensive presence.
An MVP-caliber season so far
For all of his accomplishments in the league up until this year, Embiid still hadn't managed to reach his true potential, according to most pundits. All of that has changed this season.
Through 22 games so far, Embiid is averaging 29.6 points, 10.8 rebounds, and 2.8 assists per game. Even more impressively, Embiid is shooting 54.3% from the floor and 40.0% from the three-point line.
Advanced statistics corroborate just how impactful Embiid has been for the 76ers. According to ESPN, Embiid currently leads the league in Player Efficiency Rating, with a PER of 31.18.
Embiid also ranks at the top of the league according to FiveThirtyEight's total RAPTOR metric, beating out the Utah Jazz's Mike Conley and the Los Angeles Clippers Kawhi Leonard.
Perhaps most importantly, Embiid's big numbers haven't come in a vacuum. Through 27 games, the 76ers have an impressive 18-9 record, good for the best record in the Eastern Conference. That combination of individual dominance and team success has placed Embiid firmly in the midst of the MVP race so far.
One simple change accounts for Joel Embiid's MVP run
As good as he was during past seasons, Embiid's production was always hampered by one of two things: injuries and poor conditioning. The two problems seemed to feed into one another as well.
An out-of-shape Embiid was that much more likely to suffer minor yet nagging injuries. Those injuries, in turn, kept Embiid from being able to successfully play himself back into shape.
Embiid came into this season looking far more healthy than at virtually any point in his career. Even deep into a game, he looks far less sluggish and slow than in seasons past. According to an in-depth analysis by FiveThirtyEight, Embiid's improved conditioning manifests in a variety of different statistical analyses.
For instance, Embiid has always been a formidable defender at the rim. Now that he is finally in peak conditioning, he's been having a much easier time closing out on opponents at the three-point line as well.
His increased agility has also benefited Embiid on the offensive end, where he's settling for far-fewer contested shots. If Embiid can keep himself healthy all season, he should have a real chance to contend with LeBron James for the MVP award.
All stats courtesy of Basketball Reference