Chargers at Broncos: 3 Things to Watch for on Thursday Night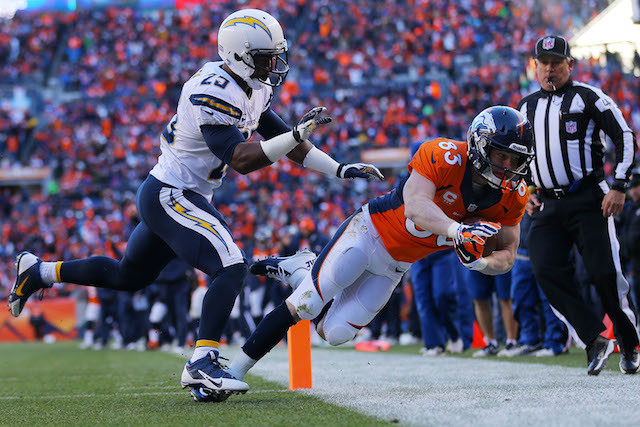 Thursday Night Football has been a bit of a joke in 2014. Players hate playing on Thursdays, coaches hate cramming for Thursdays, and fans have had to watch several blowouts on Thursdays. For the first time in 2014, the Thursday Night game is between two division rivals and has serious playoff implications.
The Denver Broncos (5-1) are hosting the San Diego Chargers (5-2) in a matchup between the two best teams in the AFC West. Denver has the best record and San Diego is in a four-way tie for the second best record in the AFC. The Chargers were the only team to beat the Broncos at home in 2013, and coincidentally, that game happened to fall on a Thursday night. Broncos quarterback Peyton Manning and Chargers quarterback Philip Rivers are both playing like legitimate league MVP candidates in 2014, and the two of them have the ability to keep this game entertaining from start to finish all by themselves.
The Broncos are riding high after a thoroughly dominating win over the San Francisco 49ers on Sunday night and the Chargers are trying to bounce back from a close loss to the Kansas City Chiefs in Week 7. There is definitely no love lost between these two teams and it is highly likely that this game will be competitive from the opening kickoff until the final whistle.
Here is a look at three things to watch for when the Chargers play the Broncos on Thursday night. All statistics courtesy of Pro-Football-Reference.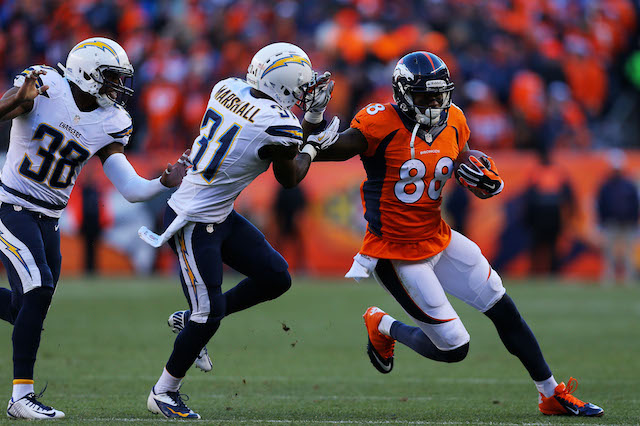 Can a depleted Chargers secondary slow down the Broncos' high-flying passing attack?
The Chargers will be without Pro Bowl cornerback Brandon Flowers, who is out with a concussion, and may be without both rookie first round draft pick Jason Verrett — another cornerback, who is questionable with a shoulder injury — and reserve cornerback Steve Williams, who is battling a groin injury. The Broncos are about the last team in the NFL anybody with a dwindling secondary would want to face.
Demaryius Thomas has been better than any other wide receiver in the NFL over the last three weeks and Emmanuel Sanders is emerging as a star in the Broncos offense. Throw in tight end Julius Thomas, who leads the league in touchdown receptions, and a healthy Wes Welker, and the Broncos have weapons all over the field. If the Chargers are going to have any chance at winning this game, they will need their pass rush to put pressure on Denver quarterback Peyton Manning or he will almost surely pick apart their patchwork secondary all night long.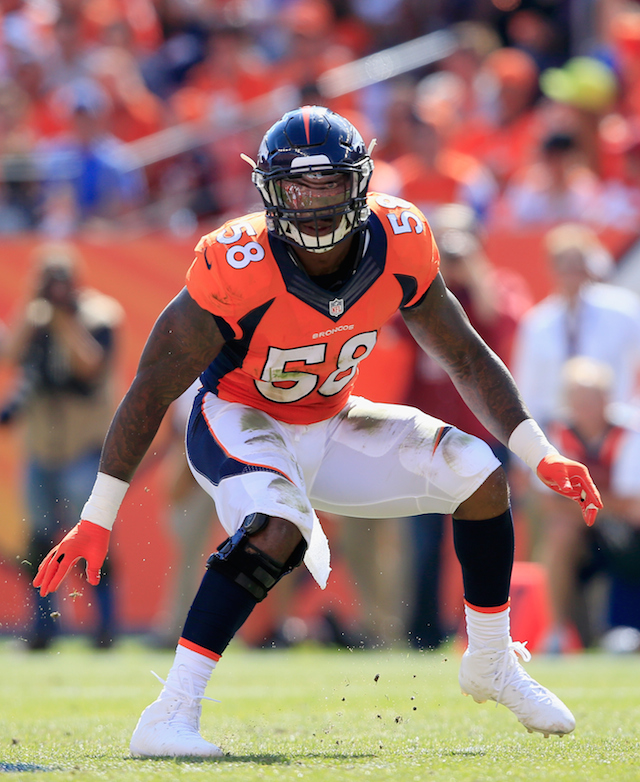 Can the Broncos' defense put consistent pressure on Philip Rivers?
The Broncos' defense was ridiculously good against the San Francisco 49ers in Week 7. They racked up six quarterback sacks against a 49ers offensive line that had been giving up slightly more than two sacks per game for the season. Philip Rivers has only been sacked 11 times in seven games in 2014 and he has proven throughout his career that he can shred a defense if he is given time to sit in the pocket and make his throws. The only defensive player in the NFL playing better than Von Miller over the last month is MVP candidate J.J. Watt and DeMarcus Ware is proving that he still has a lot of gas left in his tank. If they, along with the Broncos' interior defensive linemen, can get consistent pressure on Rivers, it will be a rough game for the San Diego offense.
Can the Chargers continue their run of strong performances at Sports Authority Field at Mile High?
For whatever reason, Philip Rivers-led Chargers teams have always played well in road games against the Broncos. In their last five regular season trips to Denver, the Chargers have gone 4-1. This game got a lot more critical for San Diego after they were upset at home by the Kansas City Chiefs in Week 7. A win on Thursday night would help the Chargers avoid falling so far behind Denver in the AFC West standings that they could be out of the division race by Thanksgiving. There is no denying the Chargers' track record of success in Denver, but with the way the Broncos have been playing as of late, it may take them playing an absolutely perfect game for the Chargers to go into Denver and upset the Broncos on Thursday night.