Chargers HC Brandon Staley's Touching Response to Jon Gruden Situation: 'It's a Sacred Mantle for Somebody to Call You Coach'
The NFL hubbub has been swirling after Las Vegas Raiders head coach Jon Gruden resigned following the release of a series of emails containing insensitive and offensive messages. In turn, reactions have been pouring in from across the league and the sports world in general. Los Angeles Chargers head coach Brandon Staley was recently asked about the Gruden situation as well.
Days after Gruden's resignation, the first-year head coach gave a touching answer that went viral and proved to everybody why he is the perfect man for the job.
Brandon Staley gives touching response to Jon Gruden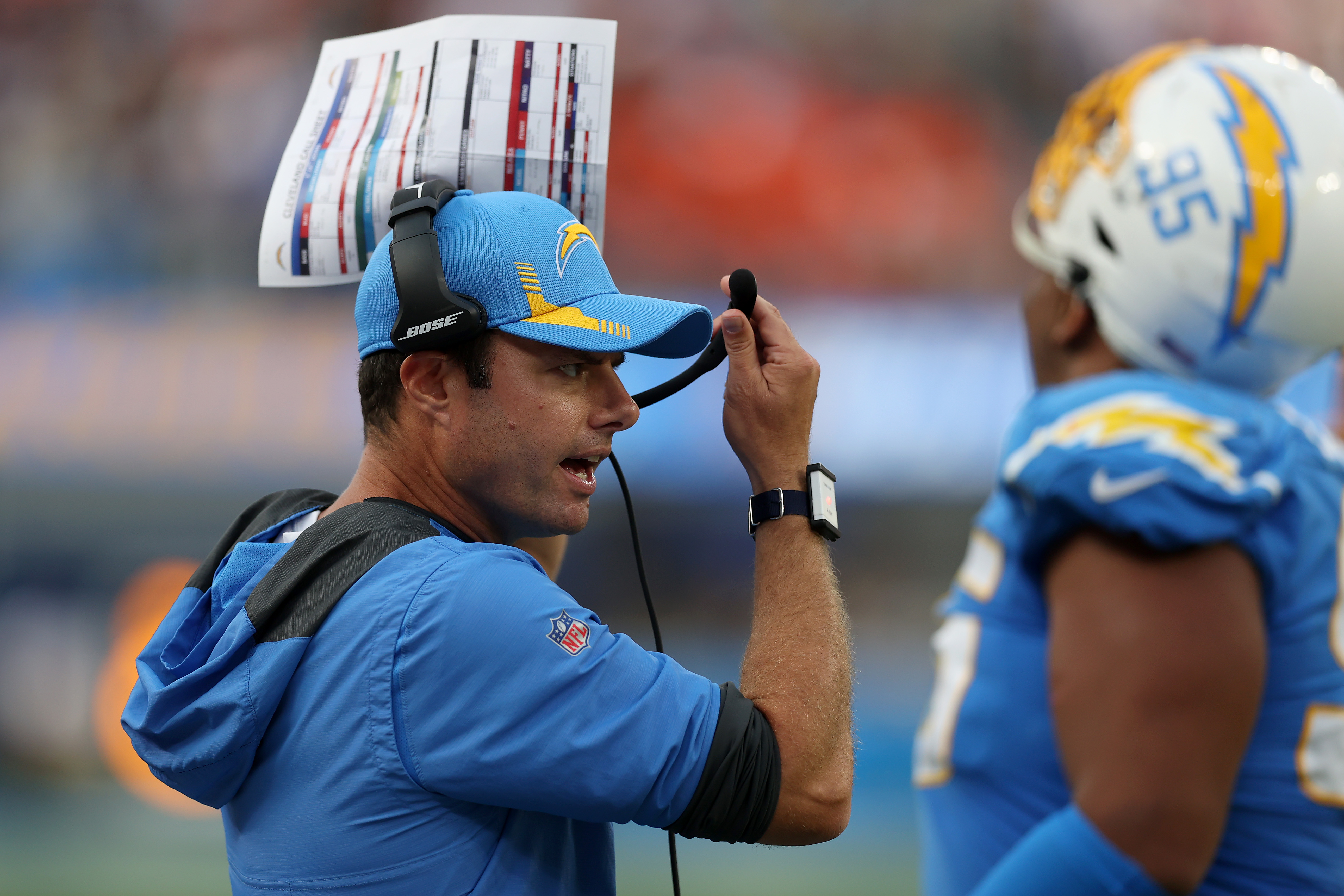 After Gruden vacated his position as Raiders head coach following the release of his decade-old emails, Staley stood tall and delivered a powerful message — without even mentioning the name of his former AFC West counterpart (h/t Gavino Borquez of Chargers Wire).
"I think that respect and trust in this world are really, really difficult to achieve, and I think about all the people that were affected by those emails. … Whether you're a person of color, whether, you know, a gender, your sexual orientation. The people that were affected by those emails, that's who I'm thinking about."

Brandon Staley on Jon Gruden
Staley went on for nearly two minutes and gave a perfect answer about everything that went down with the former Raiders head coach and kept reiterating that he was thinking about all those affected.
Amid a problematic situation, Staley stepped up to the mic and delivered an all-time answer.
The Chargers head coach opens up on the importance of the job
Being a head coach is not easy by any means. For Staley, this is his first season calling the shots after previously being the defensive coordinator for the Los Angeles Rams under Sean McVay during the 2020 NFL campaign.
Nonetheless, Staley has quickly learned the importance of being a head coach in this league. When he was asked about the Gruden situation, he delivered another compelling statement that will resonate with everybody — coach or not — for years to come (h/t The Athletic).
"It's a sacred mantle for someone to call you coach or someone to call you a leader. Trust is really, really hard to achieve in this world."

Brandon Staley
The answer from Staley is perfect, and he continues to deliver world-class interviews time and time again less than a year into being a head coach in the NFL.
Staley also mentioned that hopefully this will be a "chance for everybody to come together instead of go apart."
The best part is that he didn't once mention Gruden by name. Instead, he shifted his focus to everybody affected by the release of the emails and wished them the best as they try to recover from a difficult situation.
The Chargers took a risk by hiring Staley due to his lack of experience, especially with other candidates such as Brian Daboll available. So far, the move has paid off both on and off the field.
Back to business for everybody
This situation won't go away quickly. Not at all. The Raiders have named Rich Bisaccia as their interim head coach, and general manager Mike Mayock, tight end Darren Waller, and quarterback Derek Carr were among the Las Vegas personnel to speak to the media.
The Raiders will face the Denver Broncos and somehow find a way to try to put all of this behind them and focus on football after a shocking turn of events.
On the other hand, the Chargers have a daunting matchup with Lamar Jackson and the Baltimore Ravens in the works as Justin Herbert and the 4-1 LA team travel East before going to their bye week.
After a whirlwind of a week for everybody in the NFL, it is time to somehow focus on football, and Sunday will be a massive day for the Chargers and the Raiders, albeit for many different reasons.
Stats Courtesy of Pro Football Reference
RELATED: Steelers Head Coach Mike Tomlin Drops Honest Take After Disturbing Jon Gruden Situation Unfolds