Chargers' Pending Decision on Mike Williams Gets Intriguing Nudge From Brandon Staley
The franchise tag activity has been minimal around the NFL, which is quite a surprise. One of the expected names to be hit with the tag is Los Angeles Chargers wide receiver Mike Williams, although with days left before free agency, he still hasn't received it.
The former first-round choice out of Clemson is fresh off a career season, and while the Chargers would love to have him back in 2022, they might not be up to paying him big money.
During the NFL Combine, Chargers head coach Brandon Staley spoke in great lengths about Williams, and he made sure to give an intriguing nudge about the talented wideout.
Chargers head coach Brandon Staley caught the attention of everybody while discussing Mike Williams
To no surprise, Staley raved about Williams with free agency right around the corner. The Chargers No. 2 WR led the team in yards with 1,146 yards and nine touchdowns.
This was Williams' second 1,000-yard campaign since coming into the league and he thrived in Joe Lombardi's new offense, and it helps to have Justin Herbert throwing him the football.
Staley had a lot of praise for Williams, and why wouldn't he? But, one thing that caught the attention of everybody was one of Staley's final comments.
"We're big fans of Mike Williams."
That sure doesn't sound like a coach ready to let him walk away and sign with another team.
Telesco also spoke about Williams, although his comments are more hidden than the way Staley praised him.
The franchise tag is just one option, and a long-term extension is another. But, Staley's high praise for Williams could mean a return to LA is in the works.
The expected market will be robust if the Chargers decide not to retain the former Clemson star
The market will be extremely active for Williams if he doesn't return to LA. After all, the big body wide receiver is something NFL teams want more than ever — and catches like the one above are why he will be a hot commodity.
With Adams and Chris Godwin expected to return to their respective teams, Williams could very well be the No. 1 free agent in the position group.
The Las Vegas Raiders and Jacksonville Jaguars are just a couple of WR-needy teams with the cap space to make a massive offer to Williams.
The franchise tag will net him approximately $18 million for one year, which is big money, but there is a realistic shot that Williams could command north of $20 million per year by signing a long-term deal elsewhere.
The time for Williams to get paid is now, and while the Chargers would love to have him back, it just might not be in the works, especially with other issues to address for LA in the offseason.
Justin Herbert and company need to find a way to keep #81 in town for another year, at least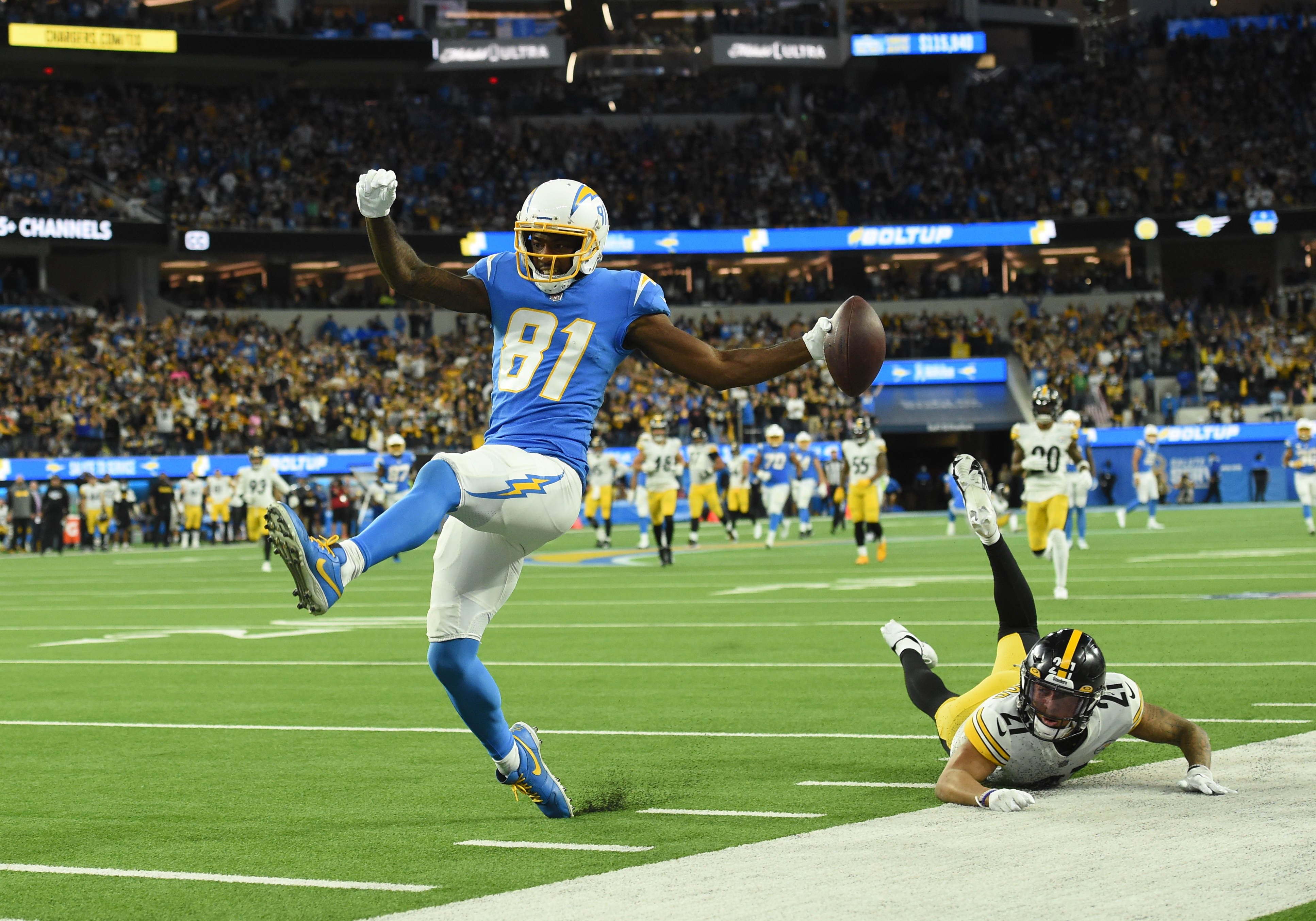 The Keenan Allen-Mike Williams pairing is one of the best WR duos in the NFL. In 2021, both topped the 1,000-yard mark and adding in talented running back Austin Ekeler has this LA offense as one of the best in the league.
With that being said, finding a way to keep Williams in town needs to be a priority. The tag makes a lot of sense for the Chargers, although Williams would love to finally get a long-term deal and cash in on his best career season.
Unfortunately, it just might not happen. While Staley admitted they are big fans, Telesco has yet to commit to Williams.
The fact that free agency is just days away and no offers have circulated yet puts Williams' future with LA even further under the microscope.
If he goes elsewhere, the Chargers need to act fast and find a bonafide WR2 to pair with Allen, and some mock drafts have them selecting a WR at No. 17 overall.
Nonetheless, questions remain about Williams, but Staley's comments might hint at the Chargers desire to bring him back for at least one more campaign.
Stats Courtesy of Pro Football Reference
RELATED: The Chargers Are a Sneaky Suitor for Free-Agent WR Davante Adams