Chargers RB Austin Ekeler Is Now Out to Prove 'The Office' Star Rainn Wilson Wrong: 'It's Not Enough Points for Rainn'
A crossover between the Los Angeles Chargers and The Office might not be what you expected to read about when you woke up this morning. Luckily for us, Austin Ekeler and Rainn Wilson are here to please.
At first glance, it might be difficult to find a connection between a 26-year-old running back who grew up in Nebraska and played football at a Division II school and a Washington-born actor with multiple Emmy Award nominations. However, fantasy football does have a way of bringing people together.
Austin Ekeler laughed when Rainn Wilson admitted he traded the running back in fantasy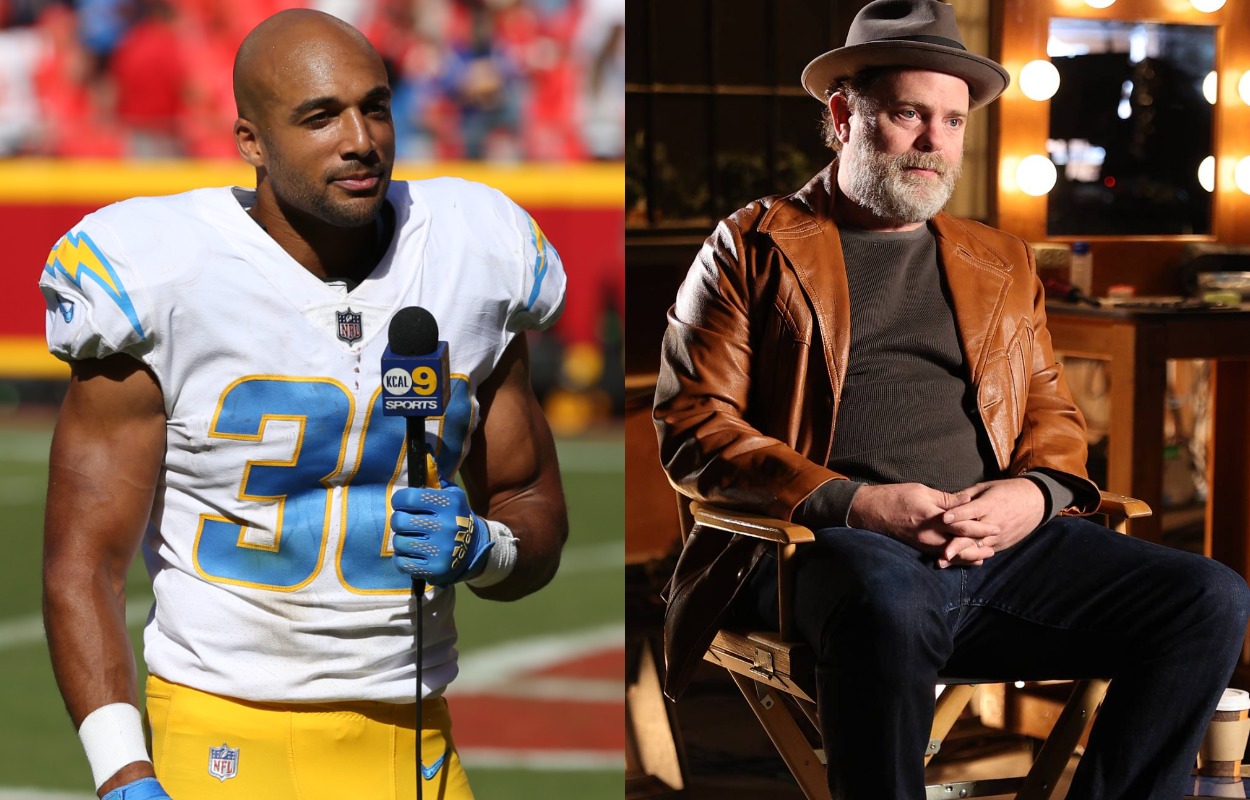 Celebrities are just like us on Sunday afternoons. They watch a long slate of NFL games, check their fantasy football teams, and complain about the officiating and length of commercials.
Wilson, who played Dwight Schrute on the legendary comedy, is an avid fantasy football player. When he appeared on the Sept. 30 episode of Ekeler's Edge, a fantasy football show on Yahoo Sports, the actor told Ekeler and Yahoo Sports' Liz Loza that he had the running back on one of his fantasy football teams.
The past tense is essential there. Wilson said he traded Ekeler to Brian Baumgartner, who played Kevin Malone on the show, in exchange for Dallas Cowboys star running back Ezekiel Elliott. 
"The reason I traded you is I had you in my other league, and I just wanted to mix it up a little bit," Wilson said.
Luckily for Wilson, Elliott scored two touchdowns and had over 100 yards from scrimmage in a Week 3 victory over the rival Philadelphia Eagles. 
Loza then explained that she and Wilson got into a bidding war over Ekeler in a salary-cap league. The veteran actor admitted he "overpaid" for the Chargers running back.
To his credit, Ekeler took everything in stride and laughed with Wilson during the segment.
"Hey, it's not enough points for Rainn," Ekeler said. "Rainn needs more from Austin Ekeler."
Ekeler has emerged as one of the league's top fantasy running backs
Whether fans are playing fantasy football on Yahoo or ESPN, those who picked Ekeler this summer can't pin any early struggles on him.
The fifth-year running back rushed for 166 yards and a touchdown on 4.7 yards per carry in the Chargers' first three games. He also hauled in 15 catches for 113 yards and a score, which is good news for those in point-per-reception (PPR) leagues.
According to Pro Football Reference, Ekeler's 42 fantasy points ranked sixth among running backs through the end of Week 3. If he continues averaging five catches per game, he'll certainly lend fantasy managers a boost throughout the season.
Also, here's a word of advice. If you can somehow manage to get Chargers quarterback Justin Herbert and Ekeler on the same fantasy team, our gut tells us that you won't regret it.
Ekeler has embraced fantasy football in a refreshing way
Today's NFL players are no strangers to fantasy football leagues. Just ask Las Vegas Raiders kicker Daniel Carlson, who admitted that he lost in Week 2 because his opponent had him in the starting lineup.
It's refreshing to see a player like Ekeler embrace fantasy sports as a way to interact with fans, whether they're celebrities or regular people who set their lineups on a lunch break. We're talking about someone who spends a few minutes of his own time analyzing fantasy football in a weekly Yahoo Sports segment.
Earlier this year, he announced a giveaway where he'd send a signed jersey to one person each week who shared proof they won their fantasy matchup and included him in their starting lineup. Considering how many players are benefiting from his solid start, he should be grateful he's only on pace to give up 17 jerseys this year.
All stats courtesy of Pro Football Reference.
RELATED: Chuba Hubbard and the Top Week 4 Fantasy Football Waiver Wire Adds Guaranteed to Lift Your Team