Chargers WR Keenan Allen Notices Differences in Justin Herbert and Philip Rivers Says They're Both Fierce Competitors
The Los Angeles Chargers struck gold when they drafted Justin Herbert with the No. 6 overall pick in the 2020 NFL Draft. He was a pleasant surprise to many, including wide receiver Keenan Allen. The two developed chemistry early on, and there's no reason it won't carry over into the 2021 season.
Allen played with Chargers legend Philip Rivers for seven seasons. Although Rivers and Herbert are two different players, the wideout says the two signal-callers have something in common.
Justin Herbert took the NFL by storm in 2020
Justin Herbert was a standout at the University of Oregon before declaring for the NFL draft. There, he lit up scoreboards, racking up 10,541 yards and 95 touchdowns. He also added 560 yards and 13 touchdowns in his four-year college career.
Heading into the draft, members of the media had some skepticism, especially in comparison to fellow first-rounders Joe Burrow and Tua Tagovailoa. However, he silenced doubters with his performance in Los Angeles.
Herbert threw for 4,336 yards and 31 touchdowns in 15 games as a rookie. The Eugene, Oregon native completed 66.6% of his passes and threw just 10 interceptions. He took over after a team doctor punctured Tyrod Taylor's lung. As unfortunate as the injury was, Herbert proved that he deserves to be the Chargers' starting quarterback moving forward.
The 23-year-old was named to the 2020 All-Rookie Team and took home AP Offensive Rookie of the Year honors. Herbert's peers noticed his stellar season, leading to him being ranked No. 56 on NFL Network's NFL Top 100 list.
Keenan Allen says Justin Herbert and Philip Rivers are fierce competitors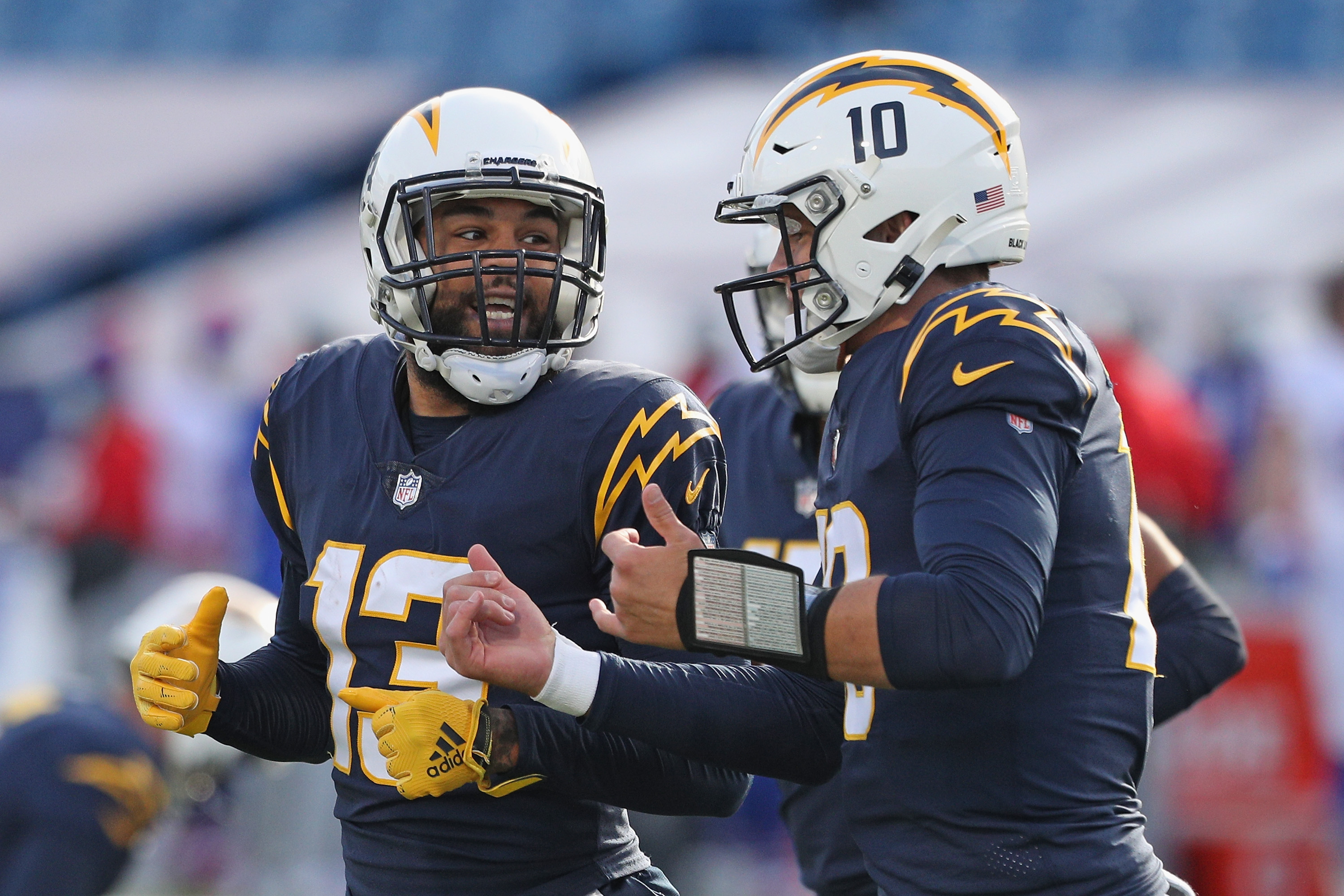 ESPN's Mina Kimes did a feature story on Justin Herbert, to give an in-depth look into the young quarterback on and off of the field. Herbert hosted a charity golf tournament in Oregon to benefit youth sports programs in the area. His family and several of his current and former teammates attended. Keenan Allen was one of them.
The four-time Pro Bowler sat down with Kimes as well to discuss Herbert's ascendance. Allen pointed out the differences in Herbert's play style as opposed to that of Philip Rivers. "Phil has the knowledge and the experience," he said. "But as far as athletic ability? It's not even close. The guy is throwing 70-yard bombs as he gets hit."
As a rookie quarterback, Herbert is just out there slinging the football. He made some tough throws appear effortless. Allen referenced a particular throw Herbert hit him on. "Experienced quarterbacks wouldn't even look at that route," he said. The eight-year veteran said the signal-caller loves to spread the ball out to different receivers.
"Now, when you're the third guy on the team, you can't think … OK the ball is going to Keenan, so you don't have to run your route. You can always get the ball at any point in time.

Keenan Allen
Players like Jalen Guyton and Tyron Johnson have emerged because Justin Herbert is not afraid to throw the ball to them. He believes in his talent, as well as the players around him.
Allen also notices a difference in the demeanor of Herbert in comparison to Rivers. "Phil's gonna yell every play," he said of his former quarterback. The second-year Oregon product is visibly more reserved than his predecessor. Still, his top target said he's just as competitive as Rivers.
If the Chargers lose, Herbert is hard on himself, and according to Allen, he once sat in the locker room just staring. The veteran said he had to give him a pep talk and let him know he's doing great.
Herbert is poised to take the Chargers to the next level in 2021
The Chargers finished third in the AFC West with a mediocre 7-9 record in 2020. The record doesn't tell the entire story, however. LA lost two games in overtime and five games by a total of five points or less. The only game they weren't competitive in was a 45-0 defeat at the hands of the New England Patriots in Week 13.
Herbert had the team rolling toward the end of the season, though. The Chargers reeled off four straight wins to end the season, defeating the Falcons, Raiders, Broncos, and Chiefs.
LA will operate out of a new offensive system in 2021. Former Rams defensive coordinator Brandon Staley is taking over as head coach. He brought in Joe Lombardi to be his offensive coordinator. Lombardi is the former quarterbacks coach for the New Orleans Saints. He spent 12 seasons coaching Drew Brees and hopes he can bring valuable experience to help Herbert develop in year two.
The Chargers have a solid group of skill players around their young quarterback. Keenan Allen is one of the league's elite route-runners. Austin Ekeler and Mike Williams are healthy. Ekeler could be used similar to how Alvin Kamara is utilized in New Orleans. With an improved defensive unit, the Chargers have a good shot at finishing with a winning record in 2021.
If Justin Herbert takes the next step during his sophomore campaign, it won't be long before the Chargers are contending for a playoff spot.
All statistics courtesy of Pro-Football-Reference.