Charles Barkley Says the 76ers Have 140 Million Reasons Not to Cave to Ben Simmons' Demands
Ever the shy and retiring type when it comes to offering his opinion, Charles Barkley gave the Philadelphia 76ers some unsolicited advice regarding their standoff with star Ben Simmons. He even offered to intercede on the team's behalf with the 2017-18 NBA Rookie of the Year.
Barkley's point is that the 76ers are under no obligation to give Simmons what he wants, reportedly a trade to a California team in Los Angeles or the Bay Area. The young star reportedly told the team he wants to be traded and plans to skip training camp. While the circumstances aren't the same for Simmons as they were for Barkley and the 76ers nearly 30 years ago, there is still considerable irony to Barkley telling the team to take a tough stance.
Charles Barkley demanded a trade out of Philadelphia
After the Philadelphia 76ers finished 35–47 in 1991–92 and missed the playoffs for just the second time in Charles Barkley's eight years with the club, Barkley demanded a trade after the season.
On the Sixers Talk podcast in April 2020, former 76ers general manager Jim Lynam remembered how the divorce between superstar and team came to be.
"Charles, from his perspective, he made it known in no uncertain terms that he didn't want to be here. And I would say in hindsight — this is just me, my own personal opinion — we made a mistake in listening to him. I tell Charles that to this day."

Former 76ers GM Jim Lynam
Lynam moved up from coach to general manager in May 1992. His first trade sent Barkley to the Phoenix Suns for Jeff Hornacek, Andrew Lang, and Tim Perry. Barkley was the NBA MVP in 1992–93 while leading Phoenix to the NBA Finals. New coach Doug Moe lasted only 56 games, and Philadelphia finished 26–56, its worst record in 20 years. Hornacek was outstanding. Lang and Perry? Not so much.
Barkley has strong feelings about Ben Simmons
During an appearance on The Mike Missanelli Show, Charles Barkley didn't hold back about Ben Simmons and his trade desires.
"This is total BS, and if I'm the Sixers — we had our annual Sixers dinner the other night, and I said to those guys, 'I will call Ben Simmons. If you want to be traded, that is fine. We're not giving you away. We're not going to trade you to where you want to be traded.

"' For someone who wants to give up the deal, we're not taking 25 cents on the dollar. If we don't get the deal we want, you are going to be playing right here in Philadelphia. You don't run the 76ers; we gave you $200 million ($169.65 million, but who's counting?), the only thing we ask you to do is shoot the damn basketball, and now you're mad because we're telling you to shoot the basketball.'"

Charles Barkley
Barkley furthered his rant by declaring the 76ers should threaten to suspend Simmons and withhold his hefty paycheck if he doesn't play.
Charles Barkley accused Ben Simmons of being soft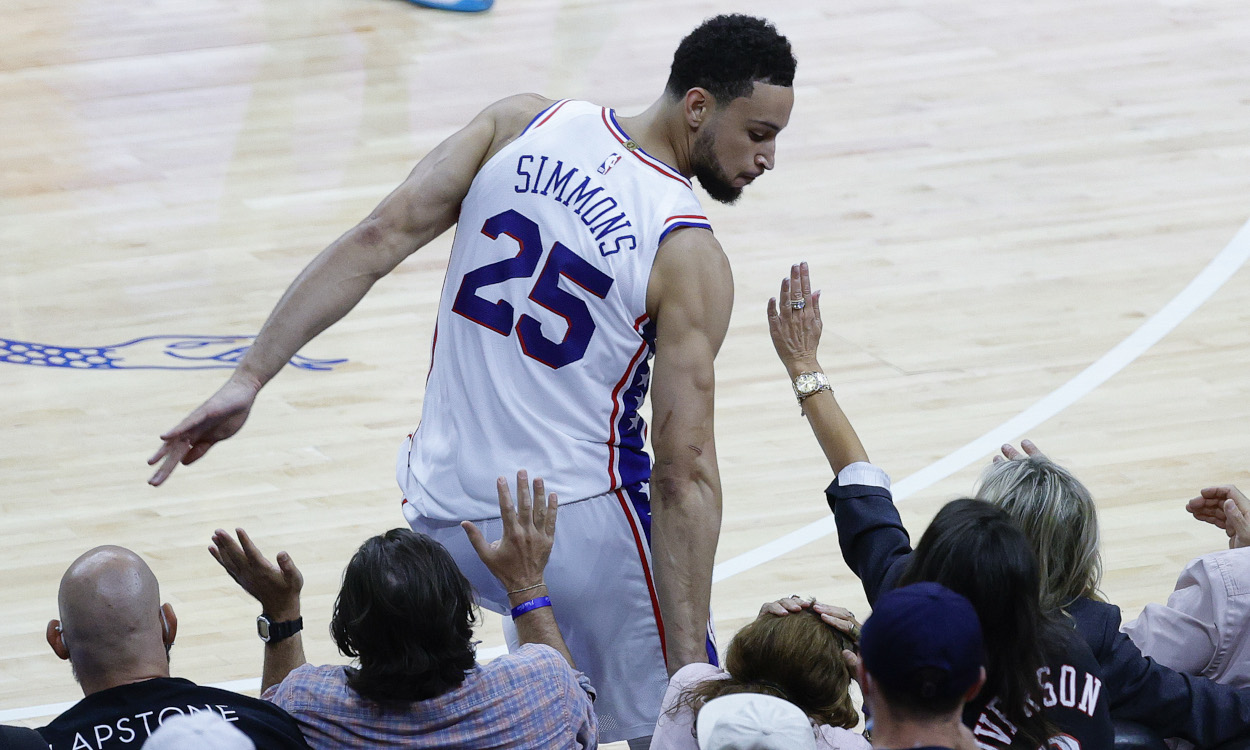 After the 76ers lost to the Atlanta Hawks in the Eastern Conference semifinals, the heat turned up on Simmons. He passed on open shots throughout the series, particularly late in games, and was an unmitigated disaster at the free-throw line. Coach Doc Rivers answered whether Simmons could lead a team to a championship at its point guard in a way that hurt the All-Star. Criticism from superstar Joel Embiid left Simmons feeling he was under attack.
Charles Barkley isn't buying it.
"That was the softest criticism; that is a fair criticism. First of all, I blame Ben No. 1 because he's already got one coach ran out of town because he wouldn't shoot the ball, but now he's on the clock."

Charles Barkley
Not that Barkley is ready to let Rivers off the hook entirely.
"If I had a dollar for every time I heard him say, 'Wait, you want me to take Ben Simmons out of the game?' I'm like, 'Yeah; we do, that's why we keep asking, we're playing five on four."

Charles Barkley
The truth is that whether Barkley likes or agrees with it or not, Ben Simmons wants out of Philadelphia. It's the NBA. Star players generally end up getting what they want. Ask James Harden that question.
Or you could ask Charles Barkley.
Transaction information courtesy of Basketball Reference.