Charles Barkley Once Admitted to Being 'so Tired' of Tim Tebow That He Never Wanted to Hear His Name Again
NBA legend Charles Barkley is never afraid to say what he is thinking. That unfiltered personality is what has made him so successful on television. This doesn't just pertain to NBA players, though, as Barkley once had something to say about former Heisman Trophy winner Tim Tebow during Tebow's NFL career.
Tebow's time in the NFL didn't last very long, but he did enough to make Barkley absolutely sick and tired of him.
Tim Tebow took the NFL by storm with the Broncos in 2011
RELATED: Charles Barkley Once Revealed That Things Get Pretty Boring Behind the Scenes on TNT's 'Inside The NBA'
Many of you probably remember Tim Tebow's playing career for what he accomplished at the collegiate level with the Florida Gators. He ultimately won a Heisman Trophy in 2007 and finished in the top five in Heisman voting in 2008 and 2009. Tebow was also a part of two national championship-winning teams.
This led to the Denver Broncos selecting Tim Tebow in the first round of the 2010 NFL draft.
Tebow then didn't play much in his rookie season, but he took the league by storm in 2011. The Broncos started that year with a 2-5 record, as Kyle Orton started in five games and went 1-4. Tebow, though, got his first start in Week 7 and went 7-4 as the starter, which included a six-game winning streak. He helped the Broncos win some close games, too, as six of his seven wins were by one possession.
Tebow ultimately threw for 1,729 yards, 12 touchdowns, and six interceptions and ran for 660 yards and six touchdowns. His play also helped the Broncos reach the playoffs, and they even won a playoff game (in overtime) against the Pittsburgh Steelers.
Tebow's play in the clutch, and his personality, which many people fell in love with during his college career, took the NFL and its fans by storm. Charles Barkley, though, grew tired of him.
Charles Barkley was 'so tired' of Tim Tebow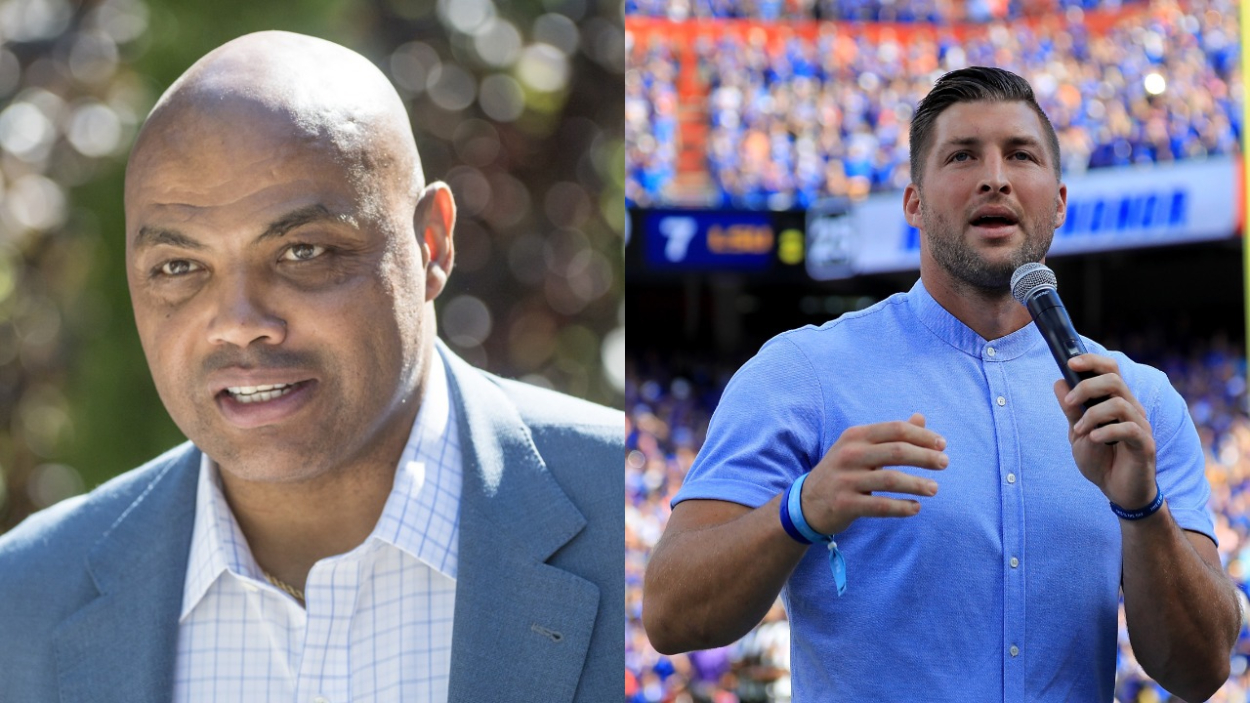 RELATED: Peyton Manning Kept Tim Tebow From Being a Successful NFL QB
During Tim Tebow's miraculous NFL run, the Broncos played against the Chicago Bears. Before that game, NBA legend Charles Barkley actually pleaded to the Bears to finally stop the former Heisman Trophy winner.
"I want to make a personal plea to Lance Briggs, Brian Urlacher, Mr. [Julius] Peppers, please stop the madness," Barkley said on The Waddle & Silvy Show, according to ESPN. "I'm just so tired … I like Tim Tebow. He seems like a good kid, and I wish him success, but I am Tebowed out. So this is my personal plea for you three guys, please stop this madness."
The media covered Tebow quite frequently during this run, and they often discussed whether he could continue succeeding in the NFL despite his unconventional throwing motion. Barkley grew tired of it, too.
"It's clearly a media-driven story," Barkley said, per ESPN. "They just want you to argue about Tim Tebow. Dude, let the kid play. If he can play, good. If he can't play it will show. But to have this argument every single day after five or six games is just ridiculous."
He continued: "Tim Tebow is a good player. I wish him luck, but if I don't ever hear the words Brett Favre or Tim Tebow again it won't be enough."
Spoiler alert: Tebow and the Broncos defeated the Bears in overtime, 13-10. It was his third of four overtime wins that season, including the playoffs.
That's not all Barkley said during that season, though. After Tebow won the playoff game against the Steelers, Barkley appeared on 97.5 The Fanatic and said, "the national nightmare continues," according to Sports Illustrated.
It definitely wasn't anything personal. Tebow even appeared on Charles Barkley's Inside the NBA in 2018. It just seems like Barkley was tired of all the time that the media spent covering Tim Tebow's miraculous NFL run.
Tim Tebow didn't play in the NFL much longer
RELATED: Charles Barkley Gained 20 Pounds to Avoid Being Drafted by 76ers
Charles Barkley's "nightmare" didn't last much longer. The Denver Broncos added Peyton Manning in 2012. Tim Tebow appeared in 12 games with the New York Jets that season but only threw eight total passes that entire year. The 2012 season was ultimately the last time Tebow ever played in the NFL, too.
He then played minor league baseball for a few seasons and was an Eastern League All-Star with Double-A Binghamton in 2018, according to MLB.com. But Tebow announced his retirement from baseball in February 2021.
Tim Tebow's NFL career, and professional athletic career in general, wasn't as successful as his collegiate career. While no one wants to see anyone fail, that probably made Charles Barkley feel pretty relieved to some degree.
Stats courtesy of Pro Football Reference