Charles Barkley Boldly Claims Tom Brady Is the Greatest Athlete of All Time: 'I Don't Think It's Even Close'
Charles Barkley's latest bold take involves Tom Brady and Michael Jordan, because of course, it does.
Dating back to his playing days, Barkley has never been one to hide what he's really thinking, whether it's a current event or his views on the state of basketball. Now, the legendary forward is getting into the greatest athlete of all-time debate. 
Charles Barkley believes Tom Brady is the greatest athlete of all time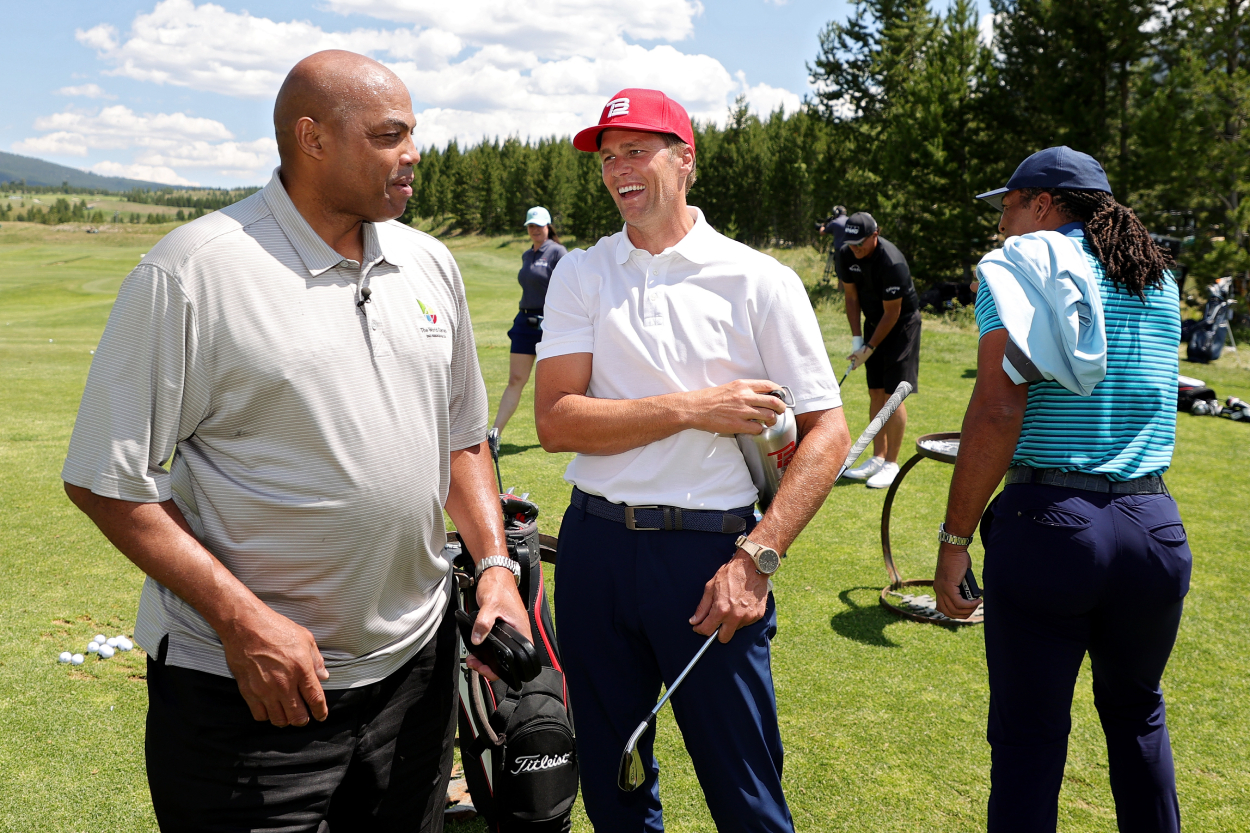 Barkley deserves credit where it's due because despite being a basketball legend, he's willing to consider someone in another sport as the greatest. During a recent appearance on Peacock's Brother From Another, Barkley said he'd choose Brady over the likes of Jordan or LeBron James.
"And I don't think it's even close," Barkley affirmed.
Barkley explained that Brady's seven Super Bowl rings as a starting quarterback in a league with no room for errors — he called each NFL week a "Game 7" — elevates the three-time MVP.
"Like in the NBA, if you got Michael Jordan or [Kareem Abdul-Jabbar] or LeBron, you got the best player. It's a lot easier to win those four games in a seven-game series, [but when you're in] the NFL playoffs, every playoff game is a Game 7. And I don't even know what's more ridiculous: the fact that he's won seven Super Bowls [or] that he's played in 10. I'm like, 'are you kidding me?' Ten. … And like I say, he's won seven, but he's played in 10."

Charles Barkley
It's getting harder each year to dispute that Brady isn't the best quarterback in NFL history. But is he the most successful athlete of all time? Well, Barkley illustrated how difficult the conversation and topic really is.
The 'greatest athlete of all-time' is an extremely tricky debate
The problem with the "greatest athlete of all time" debate is exactly what's in the name. What constitutes who would be the greatest, or even most successful, athlete?
Those in the United States may feel compelled to pick Brady or Jordan because of their respective careers in the country's most popular sports. But is it fair for one to compare Brady's success at quarterback to what Rafael Nadal has done in tennis or everything Usain Bolt did in the Olympics?
Even "most successful" is a tricky conversation. Barkley is correct that Brady's seven Super Bowl rings are an incredible feat in a league where a single loss can derail an entire season. How does that hold up when comparing his Super Bowl rings with Tiger Woods winning 15 of golf's major championships?
The cultural barriers make such a debate incredibly difficult. Football fans might even argue that Jerry Rice is more deserving of the 'GOAT' title because he's the greatest receiver in league history and mostly played in an era when defenders could get away with far more.
When it comes to American football, Brady is easily among the greatest players of all time. But there's not a clear-cut answer to the "greatest athlete" debate, and maybe there doesn't need to be.
Barkley has high hopes for Brady and the Buccaneers in 2021
Although Barkley said he thought Brady should have retired after winning Super Bowl 55 earlier this year, the NBA legend isn't complaining about watching the seven-time champion for another season.
When he spoke with Brother From Another, Barkley made it clear he expects big things from Brady and the Buccaneers in 2021. A team hasn't repeated as Super Bowl champions since Brady and the Patriots did it after the 2003 and 2004 seasons.
"They are favored," Barkley pointed out. "They got everybody back."
Barkley is jumping on the bandwagon at the right time. The Buccaneers open the 2021 NFL season on Thursday, September 9, against Dak Prescott and the Dallas Cowboys. Don't be surprised to see NBC's cameras pick up Barkley sitting in a luxury suite and wearing an overpriced Brady jersey that night.
Like Sportscasting on Facebook. Follow us on Twitter @sportscasting19.