Charles Barkley Just Called out the Philadelphia 76ers, Demanding They Finally Stop Indulging Ben Simmons: 'They've Bent Over Backwards to Kiss This Dude's Ass, Now (It's Time) They Start Kickin' His Ass'
The Philadelphia 76ers have been drowning in Ben Simmons drama since Game 7 of last year's Eastern Conference semifinals. That was June 20. One hundred forty-two days ago. Or four months, 20 days ago. No matter how you spin it, that's approaching teenage breakup-level drama. And Charles Barkley has had enough.
On TNT's Inside the NBA, Chuck called out the Sixers organization for pandering too much and too often to their former franchise point guard. He said it's time for the 76ers to stop allowing a player, who by all accounts isn't returning, to call the shots.
The Philadelphia 76ers have been stuck in a Ben Simmons soap opera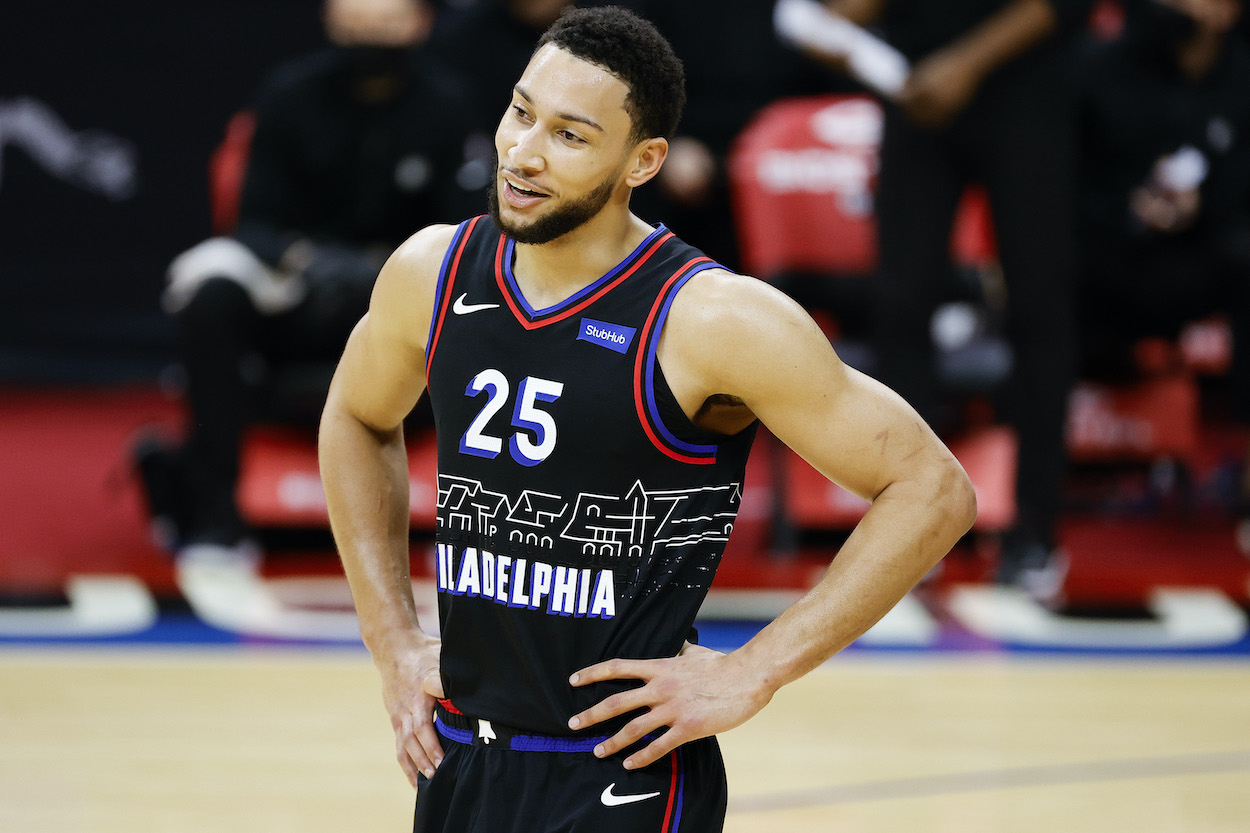 The whole predicament began when the 2017-18 NBA Rookie of the Year passed up a chance at a wide-open dunk in Game 7 against the Atlanta Hawks. If Simmons had thrown it down, the game would have been tied at 88 in the waning minutes.
He didn't, the Sixers lost, and Philly's season was over.
Things immediately went off the rails as quickly as the post-game presser when teammate Joel Embiid — and head coach Doc Rivers — subtly called out their point guard.
Eventually, subtly-called-out turned into outright blame, which was then walked back entirely by Embiid, Rivers, and the Philadelphia organization as they tried to bring Simmons back into the fold.
The three-time All-Star refused. Then he started losing millions of dollars in fines and showed up for training camp. He made a complete mockery of that situation, was kicked out of practice by Rivers, and disappeared again.
Simmons then sought treatment for mental health issues, but when the organization wanted to work alongside their superstar in the process, he refused.
The latest development in the saga is that after the 76ers began to fine Simmons again for being uncooperative, the 25-year-old has complied.
But Barkley has made it abundantly clear he's tired of Simmons giving the Sixers the runaround.
Charles Barkley believes the 76ers have put enough effort into catering to Simmons
The Chuckster appears to be of the opinion that Big Ben is only responding to the organization when he starts losing money. Whether or not that's true is up for debate. But not in Barkley's opinion.
Prior to Philly's game against the Milwaukee Bucks, The Round Mound of Rebound said enough is enough.
"They started off the season beggin him to come back. … They wanted to go see him, he said 'don't come see me.' He came and then he acted like a jerk in practice. They wanted him back. Then, cause he wanted to get paid, he came back, then he came back and like I said, he start actin' like a jerk and they kicked him out. They gave him another chance — they said 'ok, you said you got some issues,' he said 'no I don't want to see your guys,' they start finin' him again. Now he's back.

"They've bent over backwards to kiss this dude's ass, now (it's time) they start kickin his ass."

Charles Barkley on the Ben Simmons-Philadelphia 76ers situation
According to ESPN, the Sixers reinstated fines on Simmons and admitted "frustration that Simmons had fallen short of providing basic information" about his treatment.
What happens next is anyone's guess, but it doesn't seem like there's any kind of solution coming 'round the bend.
The standoff continues, still with no end in sight
Simmons still wants a trade. Philadelphia general manager Daryl Morey is happy to oblige, but the notoriously stubborn GM refuses to give away a valuable asset for anything lower than what he deems acceptable.
Rumors continue to swirl — almost a dozen teams have reportedly been involved in some kind of talks with Philly. The Boston Celtics are the latest.
Meanwhile, on the court, the Sixers are 8-3 and sit atop the East after 11 games. But Embiid just tested positive for coronavirus (COVID-19) and will miss the next several games, at least.
Rivers and Co. have been getting by with JoJo a host of role players. But now that the 7-foot center is on the shelf and the former Simmons remains MIA, Philly is playing a dangerous game.
Eventually, one side will cave. Which side it is, and when, has yet to be determined. But Barkley appears to be over it all.
Like Sportscasting on Facebook. Follow us on Twitter @sportscasting19.