Charles Barkley Is 'Concerned' About Zion Williamson and Sends the Star a Blunt Message: 'If You're Putting All That Stress on Your Knees and Your Feet, You're Just Gonna Keep Getting Hurt'
New Orleans Pelicans franchise star Zion Williamson has yet to play a game in 2021-22. It's the second time in his three NBA seasons Williamson has been sidelined to start the year due to injury. Charles Barkley, who has some experience in this arena, expressed his concerns about Zion and his future health.
The No. 1 pick in the 2019 draft was a phenomenon coming out of Duke. The athleticism he possessed at his size was unparalleled. But questions surrounded how his body would handle the ferociousness he plays with on such a stocky frame.
Those concerns have proven to be legitimate as Zion has already had serious trouble staying on the floor. And as Chuck said, that creates some anxiety about the future of an assumed franchise centerpiece.
Zion Williamson already has a lengthy injury history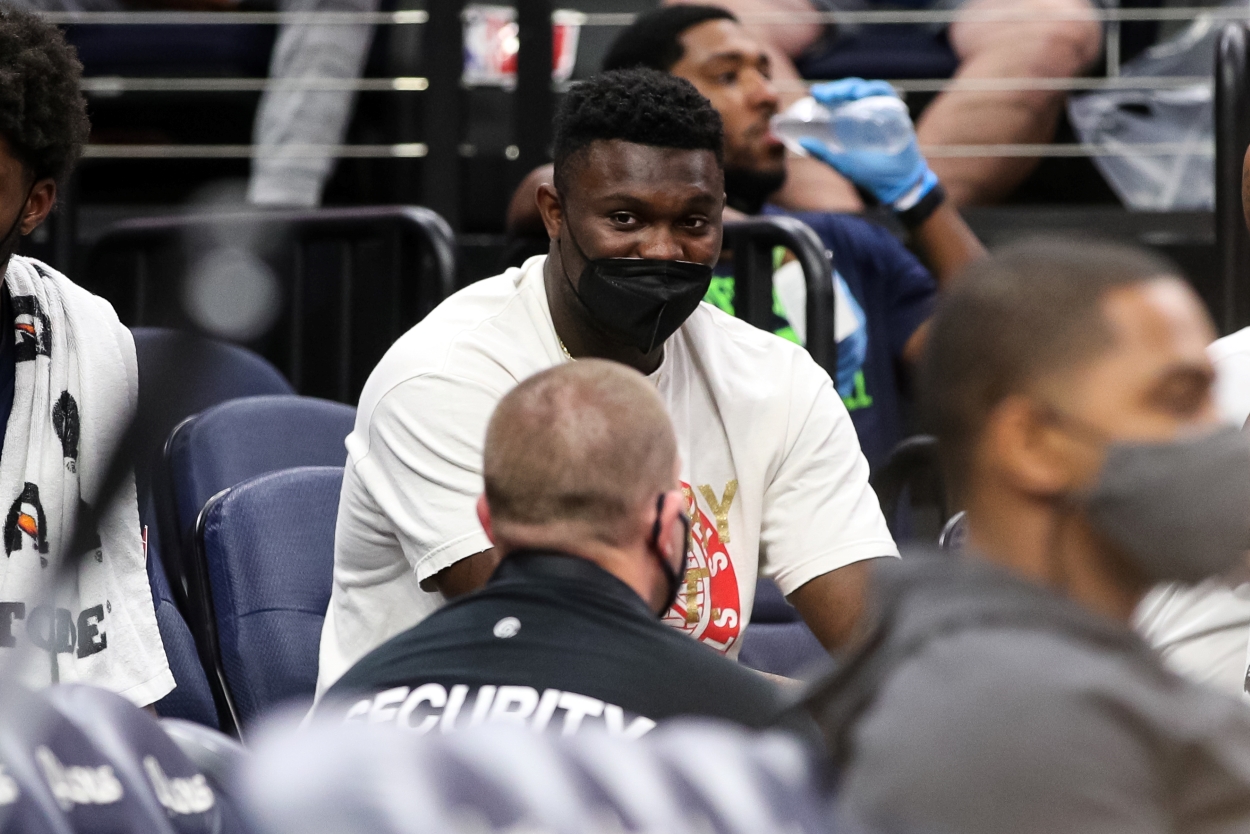 Zion has played in just 85 of a possible 152 games so far in his career. For a player expected to carry an entire franchise on his back, that's not a great start. He can't make New Orleans relevant again while sitting on the bench.
He was injured at the end of his one-and-done season with the Blue Devils after literally blowing out of his shoe, spraining his knee in the process. He got hurt again during the 2019 NBA Summer League after absorbing knee-to-knee contact.
He then tore his meniscus during the 2019 preseason and missed the first 44 games of his rookie year. He was placed on a minutes restriction once he returned (something he wasn't psyched about) as health had quickly become a major worry for the Pelicans.
Then he missed the final two games of that rookie year with knee soreness.
That makes four separate injuries between the end of Williamson's lone college season and the end of his rookie season.
Zion then missed a handful of games last year with a thumb sprain before making his first All-Star appearance. But he then got injured again, this time fracturing a ring finger and missing the final six games of the year.
Now, the beginning of the 2021-22 season looks a lot more like the beginning of the forward's rookie year. He had secret offseason foot surgery that wasn't announced until the franchise's media day. Despite being expected to return for the start of the season, Williamson has yet to take the floor and is reportedly still 2-3 weeks away.
Barkley expressed his concern for Zion's future
On TNT's Inside the NBA (h/t House of Highlights), The Round Mound of Rebound expressed his take on what's going on with Zion. The injury history the former Dukie has already racked up has Chuck worried:
"I'm concerned. I am really concerned.

"I tell this story. … Moses Malone said to me I was fat and lazy. And I started to cry a little bit. I couldn't kick his ass; he was Moses Malone. But it was the turning point in my career. And (Zion) is already hurt. You should not get hurt when you're young. He's already had surgeries on his legs; now he's got a broken foot. He gon' have to learn even when you're hurt, you're gonna have to control your eating. When guys get hurt, when they come back, you're trying to get in shape. And if you're putting all that stress on your knees and your feet, you're just gonna keep getting hurt.

"I know he got a lot of power, so everybody's probly like, 'If we don't get something goin, he's gonna leave,' but you're not gonna win if he's always hurt either."

Charles Barkley on Zion Williamson
It appears Williamson's future in New Orleans is already in question
The crux of the issue is Zion's injury history. If he can't stay on the floor, the Pelicans aren't going to find success. Without him, New Orleans is already 1-7 through the season's first eight games.
But the elephant in the room — as seems to be the case with many superstars over the past decade — is the 21-year-old's desire to remain with the Pelicans franchise.
Williamson let it be known he was not happy with the minutes restriction forced upon during him his rookie season. But in fairness to Zion, New Orleans hasn't done much to build a contender around him either.
Stan Van Gundy came and went as the team's head coach in one season. Lonzo Ball moved on to Chicago. The Pels let now-NBA champion Jrue Holiday leave, brought in Eric Bledsoe, and added Steven Adams in a separate trade. Those players also lasted just one season and are now elsewhere.
According to Bleacher Report, other teams are already keeping tabs on Zion's situation and circling the chum in the water.
The South Carolina native needs to stay healthy, first and foremost. As the Chuckster said, there's legitimate concern about Zion's long-term health.
But if issues keep arising year after year, questions will also keep coming about the former 5-star recruit's future in New Orleans. The franchise has already lost both Chris Paul and Anthony Davis to trade demands. It can't afford for Zion to be next.
All statistics courtesy of Basketball Reference.
RELATED: Zion Williamson's Frustrating Recovery Guarantees More Losing for the Hapless New Orleans Pelicans