Charles Barkley Detailed Why Giannis Antetokounmpo Is a Cut Above Anthony Davis: 'He Just Don't Have That Killer Thing'
Giannis Antetokounmpo and Anthony Davis are two of the best players in the NBA. Their versatility on both ends of the floor, in terms of athleticism and skillsets, put them above almost every other big man in the league. But Giannis has two MVPs and a Defensive Player of the Year Award. AD has neither. And TNT analyst Charles Barkley believes there's a reason for that.
The Milwaukee Bucks star has a different level of intensity than Davis does, Barkley explained. Simply put: Antetokounmpo has that "killer" thing, and the Los Angeles Lakers big man is missing it.
Giannis Antetokounmpo and Anthony Davis have been forced to carry their respective teams this season
Both AD and Giannis have been regular members of their team's starting lineups thus far in 2021-22. Their supporting casts, however, aren't able to say the same thing.
LeBron James has missed 10 of 18 games for LA — and will miss one more after being suspended following an altercation with Detroit Pistons forward Isaiah Stewart.
Davis, Carmelo Anthony, Malik Monk, and Russell Westbrook are the only Lakers to play every game this season. The most significant missing piece, obviously, has been James. But Davis is the best player of those four and has therefore been forced to shoulder most of the load.
Antetokounmpo's injury situation with Milwaukee has been even more dire. The only regular members of the Bucks' rotation to play every game this year are Grayson Allen and Pat Connaughton. Giannis has played in 17 of 18.
Jrue Holiday has played 12 games, Giannis's partner-in-crime Khris Middleton has played 10, and starting center Brook Lopez has only played once.
The two stars are putting up similar stats. The Lakers are 9-9, and the Bucks are 10-8. On paper, AD and The Alphabet have had similar years.
But there's one crucial thing missing from Davis' game, according to Barkley.
Charles Barkley believes Giannis has one quality AD doesn't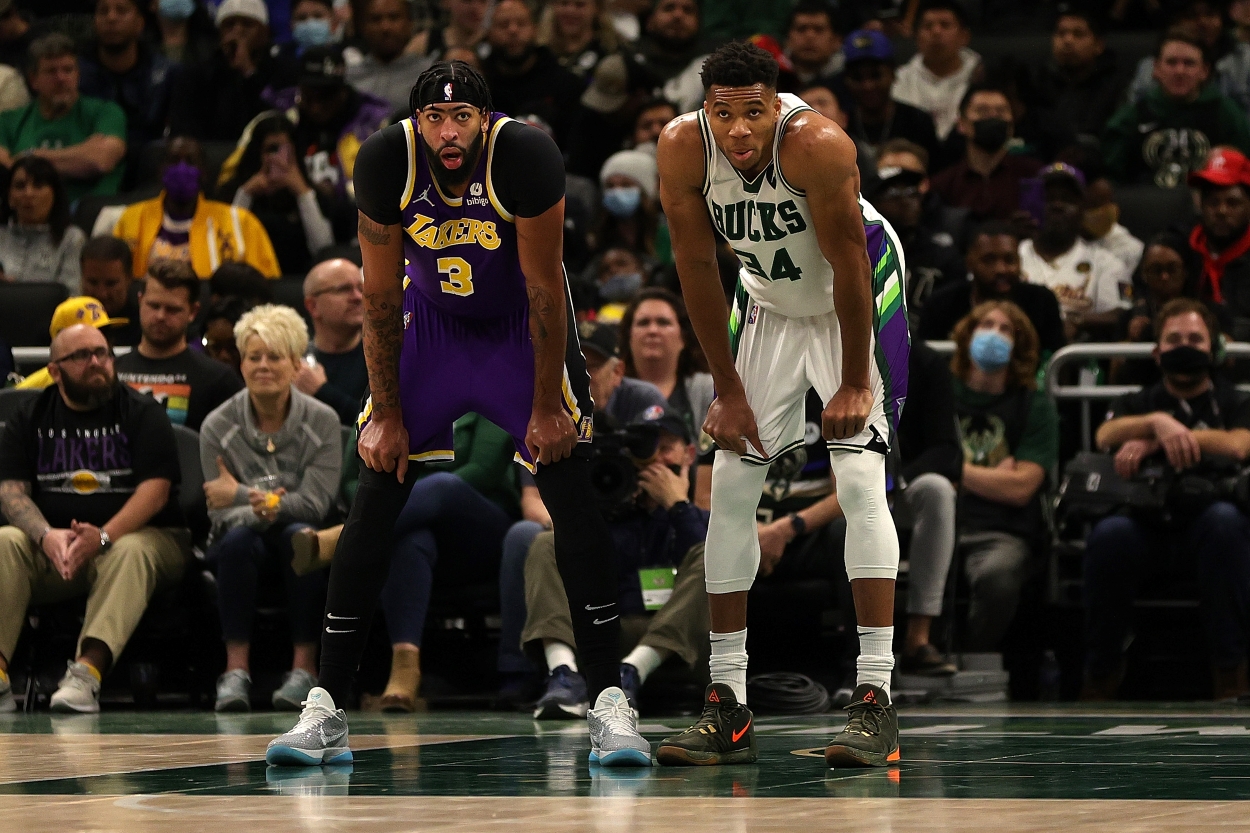 Despite the comparable numbers, there's an eye-test difference between The Greek Freak and The Brow.
Antetokounmpo has no trouble mean-mugging poor defenders after he puts them on a poster. He can let his emotions fly at times.
AD is quieter and calmer on the court. That in and of itself doesn't paint the complete picture. But there just appears to be a different level of intensity between the two swiss-army-knife forwards.
That's what Chuck picked up on in an appearance on The Dan Patrick Show:
He (AD) just don't have that killer thing. … Lemme tell you something, Giannis and Russell Westbrook, I'll pay to watch those guys play. Because as a fan, they give you maximum effort every single night.

I love LeBron, he's amazing. But Michael and Kobe, they'll kill you. It's just a mindset. Giannis, he's out there, he's more close to Michael and Kobe and Anthony is more closer to LeBron. LeBron is a great, great player and he's a really nice guy. I don't think anybody ever said Michael or Kobe were nice guys because they don't care about that.

Charles Barkley on Anthony Davis
The TNT analyst went on to drop a few more names — David Robinson, Patrick Ewing, Karl Malone — all "nice guys" Barkley said. But in the Hall of Famer's opinion, being a "nice guy" isn't necessarily the best quality to have on an NBA floor.
Davis needs to find another level to his game and not just put up stats
The Lakers have been missing LeBron for more than half the season. That's obviously going to put a wrench in any plans LA may have had heading into the year.
But Davis is considered a superstar. And he has another supposed superstar on his team in Russell Westbrook. Those two — and AD especially — should be enough to get a team past the .500 mark.
As Barkley said earlier this season on TNT's Inside the NBA, "We can talk about Russ, we can talk about LeBron… If Anthony Davis isn't one of the 5 best players in the NBA, the Lakers are not going to win."
Davis is putting up stats, but those stats have yet to translate to real on-court success in 2021-22.
Even when The King returns, The Brow will have to step up if LA is going to win its second title in three seasons.
All statistics courtesy of NBA.com.