Charles Barkley Doesn't Hold Back in 1st TNT Appearance of New Season, Unleashes on Kyrie Irving's Vaccination Status
The Brooklyn Nets created one of the most talented Big Threes in history last season by teaming James Harden up with Kyrie Irving and Kevin Durant. The move made their championship aspirations clear to the entire league and its fans.
However, after not achieving their ultimate goal due to injuries last season, it appears they will be short-handed again this year due to Irving's decision not to get the COVID-19 vaccine.
Irving's vaccination status has been one of the biggest storylines heading into the 2021-22 NBA season, which tipped off on Tuesday. And it has finally garnered a response from the always-opinionated Charles Barkley, who unleashed on Irving during his first TNT appearance of the new year.
Kyrie Irving won't play for the Nets unless he gets vaccinated
Due to New York City's vaccine mandate, anyone who enters a public gym must have at least one COVID-19 vaccination shot. Given that Kyrie Irving has yet to get the vaccine, he cannot play at home games for the Nets this season, and the team — not wanting to deal with a part-time player — has since announced that it won't allow him to take part in any activities this year until he meets the vaccine requirements.
If he misses all the home games, Irving will lose close to half of his $34.9 million salary for the 2021-22 season. But, per the New York Post, the team will still pay him for the road contests he doesn't participate in.
"I am going to just continue to stay in shape, be ready to play, be ready to rock out with my teammates and just be part of this whole thing," Irving said on Instagram Live earlier in October, per ESPN. "This is not a political thing; this is not about the NBA, not about any organization. This is about my life and what I am choosing to do."
NBA commissioner Adam Silver addressed the situation on the Oct. 19 episode of Inside the NBA.
"I'd tell him to get vaccinated first and foremost for himself and his family. Next, for his teammates and his community, and also for the league that I know he cares so much about," Silver said.
Charles Barkley unleashed on Kyrie during his first TNT appearance of the season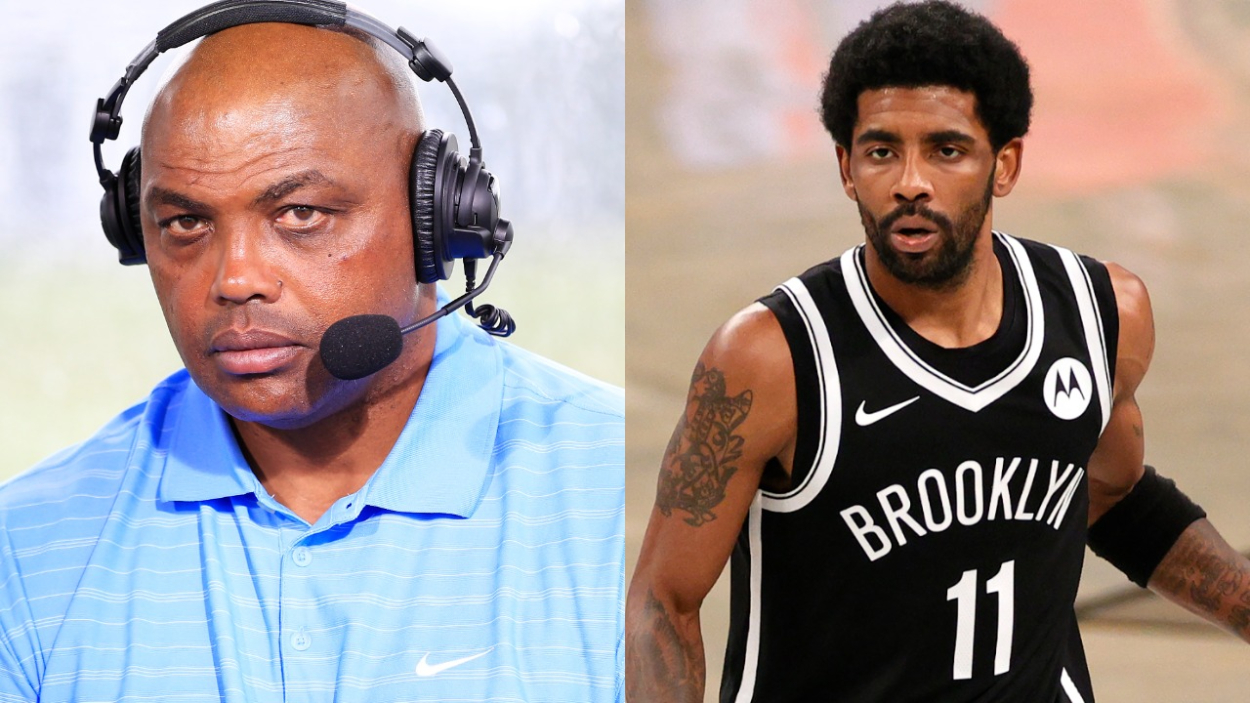 Charles Barkley is known for always saying what he thinks, especially during his appearances on his show, Inside the NBA on TNT. And Barkley didn't hold back when discussing Irving's situation.
"First of all, you don't get the vaccine for yourself; you get it for other people," Barkley said on the Oct. 19 episode of Inside the NBA. "…I got vaccinated; I can't wait to get the booster. You don't get vaccinated just for yourself. Like Adam (Silver) said, you vaccinated for your family first; you get vaccinated for your teammates second, things like that. That's what bothers me about this whole thing. I think everybody should get vaccinated."
Barkley then commended the Nets for not allowing Irving to be a part-time player this season.
"I really am proud of the Nets for putting their foot down," he added. "… Only thing that bug me, he's still going to make $17 million sitting at home. People say he's like [Muhammed] Ali; first of all, don't ever compare anybody to Ali. Ali went three years without boxing; he was the highest-paid athlete in the world. This guy is gonna make $17 million for sitting at home."
It's clear which side Barkley is on; Irving might think he's taking a noble stand, but he's, instead, just endangering himself and anyone who comes into contact with him. But, the difference between him and other American citizens who refuse to get the shot is that he's still going to make millions this season.
The Brooklyn Nets felt Kyrie Irving's absence against the Bucks
It seems foolish to discuss basketball when Irving is jeopardizing his well-being and the safety of others. But that's the situation he has created by staying unvaccinated and leaving the Nets without 33% of their Big Three.
Brooklyn tipped off the season without him on Oct. 19, and the team could have certainly used his services, as the Milwaukee Bucks won 127-104. The Nets just simply didn't have enough to match the Bucks' firepower, with Giannis Antetokounmpo scoring 32 and Khris Middleton and Pat Connaughton scoring 20 each. Had the Nets had Kyrie Irving, though, his offensive abilities and the attention defenses give him would have opened things up drastically, and he would have potentially made it a closer game.
All in all, the Nets will likely be OK this season. They have two of the best players in the world in Kevin Durant and James Harden. Irving's absence, though, may keep them from contending for the ultimate prize of an NBA championship.
Stats courtesy of ESPN
RELATED: Kareem Abdul-Jabbar Sticks It to Players Giving Kyrie Irving and Other Non-Vaxxed Players a Free Pass