Charles Barkley Once Arrogantly Dubbed Himself the 'Ninth Wonder' of the World: 'There Will Never Be Another Player Like Me Again'
When it comes to uniquely gifted basketball players, Charles Barkley is among the cream of the crop. Chuck always believed this to be accurate, especially in the middle of his prime.
Barkley's blend of skill, athleticism, and grit helped him excel even as an undersized power forward. Chuck's dynamism often took opponents by surprise despite his burly frame, including Yugoslavian players who competed against him during a 1983 international competition.
The Round Mound of Rebound accrued many nicknames during his Hall of Fame career in the NBA, but the aforementioned mix of attributes resulted in Sir Charles haughtily self-identifying as a world wonder.
Charles Barkley excelled with an unconventional physical build
At 6-foot-6 (likely even shorter), Charles Barkley had the height of a typical 2-guard. Yet his 252 pound-playing weight almost demanded he play in the frontcourt.
But what Barkley appeared to lack in traditional size at the 4-spot, he made up for in spades with tremendous basketball ability and sneaky athleticism.
Sir Charles could handle the ball, showing the ability to grab a rebound and go coast-to-coast for a bucket. He could face up and shoot midrange jumpers on break less agile defenders down off the bounce.
Of course, Barkley still had quite a bit of tenacity. He hounded the offensive glass, averaging 4.0 offensive boards for his career. Chuck regularly out-willed opposing bigs in his pursuit of the ball, ranking 20th all-time in total rebounds and 23rd in rebounds per game.
In many ways, Barkley's hard-nosed style perfectly exemplified his off-court attitude as someone who never held his tongue and never felt obligated to be a role model. That persona also exuded confidence.
Barkley called himself the "ninth wonder" of the world in a book he co-authored in 1992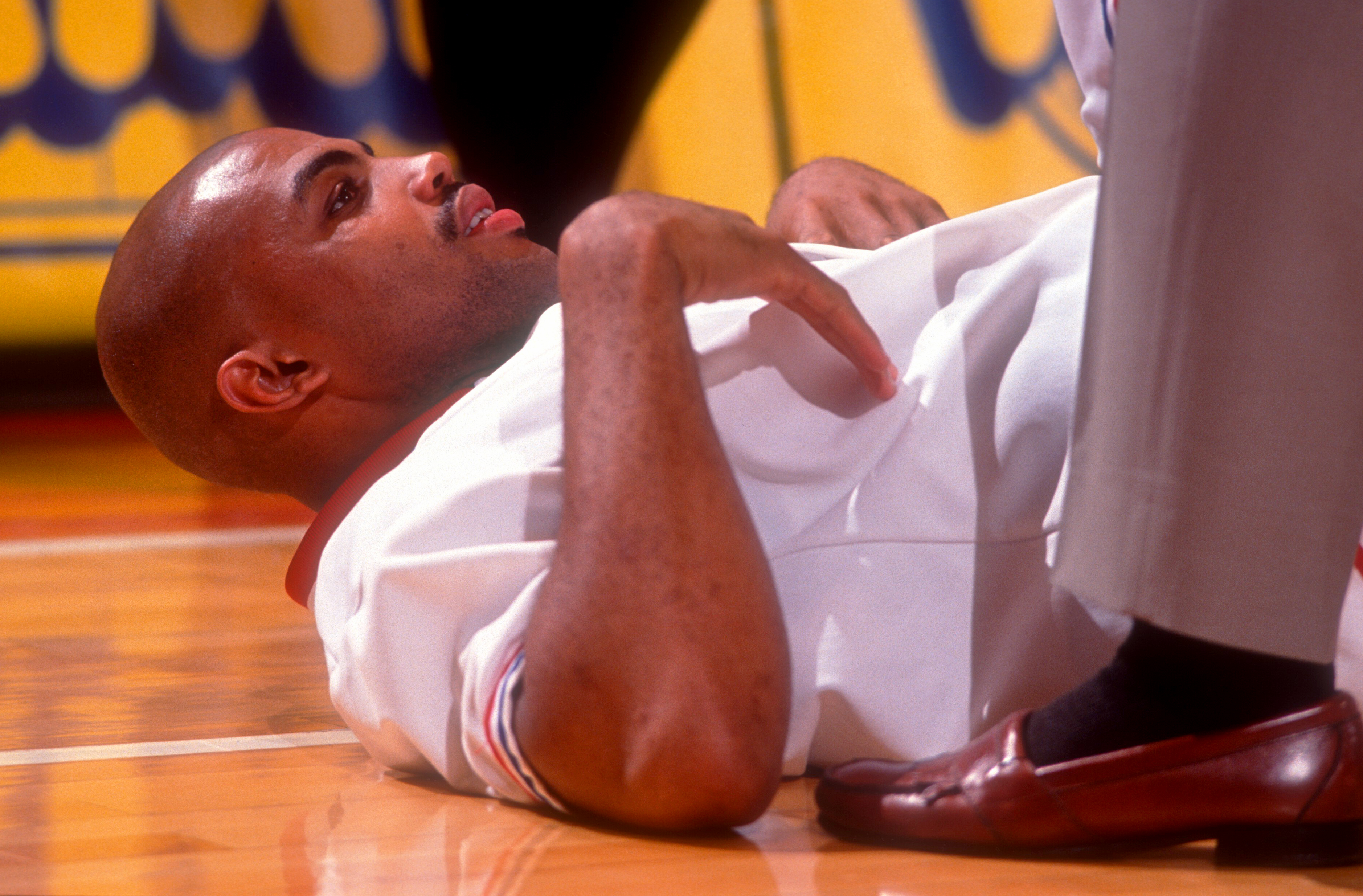 Chuck did enough in the first eight seasons with the Philadelphia 76ers to merit selection to the Dream Team and establish a reputation as one of the best power forwards in the game.
Barkley thought even more highly of himself. In a 1992 book he co-authored, entitled Outrageous: The Fine Life and Flagrant Good Times of Basketball's Irresistible Force, Sir Charles said (h/t Buffalo News) there would never be another player of his ilk.
"The way I've got it figured, there will never be another player like me again. There will never be another player who is 6-foot, 4-inches and averages more than 10 rebounds a game, scores inside whenever he wants to against bigger opponents, and is quicker than most everybody he plays against. I'm the Ninth Wonder of the World."

Charles Barkley in The Fine Life and Flagrant Good Times of Basketball's Irresistible Force (1992)
Chuck exhibited such arrogance throughout his career, including a 1990 rant about not needing to practice. He had good reason to be so effusive in his self-love at the time, considering he went on to win NBA MVP with the Phoenix Suns during the 1992-93 season.
But is Sir Charles' assertion still true? Nearly 30 years later, how has Barkley's assertion held up? Pretty well, as a matter of fact.
Zion Williamson could be the closest thing to Sir Charles
Few players can truly compare to Charles Barkley. Zion Williamson probably offers the closest resemblance.
Like Barkley, Zion's physical strength and explosive athleticism — not to mention his playmaking — pose issues for defenders. He barrels into the paint and scores seemingly with ease, getting downhill and daring opponents to challenge him at the rim. Additionally, Zion is listed at 6-foot-6 in height.
The most notable difference is the shooting ability. Barkley also spent more time banging down low and searching for second-chance opportunities. In contrast, Williamson usually gets on the ball a little further from the basket and runs pick-and-roll or isolation sets, rather than posting up.
Another point of differentiation is playing weight, now exacerbated by rumors that Williamson swirled to over 300 pounds in his recovery from a foot injury. Barkley commented on that situation earlier this month.
In any case, while parallels exist between Zion and Chuck, no player has yet to truly replicate Barkley. Perhaps Sir Charles really is the "ninth wonder." That's certainly the case when he's on the mic.
Stats courtesy of Basketball Reference.