Charles Barkley Is Dumbfounded by James Harden's Recent Whining: 'That Makes Zero Sense Whatsoever'
Following a slow start to the season, the Brooklyn Nets are finally delivering on their championship expectations. Entering Tuesday's battle with the crosstown New York Knicks, the Nets lead the Eastern Conference with a 14-6 record. And they're doing so without James Harden playing anywhere close to his best basketball.
After scoring just 12 points in a loss to the Phoenix Suns, Harden spoke about his struggles in finding his role with the Nets. But his explanation did not gain any sympathy from Charles Barkley, who blasted the Beard for complaining.
James Harden is struggling to find his role
Since October 29, the Nets are 12-3 and rocketing up the Eastern Conference standings. But while the team is winning, Harden is struggling to find his offensive touch.
The Beard's scoring numbers are as low as they've been since he was a sixth man on the Oklahoma City Thunder. Through 20 games, Harden is scoring 20.3 points on just 40.6% shooting, the lowest percentage since his rookie season. As a playmaker, he's averaging a strong 9.4 assists, but it's practically negated by five turnovers per game.
Immediately after his 12-point, seven-turnover outing against Phoenix, Harden tried to explain how his struggles stemmed from trying to determine his role in the offense.
"Honestly, I'm trying to figure all that out right now," the former MVP told Newsday. "I'm trying to figure it out. I'm trying to figure out when to score, when to be a playmaker, when to run the offense, when to do a little bit of everything."
Charles Barkley slams Harden for his comments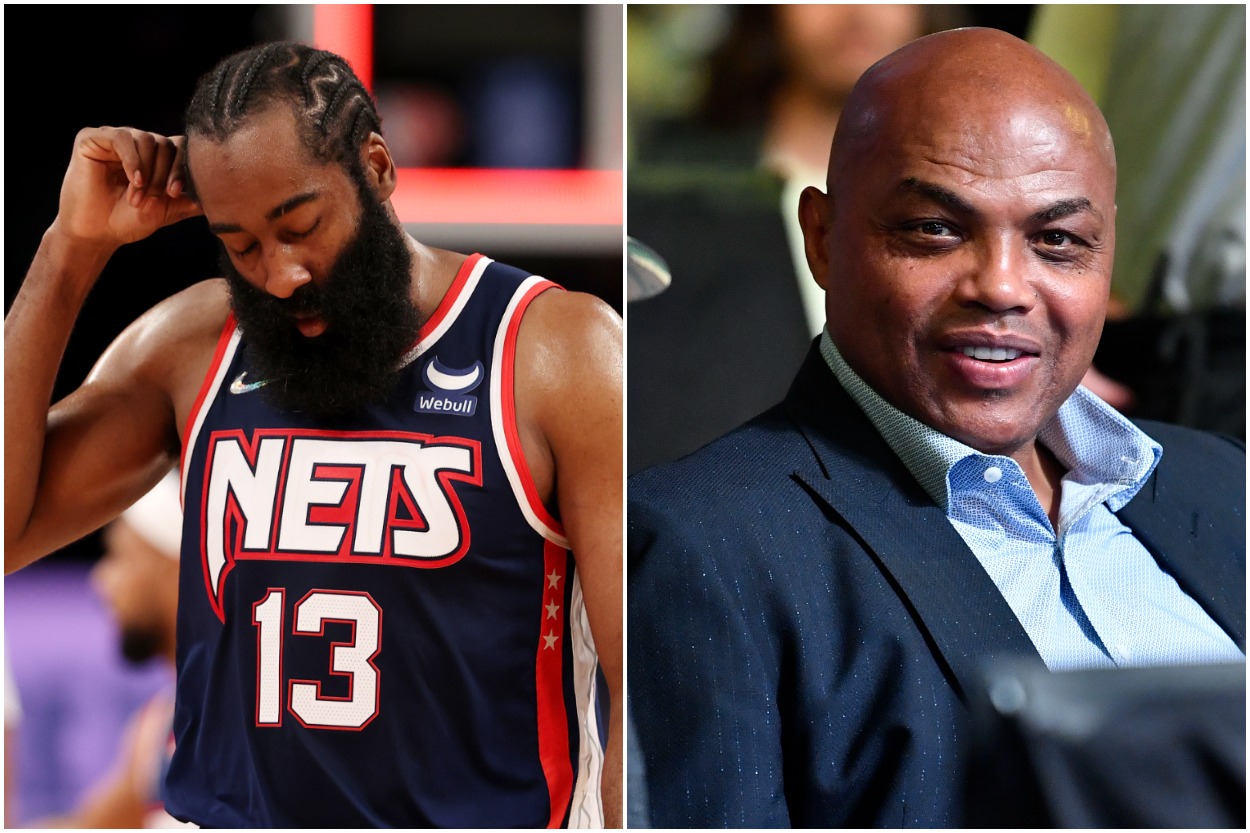 Harden has suited up for the Nets in just 56 regular-season games since being acquired in January of this year. But that doesn't give him a pass to make excuses, according to Barkley.
Chuck didn't hold back in calling out Harden for his comments just before the nine-time All-Star took the court for Tuesday's matchup against the Knicks (h/t: NBA on TNT).
"I don't know what the hell he was saying. That makes zero sense whatsoever. He's been there a while now, and especially with no Kyrie. Like, dude, y'all ain't got but two players. Y'all got two guys and a some JAGs — just a guy. That's it. That's what they got, just some guys. … So I don't know what the hell James is talking about.

Charles Barkley
With respect to role players like LaMarcus Aldridge and Patty Mills, Barkley is right. Harden should know he is a focal point of the offense at all times, even when Kevin Durant is out on the floor with him.
The Brooklyn Nets need James Harden to win a championship
Given the fact Kyrie Irving is still MIA, the Nets need James Harden to be at his absolute best in order to secure an NBA championship.
Brooklyn is finding a way to win games now thanks in large part to Durant having another terrific season. But their three most recent losses to the Chicago Bulls, Golden State Warriors, and Suns highlight a tough reality: When matched up against elite teams, the Nets are still a step behind.
Now, as key role player Joe Harris undergoes ankle surgery and veteran Blake Griffin exits the rotation, the Nets need vintage Harden. The All-Star scorer who attacks the rim, gets to the free-throw line, and makes defenses sweat every time he has the ball. Instead, teams are seeing the passive Harden who is struggling to hit shots on a consistent basis.
The season is still young, which gives the former MVP time to turn it around. But at this stage in the game, Barkley is right in saying he shouldn't be whining about his struggles.
All statistics courtesy of Basketball Reference.