Charles Barkley Firmly Questions the NBA's Integrity: 'We Just Can't Be Throwing People out There Just to Play Games'
This NBA season has been unlike any other. COVID-19 is rearing its ugly head more than ever, forcing teams to go through desperate measures in order to fill their rosters. While that process has meant the welcomed return of several notable veterans, Charles Barkley issued a grave warning as he called out the NBA's integrity for playing these games under unprecedented conditions.
A record number of players have appeared in an NBA game in 2021-22
Last week, Greg Monroe made history. The veteran big man, signed to the Minnesota Timberwolves as part of a 10-day hardship exemption, became the record-541st player to appear in an NBA game in 2021-22.
Just over a week later, that number has risen substantially.
As Ernie Johnson pointed out Thursday night on Inside the NBA, a whopping 580 players have appeared in a game. And considering we're just under the halfway point of the season, expect that number to keep rising.
The Omicron variant has struck many teams; some harder than most. It has led to G League players seeing action as well as several notable veterans of league past. Some of the bigger names who have made it back to the league this year include Monroe, Lance Stephenson, Joe Johnson, Isaiah Thomas, and Mario Chalmers.
Charles Barkley is concerned about the league playing games with COVID-affected rosters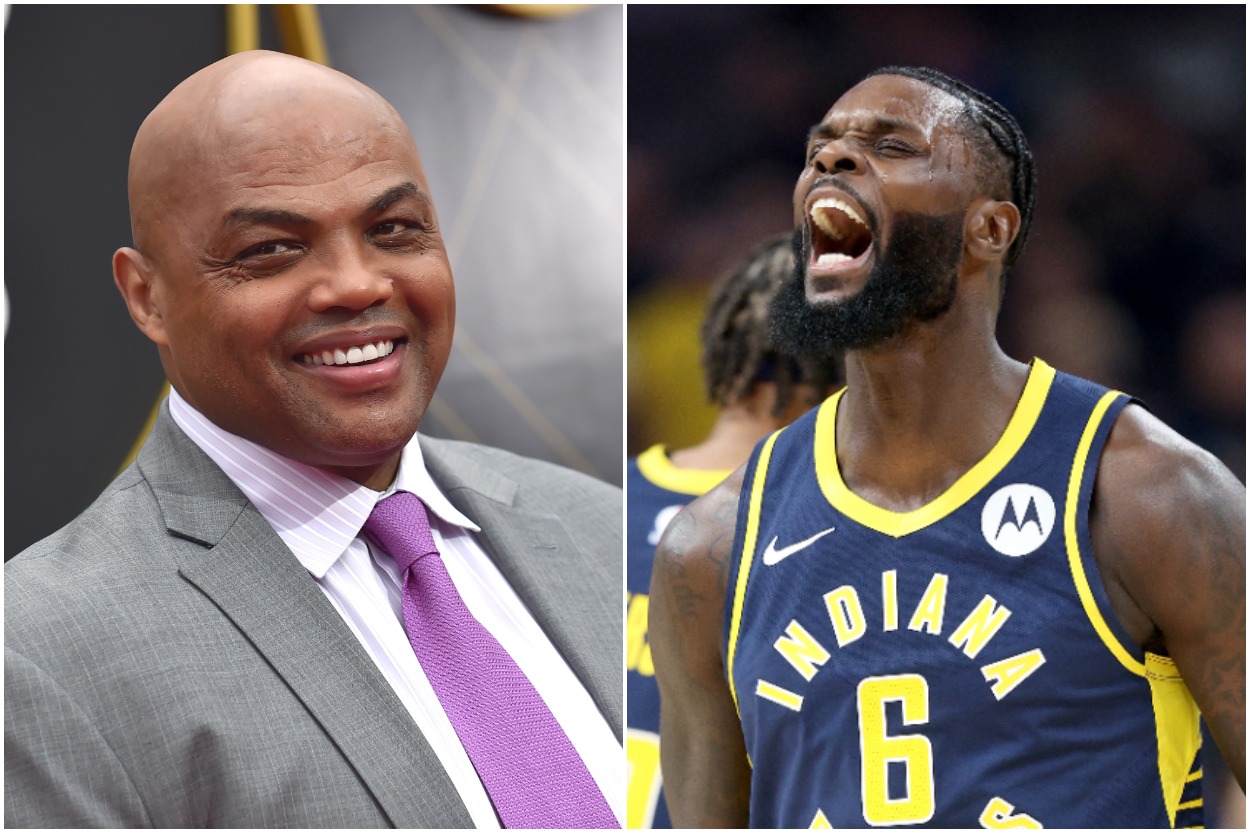 It's admittedly been a treat to see players like Johnson and Monroe back in the league. It's even better when certain players turn back the clock, as Stephenson did with 20 points in the first quarter Wednesday against the Brooklyn Nets.
However, Barkley was quick to shut down the fun on Inside the NBA, when he shared a serious concern about what Omicron is forcing teams to do.
"I am concerned though, Ernie. 'Cause there is integrity in games. There's playoff seedings and things like that. Listen, this is the COVID thing. I don't know how this movie — this nightmare — is going to end. I think we have to be really careful because number one, people bet on sports. That's the elephant in the room. … We just can't be throwing people out there just to play games. I don't know the right or wrong answer, I really don't. But we really have to be careful when it comes to these games."

Charles Barkley
For what it's worth, Barkley's fellow analyst Kenny Smith understood where his teammate was coming from. But he was ultimately happy to see some old (and young) faces getting opportunities.
"If you're a season ticket-holder, you're buying tickets to see certain people because that's the team and it's nowhere near it," Smith said. "But I'm happy. … Now you're getting guys that are getting a touch of the NBA world … maybe we find those 'next' guys."
Should the NBA have temporarily suspended the season?
Considering the effects the 2020 shutdown had on the NBA and every other sports league, the last thing anyone wants is a pause. But the Omicron variant was unlike anything we had previously seen, causing multiple game cancellations leading up to and after Christmas.
Despite the surge in positive cases and the toll it has taken on the season, commissioner Adam Silver has remained determined that the NBA soldier on.
"No plans right now to pause the season," Silver told ESPN back on December 21. " We have, of course, looked at all the options, but frankly we're having trouble coming up with what the logic would be behind pausing right now as we look through these cases literally ripping through the country right now. Putting aside the rest of the world, I think we're finding ourselves [at a point] where we sort of knew [what] we were going to get to for the past several months, and that is that this virus will not be eradicated. We're gonna have to learn to live with it, and I think that's what we're experiencing in the league."  
Chuck's point makes some sense. There are games, records, and full seasons being determined by players with no NBA experience in the last several years or none at all. However, the point he misses is what Silver brings up. Ultimately, the league knew the risks of playing basketball in a middle of a pandemic. And the gamblers Barkley refers to should have known the risk as well.
The 2021-22 season will be impacted by coronavirus, just like the season before … and the season before that. It's just what life is during the pandemic.