Charles Barkley Issues an Unapologetic Ultimatum to Ben Simmons and the Philadelphia 76ers: 'It's Always Going to Be the Elephant in the Room'
When will Ben Simmons take the court? At this point, the Philadelphia 76ers have as much of an idea as we do. The three-time All-Star is continuing to sit out one week after Philadelphia opened its season. And now, the outspoken Charles Barkley is issuing a stern message to the Sixers: trade Simmons and move on.
Ben Simmons is taking time off
Following a long offseason holdout and demands to be traded, Simmons reluctantly showed up to 76ers practice before the season. But with a lackluster effort, the four-year veteran was kicked out by head coach Doc Rivers and subsequently suspended for the season-opener against the New Orleans Pelicans.
However, there's more to his story than just pouting on the practice court.
Simmons has been dealing with both physical and mental difficulties. First, the 25-year-old alerted Philly's training staff to his lingering back pain. Then, at shootaround on Friday, he told the team he wasn't mentally ready to play to his personal expectations and needed time away. In turn, the Sixers stopped fining Ben for missing games and practices and promised whatever resources he needed.
While teammates like Joel Embiid weren't sympathetic to Simmons in the beginning, they have offered their support to the struggling guard.
"A lot has happened the last few months," Embiid said while addressing the crowd during Philly's home opener against the Brooklyn Nets. "I urge you guys to continue to support us and our teammate, Ben, because he's still our brother." 
"It's easy to look at something on the surface and come to assumptions on a lot of things, especially athletes," Tobias Harris told ESPN shortly after Simmons' decision to step away. "In general in this space we're depicted as superhumans, and you're not really supposed to have feelings or go through anything. So I think we just have to really understand he's a human first, and if he's going through something at times, we have to respect that and go through that as a team, organization, fans, all the way down the line."
Charles Barkley says the 76ers need to trade Ben Simmons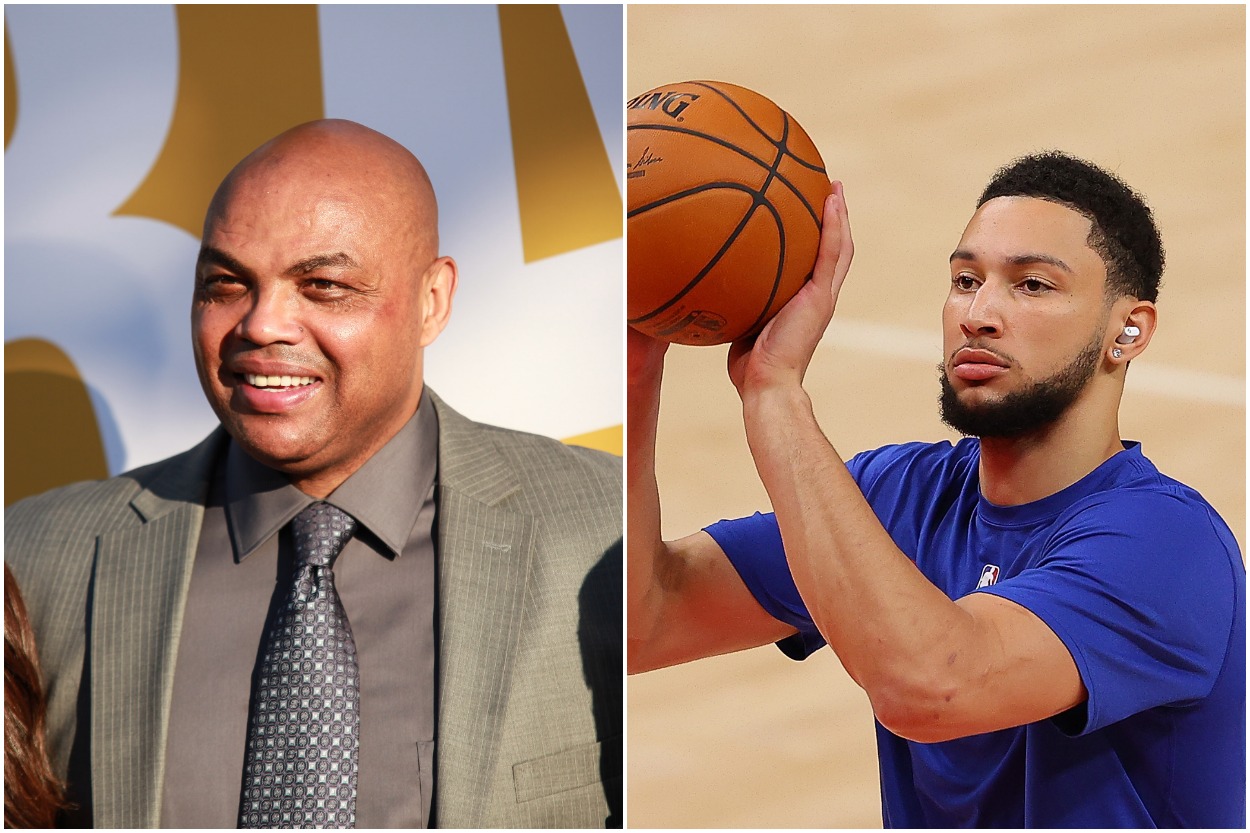 Barkley, the Hall of Famer and opinionated analyst, has never shied away from addressing Simmons. On opening night, Sir Charles discussed Ben's shortcomings, particularly how he has failed to address his weak spots as a player.
Now, with Philadelphia offering support to its point guard, Barkley believes it's in everyone's best interest to work out a trade immediately (h/t Inside the NBA).
"We all wish Ben well. I think he's a good kid and a good player. But the Sixers need to move on. The reason I say that is they weren't a contender with Ben Simmons. I don't know how he's going to come back and play, shoot, shoot free throws, but at some point, you can't just keep doing the same thing. … Until they make a decision, it's always going to be the elephant in the room. I think [it's what's] best for both parties. They need to go ahead and separate."

Charles Barkley
Barkley stated how even with Simmons on the court, the 76ers are inferior to the Milwaukee Bucks, Brooklyn Nets, Chicago Bulls, Miami Heat, and possibly Atlanta Hawks. Philadelphia has been a playoff team every season Simmons has suited up but has failed to make it past the second round.
What should the Philadelphia 76ers do with Simmons?
As Simmons sits out for an unspecified period of time, the 76ers are continuing to play basketball games.
The Sixers won two of their first three games by double digits while falling by five to the Nets at home. One big reason is their shooting, as they sit second in field-goal and 3-point percentage at 48.5% and 43.1%, respectfully. But while the offense has certainly survived without Simmons, the defense has missed the two-time All-Defensive selection, ranking just 16th in defensive rating.
Simmons' trade value is also a giant question mark. On one hand, it's evident he isn't happy in Philadelphia and would welcome a change of scenery. But would his issues suddenly dissipate with a new organization? None of the other 29 teams have that answer, leaving the Sixers with few serious options.
For what it's worth, president of basketball operations Daryl Morey has shot down any ideas of trading the 2016 first overall pick.
"Would you rather eliminate what people perceive to be a distraction, or would you rather have better playoff odds?" Morey told 97.5 The Fanatic. "I'll take playoff odds … Whatever we have to deal with that helps the Philadelphia 76ers win the title, we'll do it."
The longer this all takes, the more Barkley's ultimatum makes sense. A fresh start for all involved could be the rainbow at the end of this storm.
All statistics courtesy of Basketball Reference.
RELATED: Charles Barkley Knows a Bit About 76ers Fans and Gets Blunt on How Ben Simmons Could've Mended His Ugly Relationship With Them