Charles Barkley Just Delivered Ben Simmons the Devastating Truth: 'Them Fans There for Hatred'
When the Brooklyn Nets and Philadelphia 76ers made this year's blockbuster trade and swapped Ben Simmons for James Harden, March 10 was immediately highlighted on the NBA calendar.
Both teams are finally squaring off in — despite all the surrounding drama — a game that has profound implications for the Eastern Conference, especially the Nets.
But Simmons won't be involved. He'll be on the bench in street clothes for his return to Philly and couldn't even make it out of pre-game warmups before being showered in boos.
On TNT's Inside the NBA, Charles Barkley sent Ben the blunt truth we all already knew — Sixers fans showed up to deliver a brutal message to Simmons, not to watch a basketball game.
Ben Simmons will be on the bench for the Brooklyn Nets-Philadelphia 76ers matchup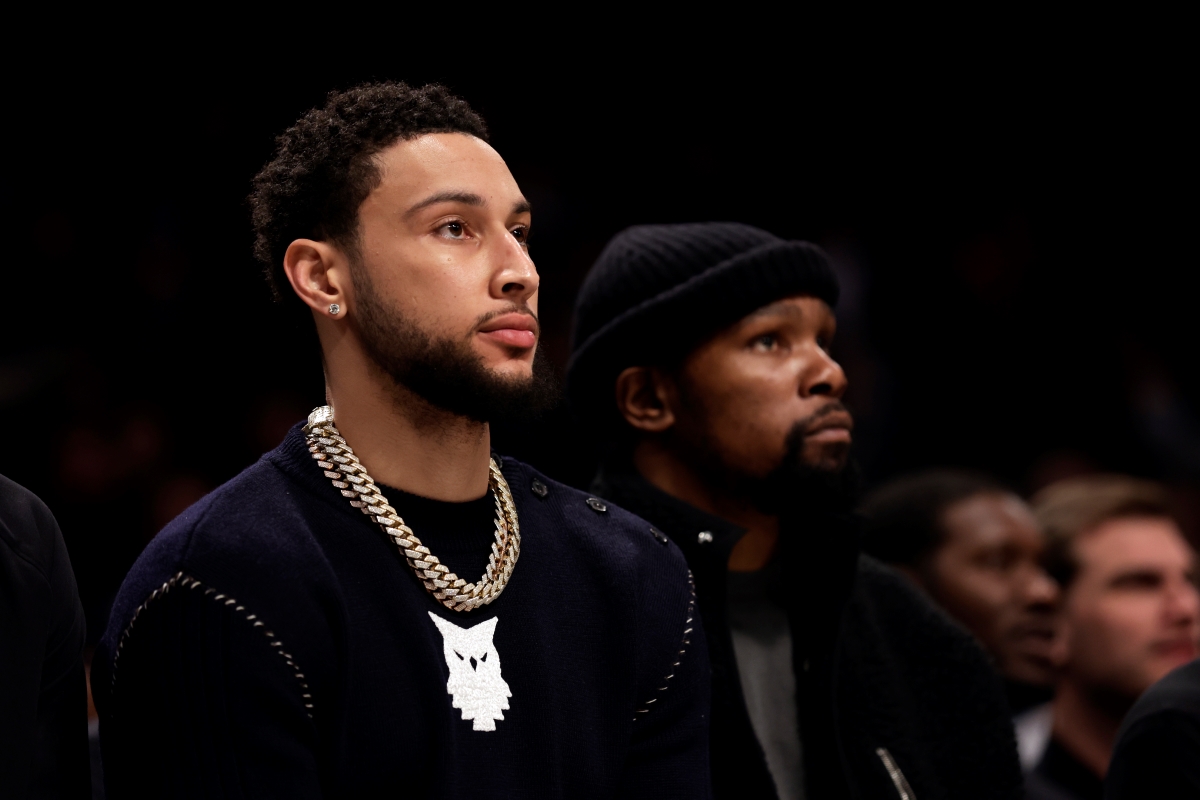 The Simmons-Harden trade went down on deadline day, Feb. 10. It immediately became the NBA's biggest story and has remained so for the last month.
Harden is already doing his thing with the 76ers. He's played five games alongside Joel Embiid (and Tyrese Maxey, wow) and is averaging 24.6 points, 12.4 assists, and 7.6 rebounds.
He's shooting better than 53% from the field and 45% from three in almost 37 minutes per night. Philly is 4-1 in those five games.
Simmons, on the other hand, has yet to get off Brooklyn's bench.
He joined the Nets after missing nine months' worth of basketball. He hadn't (hasn't) taken an NBA floor since Game 7 of the Eastern Conference semifinals series against the Atlanta Hawks in June.
The thinking, and understandably so, was that Big Ben needed time to get into basketball shape. But then he landed on the injury report with back stiffness, had a setback, and still hasn't put on a Nets uniform.
Speculation has run rampant about whether or not Simmons remained on the bench to avoid playing in this specific game. Regardless, he's in the arena, and Barkley didn't sugarcoat why fans are flocking to the Wells Fargo Center.
Charles Barkley publicly delivered the blunt truth about Ben Simmons
TNT's Stephanie Ready reported before the game that seats close to the court were going for more than $4,000 a pop. Tickets for this specific game were more in demand than any other 76ers game of the past decade, including playoffs.
Philly fans wanted — maybe needed — to show up for this game.
Yes, it's a critical contest for the East standings. Yes, Sixers fans get to see Harden, now playing for their team, potentially destroy his old one.
But as Barkley unflinchingly pointed out on TNT, the fans are likely there for one specific reason.
Them fans there for hatred. They don't care about this game at all. They're there for one reason. They're not payin' $4,000 for no damn regular-season game.

Charles Barkely on 76ers fans and their motivation to deliver a message to Ben Simmons
It's sad to hear as an NBA fan and likely devastating for Simmons, whether he admits it or not. But it's the blunt, painful truth.
Simmons has yet to play for Brooklyn, but the Nets need him ASAP
Durant is back on the floor and somehow incredibly hasn't missed a beat. Irving just dropped 50 in a win against the Charlotte Hornets.
But the Brooklyn Nets are going to need Ben Simmons if they're going to make a playoff run and push for a title (or even make the playoffs altogether).
They'll need their 6-foot-11 defensive ace at his peak — both mentally and physically — to reach their ultimate goal.
Simmons needs to get off the bench and onto the floor. It didn't happen in his return to Philly, but Brooklyn needs it to happen as soon as possible.
Their playoff and championship hopes depend on it.
All statistics courtesy of Basketball Reference.
RELATED: Kyrie Irving's 50-Point Performance Proves He's the Brooklyn Nets' Best Hope for a Title