Charles Barkley and Kenny Smith Slam the Brakes on the Tyler Herro Hype Train: 'When You're Coming off the Bench, You're Playing Against Backups'
The Miami Heat made the most of playing in front of a national audience on Tuesday, handling the Dallas Mavericks 125-110. Four players scored over 20 points, with third-year guard Tyler Herro leading the pack with 25 points off of the bench. While Herro's performance is nothing new given the season he's had, TNT analysts Charles Barkley and Kenny Smith are skeptical of his increasingly high ceiling.
Tyler Herro is continuing his hot start
The 21-year-old Herro turned heads in the preseason after revealing he places himself on the same level as young superstars like Luka Doncic and Trae Young. His claim came months after a subpar second season and a disappointing playoff performance. However, the sharpshooter has backed up his take and gotten off of a torrid start in 2021-22.
Herro's 25-point showing in Dallas is already his fifth game with 22 points or more. He hit at least three triples in all of them, helping his 3-point percentage climb to a career-high 40.8%. Compare that to last season, when the former All-Rookie selection shot 36.0% from beyond the arc.
Through seven games, Herro has 157 total points. It's by far and away the most of any player coming off of the bench this season, 25 ahead of Carmelo Anthony in one fewer game. In addition, his 157 points set a record for the most bench points in the first seven games of a season since the league started charting starts and sits in 1975. Jason Terry (2007-08) and Michael Brooks (1980-81) were tied for the record at 156.
Charles Barkley and Kenny Smith don't believe Herro is a franchise player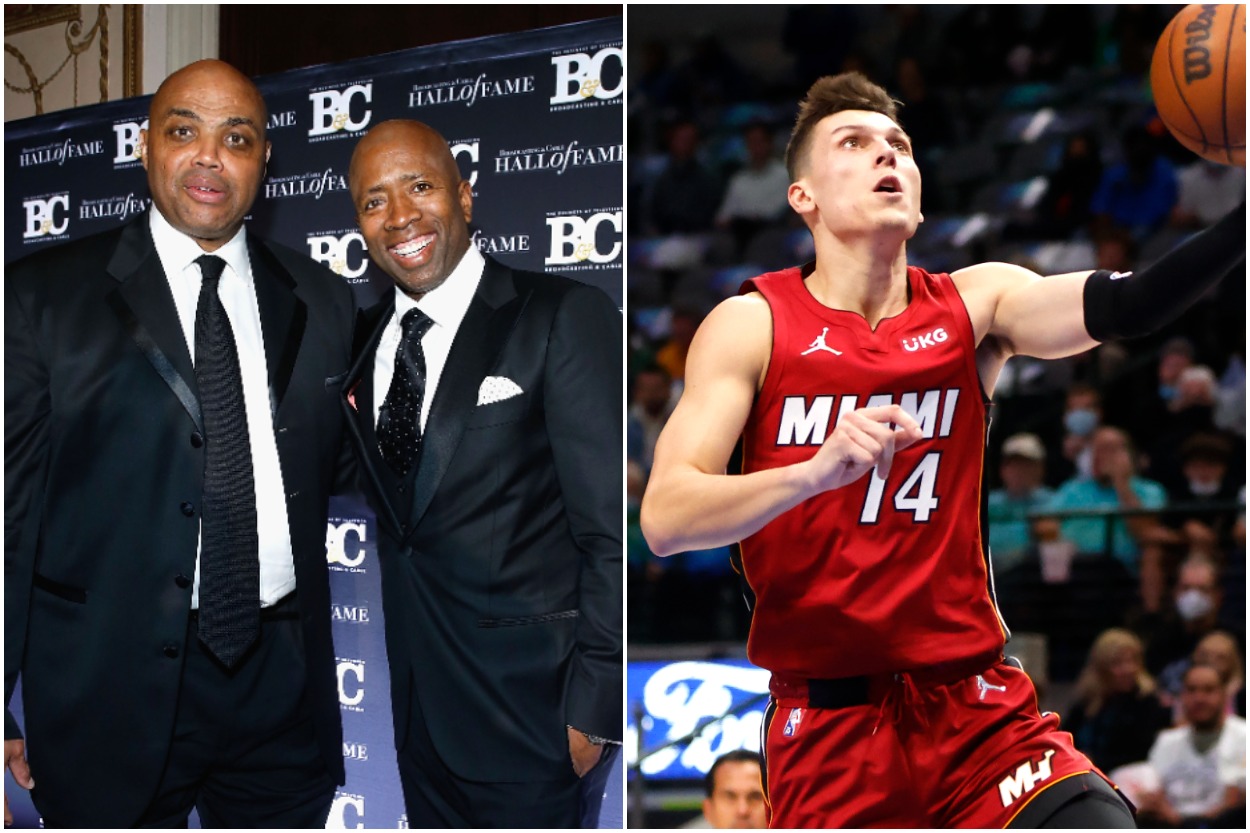 Just ahead of Tuesday's game against the Mavericks, Shaquille O'Neal agreed with Herro and put him on a similar level to Doncic to Young. By halftime, Tyler made Shaq look good, scoring a team-high 17 points. Doncic, for what it's worth, had 19 at the half and finished with 33.
During TNT's halftime show, Herro was the main story. But rather than Shaq dishing out more praise, it was Barkley and Smith bringing Herro Nation back to reality.
"You're talking about Tyler Herro comparing himself to Luka and Trae," Smith said on the broadcast. "There is a differentiator. He can score, but there is a difference between carrying a team and being a team's leading scorer."
Barkley agreed with Smith, mentioning how he likes Herro but sees a difference between a player like him and a franchise centerpiece like Luka.
"Those guys [Doncic and Young] have to carry a team every night. [Herro] is playing against backups. When you're coming off the bench, you're playing against backups. No disrespect, Herro's a nice little player. … But trying to say you are capable of carrying a team every night, that's a different mentality."

Charles Barkley
Chuck also fought back on Shaq claiming Herro would put up similar numbers to Trae Young if the two switched teams, asking the big man, "Would the [Atlanta Hawks] have made it to the Eastern Conference Finals with him instead of Trae? Hell no."
Herro gets big-time minutes for the Miami Heat
Barkley and Smith are right in pointing out how Herro is not a starter. The 6-foot-5 shooter has just 23 regular-season starts in three seasons, none of which from the current campaign. But he is just as important to the Heat's success as any one of their five "starters."
Herro is not asked to carry the team. That job is tasked to Jimmy Butler, who is making an early case to win league MVP. But the 21-year-old is still averaging over 31 minutes a game, placing him in a tier with the cornerstones Butler, Bam Adebayo, and Kyle Lowry. Head coach Erik Spoelstra is also likely to turn to Herro down the stretch. That was certainly the case against Dallas, where the third-year guard played all 12 minutes of the fourth quarter.
There is no way to know how Herro would play in Doncic's place in Dallas or Young's place in Atlanta. But we know for sure how vital he is to the success of the Miami Heat.
All statistics courtesy of Basketball Reference.
RELATED: The Miami Heat Just Cemented Their Place in Franchise History Alongside the "Big 3" Teams of LeBron James, Dwyane Wade, and Chris Bosh