Charles Barkley Delivers a Less-Than-Serious Offer for Bryson DeChambeau Ahead of the Match 4
Charles Barkley will be at the course for The Match 4. He's there for TNT, where he also is one of the analysts for the popular Inside the NBA. But he recently made an offer to one of the professional golfers in the field, Bryson DeChambeau.
If you missed it during the Rocket Mortgage Classic over Independence Day weekend, DeChambeau and his longtime caddie, Tim Tucker, parted company before the event in Detroit. Barkley had an idea that might be able to help DeChambeau, nicknamed "Mad Scientist."
Barkley is a notoriously lousy golfer. So, what could he possibly have to offer the 2020 U.S. Open champion?
What is The Match?
The Match launched in 2018 and was patterned at least a bit after The Skins Game, a popular unofficial event held from 1983–2008 sometime around Thanksgiving. Bryson DeChambeau joining the mix this year makes him the third PGA Tour professional to do so.
Tiger Woods and Phil Mickelson went head-to-head in a match play format playing for a $9 million purse in the initial match. Both players offered to donate some of the winnings to charity.
Celebrity athletes were brought into The Match in 2019, with Woods teaming with Peyton Manning to defeat Mickelson and his partner, Tom Brady. Last year, the event raised $20 million for COVID relief efforts. Mickelson and Charles Barkley beat a pair of celebrity entrants, Manning and NBA star Stephen Curry.
Who is playing with Bryson DeChambeau in The Match 4, and where does Charles Barkley fit?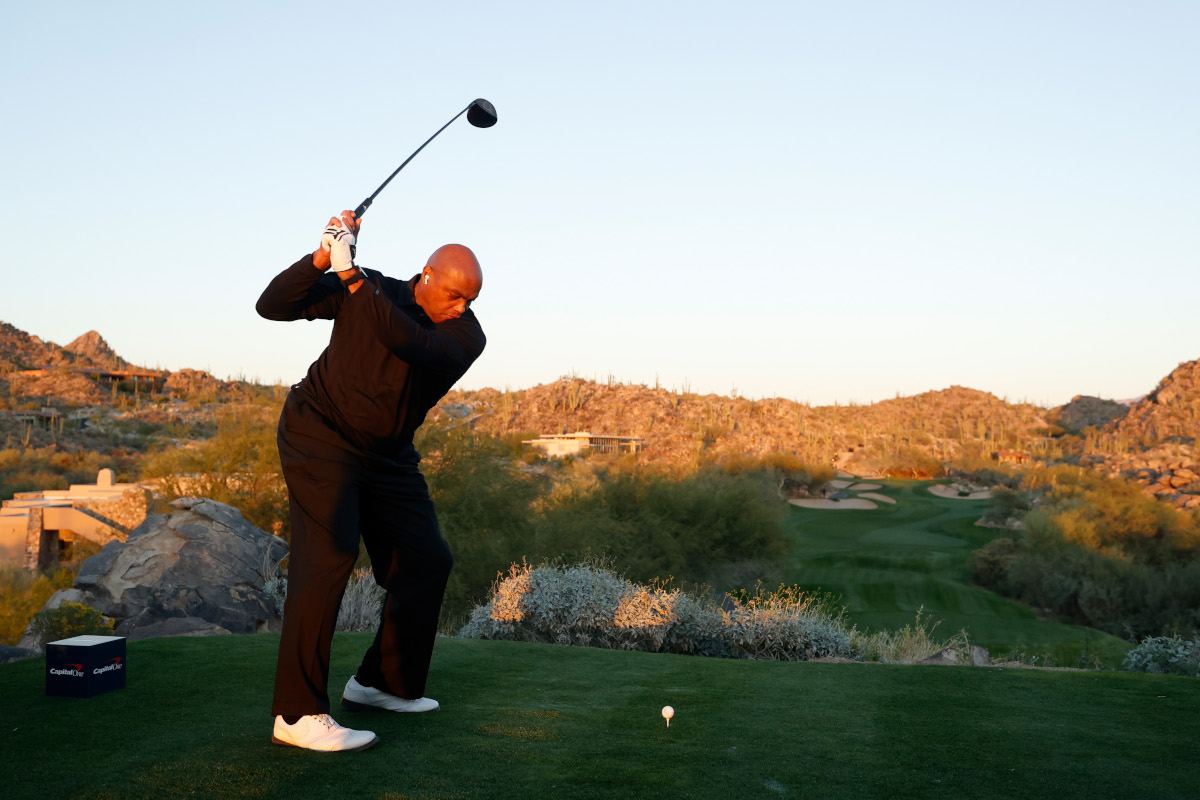 Bryson DeChambeau, a newcomer to The Match, is teaming with Green Bay Packers (at least for the moment) quarterback Aaron Rodgers. Mickelson is back for a fourth straight year and will play with Brady.
Charles Barkley is on the broadcast team with LPGA Tour pro Cheyenne Woods (yes, Tiger's niece) and Arizona Cardinals wide receiver Larry Fitzgerald, an avid golfer. It's a massive night for Fitzgerald. Besides calling The Match, he'll also be an interested observer for Game 1 of the NBA Finals between the Milwaukee Bucks and Phoenix Suns. Fitzgerald is a minority governor (what the NBA now calls owners) of the Suns.
DeChambeau comes to the event after missing the cut in Detroit. He skipped media availability after both the first and second rounds before leaving town. Mickelson had a bit of controversy at the Detroit Golf Club, as well. But Barkley offered to pitch in. While plugging the event during Inside the NBA, Barkley made a very generous offer — sort of — to help out DeChambeau, per Golfweek.
"I can't wait. I've never met Bryson DeChambeau. I can't wait to meet him. He's a stud.

"I might caddie for him. He's got an opening right now, apparently."

Charles Barkley
It might come as a surprise, given their oh-so-cordial relationship, but DeChambeau's split with Tucker drew a reaction from Brooks Koepka. That was about as predictable as the sun rising in the east.
How to watch The Match 4?
Charles Barkley won't be on Bryson DeChambeau's bag for the July 6 event (at least we don't think so, but it's live TV; anything is possible). But they'll both be there. Coverage begins at 5 p.m. Eastern and airs on three Turner networks. Besides TNT, the event will be on TBS and truTV.
The Match 4 is at the Moonlight Basin course in Big Sky, Montana. Given the elevation of roughly 7,500 feet, the ball will carry. DeChambeau, one of the biggest drivers on the PGA Tour, might reach a par 5; who knows?
The course itself can play up to 8,000 yards, depending on tee and pin placements. The highlight is the 17th hole, a 777-yard par 5 with a significant drop from tee to green. Mickelson said gauging club selection would be a challenge, per Golfweek, one not as simple as merely going down two clubs.
"It's hard to say that generically, because when you hit the ball harder, and you hit it higher, and you have more spin to keep it in the air when you have a lot less density in the air, you might get 15 to 18% (more distance), but if you hit a bit of an easier one or you shorten your backswing, and the ball is lower, and it doesn't have as much spin, it might only be 8% difference.

"So, to say that it's two clubs or to say that it's an X% difference is not going to be very accurate because it has more to do with the trajectory, the height, the spin, as well as the speed off the face."

Phil Mickelson
Thanks, Phil. That might be the most round-about way to get to "I got nothin'" we've heard yet.