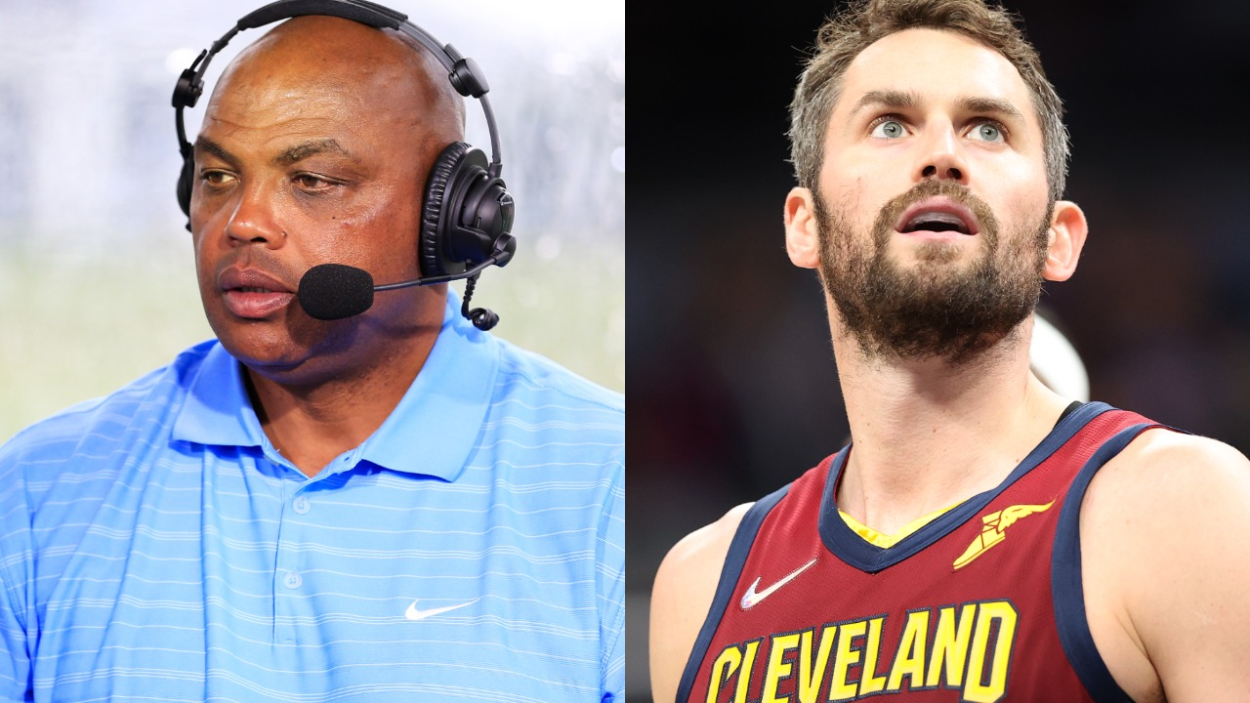 Charles Barkley Completely Misses the Mark With Kevin Love, Cleveland Cavaliers Comments: 'They Need to Trade Him'
NBA legend Charles Barkley typically gives insightful analysis on TNT's "Inside the NBA," but his recent comments about Kevin Love and the Cleveland Cavaliers completely missed the mark.
It seemed that Kevin Love had disappeared into irrelevance the last few years. He was the only previous Cleveland Cavaliers Big Three member still playing for the team, and injuries had limited his time on the floor with the losing Cavs.
But this year, things have changed drastically. Cleveland is contending for a top spot in the East, and Love has been a valuable veteran player again, giving the Cavs big minutes off the bench and proving he's no longer a washed-up star.
However, Charles Barkley wants the Cavaliers to break up with their five-time All-Star, recently calling for them to make a move that's not in their best interest.
Kevin Love and the Cleveland Cavaliers are back in Eastern Conference contention
It seemed like a bizarre decision for the Cleveland Cavaliers not to trade Kevin Love during the last few seasons. Following LeBron James' departure, Love's play steadily declined, and his injury list grew longer and longer.
Between 2018-19 and 2020-21, Love missed 116 games combined. He also averaged 12.2 points and 7.4 rebounds, the lowest mark of his career, in just 25 appearances last season.
Given his decrease in production, as well as his $120.4 million contract that lasts through 2022-23, it appeared Love was a perfect candidate for a buyout.
But the Cavs elected to keep him heading into this season.
"We want him to be here," Cavs president of basketball operations Koby Altman said in May, per Cleveland.com. "We signed him to an extension for that reason, to be here when we want to make that next step. We're going to hopefully rely on him heavily next year."
As if Altman were predicting the future, Love has had a bounce-back season for the Cavs. He's averaging 14.0 points and 7.1 rebounds off the bench, and Cleveland is just 1.5 games out of first place in the Eastern Conference at 27-18. It has completely turned things around behind the stellar play of young stars Darius Garland, Jarret Allen, and Evan Mobley.
Despite their success, though, Charles Barkley thinks the Cavs need to move on from their veteran big man.
Charles Barkley called for the Cavs to trade Kevin Love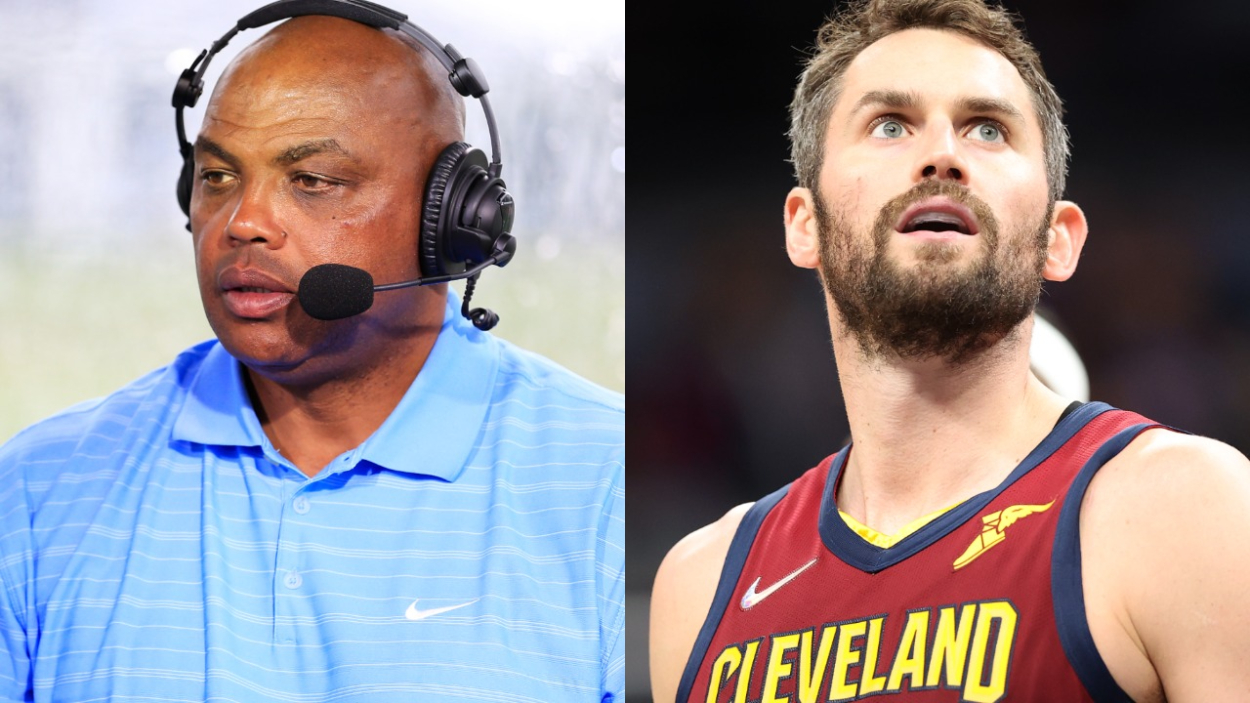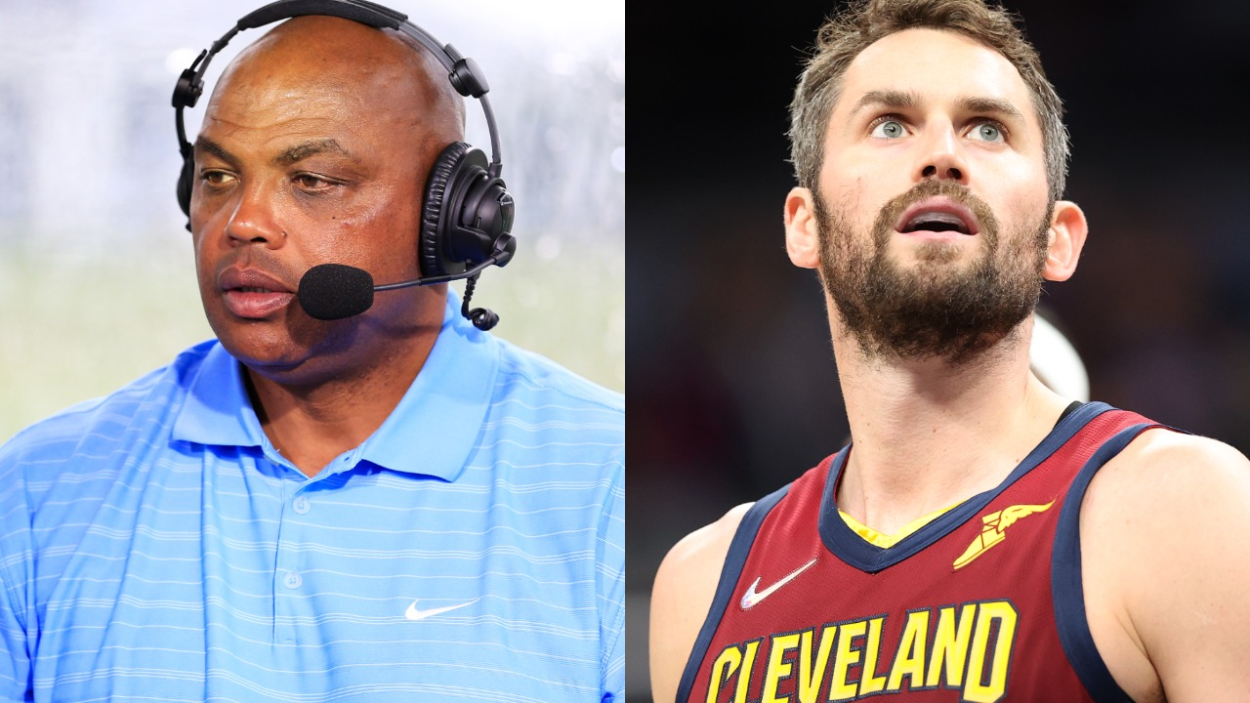 Charles Barkley always gives his unfiltered opinion on the NBA. And on the Jan. 17 episode of Inside the NBA, he shared his thoughts on Kevin Love and the Cavaliers.
While looking at Cavs-Brooklyn Nets highlights from earlier in the day, Barkley praised Cleveland for having "a lot of young talent." But he said he thinks it's time for the team to move on from Love, who the Cavs brought in back when he was a Big Three-level player during the second LeBron James era.
"Still trying to figure out what they're doing with Kevin Love," he said, per House of Highlights. "… They need to trade him and get [something] for him. … They gotta get rid of that contract; you gotta get something for him. You know I'm a Kevin Love guy, but he's gonna be gone. You need to get something for him. He could help a contender."
Barkley's co-star Kenny Smith pushed back and said, "They're a contender."
But Chuck disagreed.
"They're not a contender; please stop it," he said.
Whether you think the Cavs can truly contend for a title or not, that's beside the point. Sir Charles completely missed the mark on what Cleveland should do with Kevin Love.
Charles Barkley completely missed the mark with his Cavs comments
Every playoff team needs veteran experience, and Barkley himself said earlier in the segment that he believes the Cavs are a playoff team.
Cleveland has young talent up and down its roster, and if it wants to make some noise in the postseason (which can happen given its standing in the East), it needs someone like Kevin Love in the locker room.
But Love is more than just a strong veteran presence. He's the best shooter on a mediocre shooting team. Love is making over 40.0% of his 6.1 long-range attempts per game. It would become difficult for the Cavs to keep pace with heavy shooting teams if they were to trade him away.
Cleveland's size has also worked to its advantage this season, and Love is its third-leading rebounder. He's just giving the Cavaliers too much production at this point for them to part ways with him, even if he's a little overpaid.
The Cavs made their intentions clear last year: They wanted Love on the team when they rose from the ashes and became contenders again. That's why they didn't trade him for assets that could have helped during their rebuild.
Now, Cleveland has officially reached that stage, as it's competing with the best of the best in the East and is no longer rebuilding. The Cavaliers need players who can complement their young stars, and Love does just that. Trading him away would instantly hurt their playoff chances and potentially make things harder for Garland, Allen, and Mobley.
All in all, Charles Barkley typically gives insightful analysis, but he was just flat-out wrong in this case. Kevin Love has played a significant role in the Cavaliers' turnaround, and they need him for a potential playoff run.
Stats courtesy of Basketball Reference