Charles Barkley's Constant Phone Calls Helped Wayne Gretzky Launch a New Career: 'He Called Me Every Single Day'
Charles Barkley was a big-time superstar during his NBA career, but he has since become just as popular during his post-playing days. Barkley is now one of the most recognizable voices in sports media, specifically around the NBA. His opinions typically catch everyone's attention, and his delivery is just as captivating. 
Barkley doesn't want to be the only legend sharing his thoughts on television, though. In fact, Barkley's decision to call NHL GOAT Wayne Gretzky every day led to Gretzky launching a new post-hockey career.
NHL GOAT Wayne Gretzky has a new job on TV
Even if you don't follow hockey, you probably know that Wayne Gretzky is the sport's GOAT.
He earned 15 All-Star selections, won four Stanley Cups, and is the NHL's all-time leader in goals, assists, and points. Gretzky also won the Hart Trophy, given to the NHL's MVP, a record nine times.
After his playing days, Gretzky spent four seasons as the coach of the Phoenix Coyotes (2005-06 through 2008-09), and in 2016, he joined Oilers Entertainment Group. Gretzky then became a partner and vice chairman of the Edmonton Oilers. However, in May, the hockey Hall of Famer stepped down from that position and signed a multi-year deal with Turner Sports, where he will star on TNT and TBS as an analyst during the NHL regular season and Stanley Cup Playoffs starting this upcoming season.
So, what made Gretzky want to go into TV? Well, Charles Barkley had something to do with it.
Charles Barkley called Wayne Gretzky 'every single day'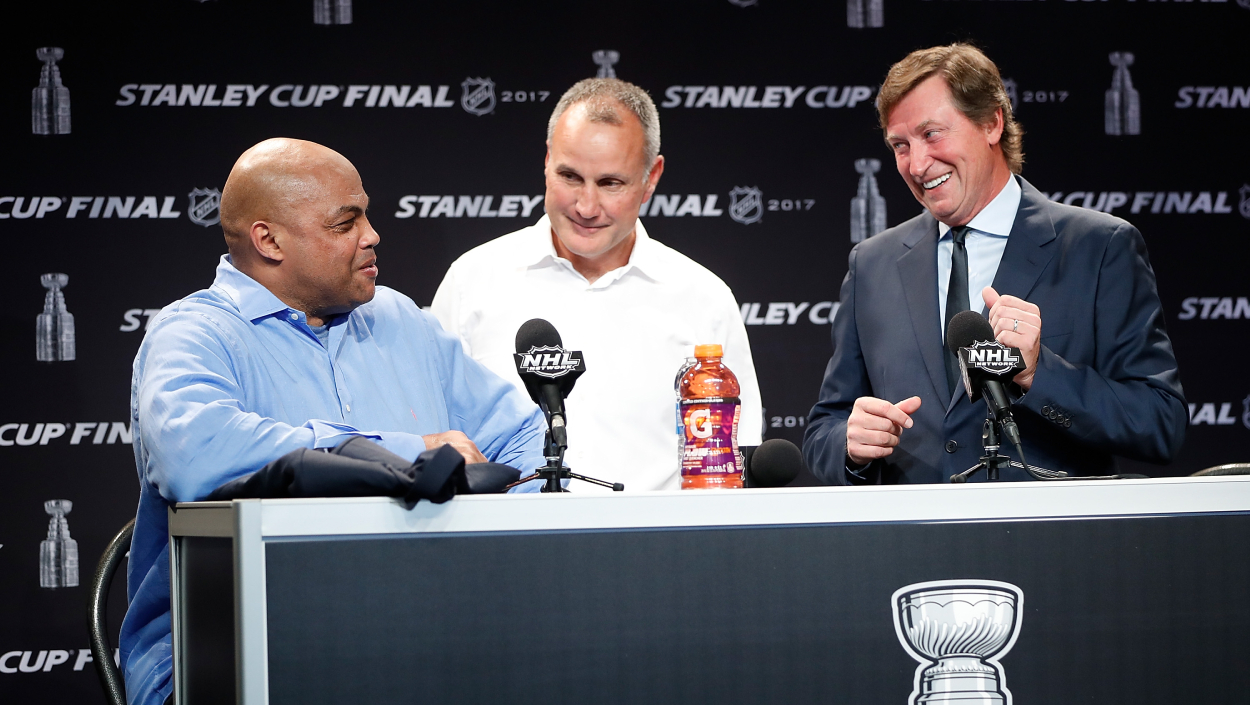 Gretzky recently discussed his new career move, and he revealed that the NBA legend and TNT basketball analyst himself, Charles Barkley, helped him make his decision to go into television.
"Charles Barkley is a good friend, and he called me every single day and said, 'This will be fun for you,'" Gretzky said to Sportsnet 590 in Toronto, per NHL.com, "and ultimately I decided, OK, this is something I've got to try and I'm really looking forward to it. It's going to be exciting."
As alluded to earlier, Barkley is a guy who has some pretty polarizing opinions, but Gretzky doesn't plan to be anything like his friend.
"There's only one Charles Barkley, right?" he said, per NHL.com. "You have to be yourself, and when I met with TNT and talked to them about being involved in hockey … it doesn't matter where I go, people ask me questions and ask me about my opinion about the game or about players and about the sport, and I'm the most positive person in the world."
He continued: "I love everything about our game, and I told everyone at Turner and Charles, 'Look, I'm not a controversial guy. I'm not going to be that guy that's going to be so negative on players. I'm the exact opposite, so if you're looking for that guy, I'm not the right guy.'"
Gretzky's personality on TV may not end up being like Barkley's, but if Sir Charles says he will enjoy starring on TNT, The Great One should probably listen.
Charles Barkley knows a thing or two about starring on TNT
Barkley isn't his sport's GOAT like Gretzky, but he was still an NBA legend before entering the television world. He earned 11 All-Star selections and was the 1992-93 NBA MVP.
After last playing in 1999-2000, Barkley has since been at TNT for the past two decades, where he has won multiple Emmys for Outstanding Sports Personality. In addition to his spot in the Naismith Memorial Basketball Hall of Fame, Barkley is also in the Sports Broadcasting Hall of Fame.
"It's the best decision I made in my life," Barkley said on Jimmy Kimmel Live! in March 2021. "… It's so much fun going to work."
Despite being from two totally different sports, Gretzky and Barkley will soon be co-workers. Maybe, we can get a fun crossover with the two of them on the same show at some point; it would certainly be a star-studded event.
Stats courtesy of Hockey Reference and Basketball Reference